United Nations Day for the Eradication of Poverty in Glasgow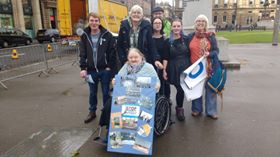 6/12/2017
By Moraene Roberts
I have always wanted to celebrate 17th October, the United Nations Day for the Eradication of Poverty, in Glasgow. Since visiting that city many years ago and being invited by families of the Glasgow/Braendam Link to return, it has been a dream. This year found me travelling north as part of an ATD Fourth World UK delegation from London to make a presentation in George Square, at the stone laid there as a place to gather in remembrance of the human rights of people living in poverty.
The four of us — myself, my daughter Bea, Shaeda Croft, and Stephen Baker — arrived in Glasgow as the tail end of a hurricane struck. Fortunately, we were invited to have the event at the Glasgow City Chambers overlooking George Square. The event was opened and facilitated by Poverty Truth Commissioners Caroline and Aisha. They introduced us to the main speakers who were all people living in poverty and who shared "Let Me Tell Yous", testifying to the courage and struggles they and others around them face. The speakers came from several groups: The Poverty Truth Commission, Bridging the Gap, ATD Fourth World, and Mission Voices. It was attended by more than 100 people from all over Glasgow, including families and members from local community and national organisations.
It was my privilege to represent the ATD Fourth World families from London. I spoke out about the great injustice being suffered by sick and disabled people being sanctioned and left destitute by the Department of Work and Pensions. As I spoke, I saw many heads nodding as they recognised the situation I described. There was a real feeling of solidarity in the room. One by one, speakers told of how systems intended to support the poorest and most vulnerable had not only let them down, but become an oppressive and
controlling force on their lives.
It was heart-breaking. Yet it was obvious that there was a great deal of strength, resilience and determination too.
The day was lightened by singing and a drama about the right way to support people, using food banks as an example.
Eva Bolander, the Lord Provost of Glasgow — together with Keith Brown, Deacon Convenor of the Trades of Glasgow, and Ian Dickson, Lord Dean of the Merchants House of Glasgow — attended the event and gave a civic reception. Eva spoke at the end and reminded everyone that "the City Chambers is your place. You are welcome here." As we left the hall after the event, several people stopped me to thank me for what I had said and to tell me their situations. As many of them headed home alone with what they had just heard, I was grateful that I could share my thoughts with my companions, including friends Joyce and Al.
In the evening, the Scottish did what they do best: organised a party. There was a live band, singing and Scottish dancing. Because 2017 is the sixtieth birthday of ATD Fourth World's family house, Frimhurst, and because there were several other anniversaries being celebrated, there was an abundance of lovely cakes to share. Short speeches accompanied the cutting of each cake but the dancing soon resumed. It was a chance to meet and speak with some of the Scottish people with whom ATD Fourth World is in touch through Corrinna Bain, an ATD core-worker who lives and works in Glasgow. By the end of the night, I felt that new friendships had sprung up, old ones had been renewed and strengthened. It was with a heavy heart that I left these friends. I hope that it will not be as many years before I go back to Glasgow.
*
By Bea Roberts
Wow! Does Scotland know how to throw a 17th October celebration! Even in a hurricane they managed to put on an amazing event. We got to see the commemorative stone at Glasgow's George Square before heading inside (away from the wind) to enjoy speeches, testimonies, drama, and music in the beautiful Civic Hall for the official part of the ceremony. Hearing about peoples' struggles and experiences of systems and attitudes in their daily lives was emotional. It was inspirational to see their strength and determination in fighting, and also the sheer force of will they have to effect a positive change in their own futures.
I left the ceremony feeling very positive and excited, which was lucky because the Scottish ended their celebrations with a huge party. The crowd included lots of families who live in poverty, some of whom are involved with ATD now, and others who used to be involved years ago. There were also past and present volunteers. It was hosted in a lovely big hall, the Pearce Institute, with loads of food, live music, and traditional Scottish dancing. The place was packed with families and kids, all greeting and catching up with each other. Though I'm not much for dancing with strangers, I had a great time watching others dancing. I also loved talking to the families and volunteers about their memories of Braendam House, Glasgow/Braendam Link and 17th Octobers of years gone by. There was such an amazingly positive atmosphere and sense of community and friendship;. You could feel solidarity in their resistance to the adversity and struggles of daily life and a real positive vibe that they would overcome and things would get better. I have been lucky enough to attend 24 separate 17th October events all over the place, but I have never experienced a welcome like this one. Everyone was so nice and so happy we were there and wanted to help us meet people. They encouraged us to try everything, and they asked a million questions about ATD UK/London and how our respective houses differed.
I told them about how the Glasgow Youthies of the 80's and 90's had written a song about their ATD house, the Braendam Link. They brought the song to Frimhurst during an exchange, and then we in London adapted it into a song about Frimhurst, which they loved. We had a rousing chorus of the song and a good giggle after. I can't say enough just how much I loved my whole experience of Glasgow and how grateful I am to have had the chance to go, at last. It was a genuine honour and privilege — and can I go back next year, please?!
Mind Numbing Degradation": When Budget Priorities Are Inhuman
22/11/2017
With another budget coming, I feel scared and uncertain. If people are vulnerable on benefits or in low-paid employment… a budget can stop us from living. I want to share a real-life example about how my son was affected by the system.
My son lost out on an education because the school would not support him with his medical needs. The school only focused on its own agenda and expectations. My son then went on to college to try to get an education — but he had to leave college after a budget stopped the ESA benefit (the Employment and Support Allowance). Without that, I could not afford to pay for his education, due to my low income.
The college kept fobbing us off, telling us that the job centre would support us. But it didn't, and the college was giving us the wrong advice. At this time, nobody knew anything, and we could not access any support. We drowned in all the misinformation as my son was thrown onto the dole.
The job centre proceeded to bully, pressure and put him down… They were constantly getting him to rewrite his CV, just for the sake of keeping him busy. This got him going round in circles under constant threats of sanctions. One sanction was based on lies, and the DWP (Department for Work and Pensions) believed the lies. They ignored my son. With a bad attitude, they supported his accuser. As I was forced to support my son out of my own low benefits, the stress was traumatic.
We eventually fought this sanction in the courts. It took a lot of effort in a pressurised environment to constantly write to agencies and management to defend ourselves. Months later, tribunal papers showed that the accusations had been lies. They were thrown out, and the sanctions were overturned. We won.
Unfortunately, however, my son still lacks security and is treated terribly. The disability officer speaks like a salesperson, reeling off a random list of available jobs with no respect for my son's or my medical requirements. The officer is very blasé and indifferent. His treatment of us is even patronising. He is always interjecting with platitudes and asking heavy intrusive questions in a rude manner.
Faced with the constant degradation, the mind-numbing processes, and everyone giving my son conflicting instructions, he said, "If I didn't have you, mum, I would be dead by now."
By chance, my son was finally hired by a retailer, but on a zero-hours contract. Despite this work affecting his health, he saw it as an escape from the rude, insolent, nasty, abusive, bullying staff at the job centre.
Mr Chancellor, I hope you can hear me!
My son was then told to come off JSA (the Jobseeker's Allowance) and go onto Universal Credit, on the assumption that the system could deal with flexible hours; but they got all the bureaucracy constantly wrong. The call centre was again rude, and no help. My son was talked down to like a criminal. My son felt intimidated throughout, and bullied into going to job fairs even though he had work. This was undermining his employer and making my son risk the sack.
Then came a new threat of sanctions: eleven pounds a day for three months that would come out of his already low income, all because his efforts to find another job were deemed not good enough. How can you be expected to job search for 35 hours a week while you are already working?
He was constantly talked to like dirt and often received nasty derogatory text messages. The whole system was so oppressive and intrusive. He could no longer face this state-sanctioned bullying and abuse, so he stopped his Universal Credit. Instead, he grabbed what hours he could at work, despite his health becoming more of a struggle.
I want a government that practises politics for the good of the people, with the system going back to the principles and values of the Beveridge report to bring the caring back into so-called "social care".  Government practices now are more narcissistic, punitive, unreasonable, and uncivilised than they were then. Each of us needs to be given a chance. Getting back to our core values would be for the good of humanity.
By Kathy ATD Fourth World
9/11/2017
Angela from ATD Fourth World UK on Vimeo.
Showing People Respect and Dignity
Me and my daughter were speaking about homelessness after seeing a documentary on TV. There were two homeless men behind a shop looking for food in the skip. So much food is wasted and it is not right. People need food.
My daughter also saw something on facebook about how a homeless man stood up for another homeless man who was getting beaten by a gang of lads. He was brave to stand up and this made us want to do something positive. We just wanted to do something, even a small thing.
I've been homeless and I know how hard it is to be on the streets in London. It's scary. I was on the streets at a young age for a while and I will never forget it. As a family, we have also been threatened by eviction and we were very worried about it. ATD Fourth World supported us to get through it, but it was touch-and-go for a while.
The government need to do more, all the empty buildings could be used to accommodate people, free hostels could be offered…it is 2017
People who are living on the streets often get ignored. Not many people speak to them. A smile and a friendly face are important. People end up on the streets for all sorts of reasons. We should not judge them. We are all human and we all have our own stories.
My family is struggling ourselves and at times we don't have enough money to see us through the week. But we decided to save up £20. Then we went to the supermarket and bought some basic bread, cheese, salad, and ham to make sandwiches. We got home and made about thirty sandwiches. We wanted to make something warm but we weren't sure how to keep it warm. We put all the sandwiches in a shopping trolley and set off into central London. We wanted to go and speak to the homeless people and offer them a sandwich and a chat.
We were both very nervous at first and did not know what to expect, but we pushed ourselves and did it. We went out and just started talking to people, we didn't want to disturb them, but the reactions were good. People smiled at us and talked to us. Most people were very grateful. We met people of all ages–young, old, men and women.
One elderly man really made an impression on me. He was very kind and smiled at us. Yet we didn't really know what he was thinking and we didn't speak a lot. It was nice just to be able to sit with people and take time with them. It is not a lot, I know, but we just wanted to do something for people less fortunate than us. Showing people respect and dignity is important and we can all do it.
We can all fall into poverty you know.
Me and my daughter hope to go do it again next week.
By Angela: ATD Fourth World UK
Angela speaks about food poverty in The Roles We Play: Recognising the Contributions of People in Poverty
www.therolesweplay.co.uk
3/11/2017
 "It was very important for me to have this invitation to speak at the United Nations. I've been with ATD Fourth World for over 30 years here in the UK and I put a lot of my 30 years experience into this speech. Whenever I go away I don't just represent the UK, but also Ireland ,being Irish. It's very important that I put both countries on the map.
Representing others gives me great strength and hopefully it's a boost to the other families we are working with, in knowing that I was there representing them on their behalves as a delegate for others going through the same things I've gone through.
I wear a collar and tie when representing ATD Fourth World, it's important to represent ourselves in that matter of fashion. We might be poor, but we don't want to show the true meaning of being poor when we go to these places. I think that we have to show that we want to be  treated with dignity and respect.
That's why I did it. It's very important to be there and get our voices across. It was a good day for everyone and that is what ATD Fourth World is all about."
Seamus reflecting on his visit to New York City and his presentation at the United Nations on October 17th The International Day for the Eradication of Poverty.
By Seamus ATD Fourth World
0 Comments
26/10/2017
  Frimhurst: A Place of Freedom, a new ten-minute film celebrating the work of Frimhurst Family House as a sanctuary where families struggling under the weight of poverty can rebuild their lives in dignity, free from stigma and discrimination.
This film highlights the importance of creating a safe supportive and non-judgemental environment for the whole family… somewhere away from the day-to-day pressures and anxieties of a life in poverty.
At Frimhurst, families living in poverty can enjoy a wide range of activities alongside others in similar situations. Frimhurst is a place to share experiences, develop supportive relationships and form new long-term friendships. This network of support is essential in recognising and building upon the strengths of a family, while working alongside them in overcoming the challenges they face and promoting societal change.
The film features the voices of people with first-hand experience of poverty and hears them speak from the heart about why Frimhurst Family House, the setting for all residential aspects of ATD Fourth World's Family Support Programme, is such a unique and important place.
"Surviving a life in poverty is getting harder and harder as Government policies become more punitive and divisive. This creates feelings of fear and insecurity, it drains your energy and can make you ill. Having a place to go to where we are not judged, can dare to trust the people around us and be free to be ourselves is a lifesaver. Frimhurst gives us strength to carry on, knowing we are not alone in our struggles."
Moraene parent and activist ATD Fourth World
Made to mark the sixtieth anniversary of Frimhurst Family House, Frimhurst: A Place of Freedom was produced for ATD Fourth World by journalists and film-makers Ofelia de Pablo and Javier Zurita.
0 Comments
26/10/2017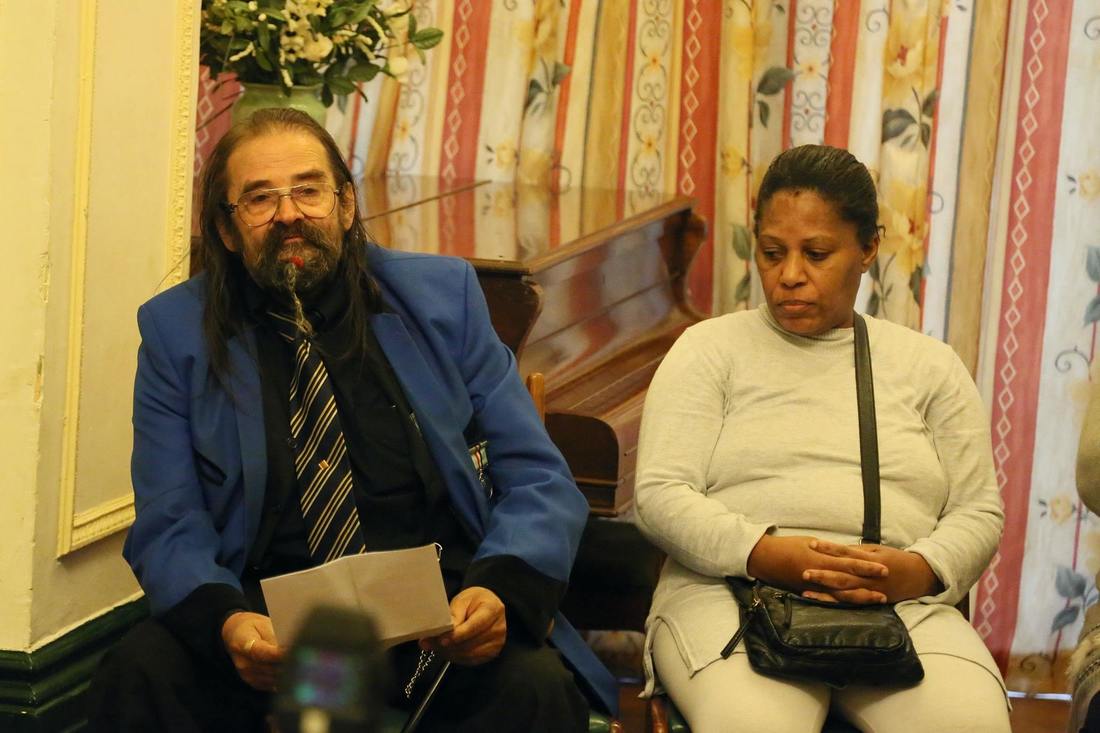 As part of the worldwide campaign "STOP POVERTY: All Together in Dignity" and Frimhurst Family House celebrating 60 years as "A place of Freedom". Eric speaks about why Frimhurst Family House is special for him.
Stories of change: "Listening" by Eric Knibbs:
When families are going through a difficult time, often what they need is someone to listen to them. If you don't listen, you don't find out the truth of what's going on and this makes it difficult for people to get the help that they need.
If you tell people what to do, then they lose the capacity to make decisions for themselves. It's like being in the Army, where they tell you what to do, and it's the same with social services, and so many other organisations.
Here at Frimhurst Family House it's different, people listen to each other.
​When we first met ATD Fourth World my family was struggling to stay together, to make ends meet, and to make friends and be heard: we were feeling really isolated.
At a local church we met a gent' called Johnathan Hayes, who was working there at the time, and he had a contact at ATD Fourth World called Jeremy Boutwood.
Jeremy was a Social Worker for adults with disabilities, who volunteered with ATD. He encouraged us to get in touch.
We went along to one of the monthly National Gatherings that used to take place at Frimhurst Family House, and we were introduced to some of the families who came from Camberley, Guildford and London.
Going there for the first time was scary: I was like fish out of water. But we were made to feel very welcome, and after a few trips it was like we belonged. Like we were family.
Frimhurst allows families who are going through a difficult time to go on respite stays where they can get away from the stresses of their day to day lives. It gives them a chance to talk to, support and learn from each other in a respectful and non-judgemental environment.
I started to go to the regular family social events that we used to have at Frimhurst: that's how I became really involved with ATD Forth World. We had these social events just so we could talk to each other, and we used to solve so many problems, just from talking to each other because we could share our experiences and give advice based on what we had gone through in life.
If you don't listen, you don't learn, and we are all supposed to be learning everyday of our lives, just like scientists trying to solve problems!
We have all got important things to say, we just need someone to listen to us. Each one of us has life experience that matters.
Frimhurst has given a lot to my family, without Frimhurst my family would not have stayed together, it would have collapsed.
I found support in so many different people who gave me advice based on their experiences: Like when Social Services turn up at your house and accuse you of not having enough food for your children. Instead of getting mad, you can invite them into your home, and show them that you do.
People would say things to me "Don't put up a brick wall, invite them in to your life".
If you make it more friendly, it takes away the authoritarian air, it's about finding ways to work with them.
That's what I have learnt from listening to people. When I listened I felt a lot better, as I felt I was being listened to as well. It made me feel like I was worth listening to, and that maybe what I was saying making sense. This in itself makes you feel more worthwhile.
I remember on one particular stay that I was part of, there was a mother who was very angry, because she was going through some trouble with Social Services.
All she wanted to do was to hit people.
I sat with her and listened for the whole day, occasionally I would steer the conversation, but not push it. Eventually she came up with an idea that would suit her, and Social Services.
When people are listened to, and their ideas are taken on board, you can often come up with better answers, and these are the solutions that work.
In the end it turned out that she was able to keep her family together, and family is really important, because no-one can survive forever on their own.
This is the way I feel about life.
Frimhurst lets us come together, lets us talk about things that matter, and lets us talk as friends, like one happy family.
Sometimes we have minor disagreements, but we work together. Frimhurst is the family that you choose, rather than the family that you are born into; much like the whole of ATD.
I've been doing a psychology course to help me better understand what I'm listening for. With this course I've found better ways to listen. I'm doing this to progress towards the 'Family Counselling Course'.
If you have the hat to say that you are a trained councillor, then Social Workers will listen to you as well, and if you don't you're just a 'busy body', but that hat gives you officialdom.
My plan is also to do sociology and then I will have a good framework for family counselling. It will take me a couple of years, but it's something I can do with my life that I can make good use of. It's something that I can put against my name, that can make anyone listen to me.
Thank you for listening & I hope Understanding.
​By Eric ATD Fourth World UK
​Speaking at FRIMHURST FAMILY HOUSE0 Comments
25/10/2017
  We are thrilled to announce the release of the video clip "With My Own Two Hands," a collaboration between Playing for Change and ATD Fourth World.
This Song Around the World commemorates sixty years of our movement to overcome extreme poverty, with performances by professional musicians and ATD members from the Philippines, Spain, Burkina Faso, Haiti, France, Montreal, and beyond.
Click here to see the video.We hope you enjoy the clip and that you'll join all of us around the world commemorating October 17, 2017: The 30th World Day to Overcome Extreme Poverty.
With our own two hands, we can #StopPoverty – find out more at:
poverty-stop.org

0 Comments
18/10/2017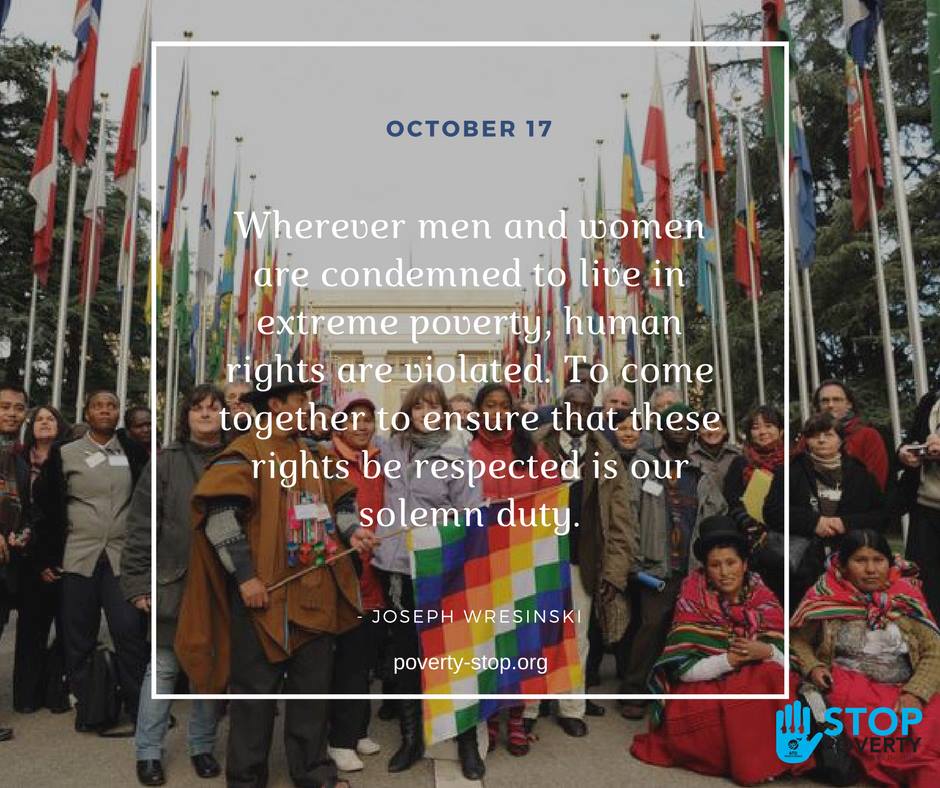 In Scarborough, Britain and the world, October 17 is known as the 'World day to overcome extreme poverty'.  The United Nations recognised the date in 1987 when a commemorative stone was unveiled by the Eiffel Tower in Paris.  100,000 people were present that day and since that time it has grown into a global phenomenon.  The founder of the organisation, Joseph Wresinski, was a man who grew up in poverty in post world war one Paris. He was born in 1917 so 2017 not only marks the 30th anniversary of the commemorative day but also 100 years since the founder's birth.
What makes October 17 special is that its theme is listening to the poor.  Wresinski saw that most governments and agencies think they know what is best for poor people but in reality it is often the poor themselves who understand the barriers to escaping poverty.  It is not only lack of work, but also secure housing, education, health and confidence that is needed. Deep poverty often afflicts many generations of the same family.  In 1957, Wresinski founded, with families suffering extreme poverty, the organisation ATD Fourth World. They all knew that what humans need most is dignity and a sense of worth. Wresinski said that nobody should die without having given the best of themselves in life.  This means having opportunities and support.
Volunteers now work for ATD Fourth World in 32 countries, including some of the richest, the UK, USA, France and Germany.  In Britain, the team work with families where poverty often results in having their children removed by social services. The teams use culture, education and art, to build relationships with the families and support them in their fight for recognition and dignity. The team also work with the government and social services to influence policy and they publish books and reports about their work and findings.
I visited our local soup kitchen and poverty support centre but nobody wanted to comment about O17 so I went down to the seafront and talked with a homeless guy there.  This is what he had to say about poverty:
I feel I have been groomed into poverty from childhood. Everyone is involved but it comes down to individual's strengths and weaknesses. I have been homeless for seven years with drugs and alcohol and crime. I came from a large family with restricted finances ending up in borstal and in and out of institutions. As a teenager I was frustrated and vulnerable. I had a lot of resentment and became dishonest and got bad advice from others. My health and wellbeing was bad. Hostels are dangerous places but even on the street I have been attacked next to a cctv camera and the Police did not come. Nobody has the right to stop people prospering. I have no friends or family now and I would like to do something interesting with my time. Being on the street it is hard to keep clean and it takes ages to warm up in the mornings. It feels like modern day slavery, I am controlled by other people.
Mark Vesey Supporter of ATD Fourth World UK
For more information about what you can do on October 17, sign the petition against poverty at: www.atd-fourthworld.org/stop-poverty/ or read more information at: http://overcomingpoverty.org
0 Comments
18/10/2017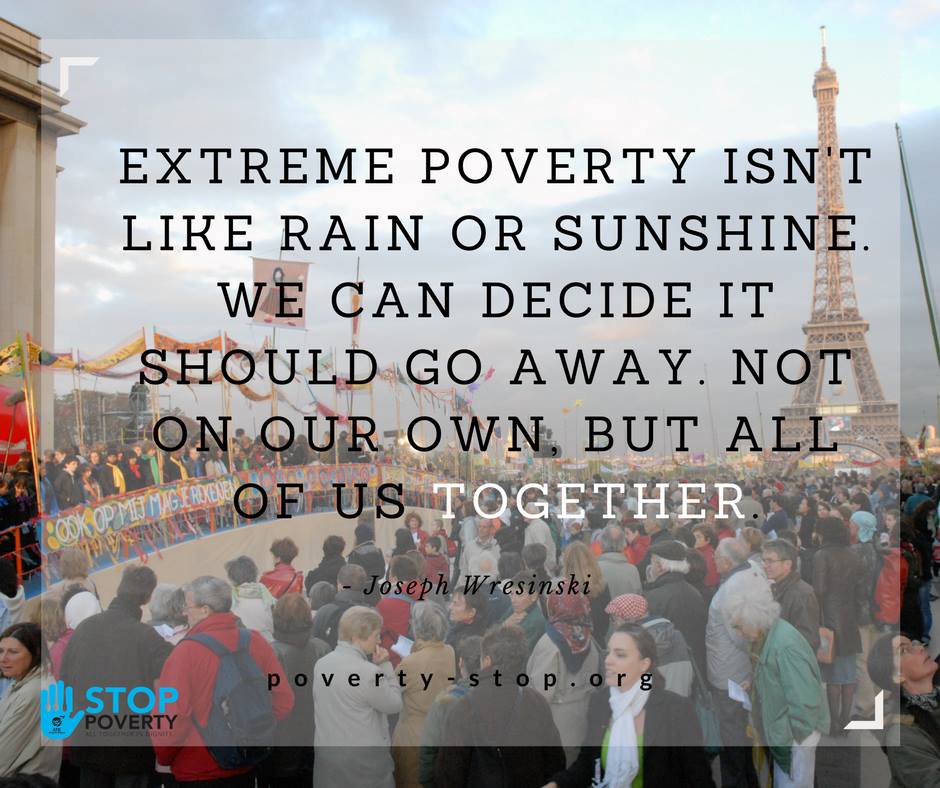 Dear friends,
We are pleased to send you the International Leadership Team's message for the 2017 World Day for Overcoming Poverty. It will be read aloud at United Nations headquarters in New York on 17 October at 2:30 p.m. local time.
You can also click here to read on our website the message from Mr. Cassam Uteem, president of ATD Fourth World.
Thirty years ago, Fr. Joseph Wresinski stood before 100,000 defenders of human rights to inaugurate a commemorative stone in honour of the victims of hunger, ignorance, and violence. This became a unique place for the voices of people in extreme poverty and all those in solidarity with them. This year, with the public #StopPoverty campaign, the public expression of resistance to poverty is gaining influence. We now have Stories of Change, the Playing for Change music video "With My Two Hands", and a WebTV broadcast. There is powerful content in these tools that we can use on the 17th and in the years to come to engage people in learning from those who live in extreme poverty and to spark new commitments.
With friendship,


2017-10-17-dg-message17oct-en.pdfFile Size: 137 kbFile Type: pdfDownload File
14/7/2017
  This June, a week-long conference on the life and work of Joseph Wresinski was held in the Cerisy-la-Salle International Cultural Centre, Normandy, France. One of the topics addressed there was "Violence and giving – rethinking human relationships". Moraene Roberts, an activist with ATD Fourth World in the UK, addressed this topic in a short film that was shown at the conference.
"It's very important to say that poverty is an act of violence against the poor. It creates a cycle of violence in which people live. They are treated as less than human, which violates all of their human rights.
"One of the difficulties people in poverty have is not just having their voice heard, but their viewpoint and their opinions acknowledged. There's a lot of research on poverty, but nobody is taking on board the base line that to do research on poverty without the full participation of people in poverty means that it never gets to the bottom of what's going on. We don't want to be under the microscope of researchers. We want to be standing next to them; participating not just in giving examples of how awful life is", but in telling what we need and how it's to be delivered to us. We know what's important. We know what needs to change.
But too often, policies are only theoretical; they are designed and implemented by people who know very little about what life in poverty means. They do not come from people with first-hand experience of poverty, but from experts without experience in that field. Moraene Roberts adds,
"It's very difficult to imagine how systems that are set up to help people can affect their lives in terrible ways. Unless you encounter people, unless you meet them, unless you speak with them, you don't really get to know anything about them, and when you come up with solutions yourself without asking the people themselves who are suffering, those solutions hardly ever work. Often they end up with a complete oppression on them. And then people say: 'Look we gave these people opportunities, they didn't take it and therefore their poverty is their own fault.' And again that perpetuates the idea that people in poverty want less, care less, don't have ambitions or aspirations, and that they're content to be recipients of charity of money from the state.
"It's very important that people who live in poverty are given opportunities to show the best of themselves, to show what they can do, and to show what they can contribute. When people are given opportunities to show the best of themselves, they grow and they are able to demonstrate what skills they have. When they're given an opportunity to gain more skills, then they accept it and it gives them a kind of dignity that they wouldn't have otherwise had. But the slightest deviation, when you're on benefits, the slightest attempt to do something for someone else and you're penalised. We use the word 'sanctions' and people being sanctioned. When people read it in a newspaper, they think we've been told off. We've not been told off; we've been left to rely on food-banks or starve. All of your benefits are stopped. You are left destitute until it's sorted out and it can even lead to imprisonment. It's such an injustice. And an example I can give is that when I was receiving a benefit — a non-work-related benefit — I was told that if I continued to do voluntary work I would receive a lower rate of benefit, whereas if I gave up my voluntary work I would receive forty pounds a week more. Forty pounds a week is an enormous amount of money for someone who is living on subsistence money. But it meant giving up my freedom; it meant giving up my right to contribute; it meant giving up what gave me dignity and pride. It meant being imprisoned in my home, having more money but having less life. And that's something that happens to lots of people in poverty. When you are in poverty you can't win."
In this short film, Moraene Roberts also speaks about the book The Roles We Play: Recognising the Contribution of People in Poverty. www.therolesweplay.co.uk
The project aims to show the roles played by those living in poverty within their families, communities and society at large, recognising their contribution and challenging the negative attitudes often held towards them. She says, "It's important that people in poverty are able to show the general public that they have something to give and they should be able to give it. Otherwise, what is not recognised is what is lost, not just to that individual but to the wider community, and to the world." It's important that poverty experts are able to speak up and take an active role in efforts to overcome poverty. The greatest misfortune for people living in extreme poverty is not a lack of money or material possessions, but rather the inability to give anything to others. Moraene concludes: "That aspect of people who live in poverty is continuously ignored. When people hear that you're getting benefits they then see you as a lesser person. It's a horrific experience; I can promise you that. It's a horrible experience feeling that nothing you do has any value; nothing you say has any value because you're a lesser person and therefore not entitled to be listened to. It's time that researchers and people in poverty get together as equal contributors. That would make a change, but it hasn't existed so far."
By Moraene ATD Fourth World
Link to the ATD Fourth World International website
http://www.atd-fourthworld.org/mobilization2017/dignity-giving-moraene-roberts/
6/7/2017
From UK poverty to social security: solutions grounded in experience
6th July 2017 House of Commons
Presenting our anti-poverty poster
ATD Fourth World UK
Amanda
This poster was made by 10 people with an experience of poverty, we (3-4) represent this group, many can't be here today due to benefit and job centre restrictions.
This project brought us together as a group and gave us chance to share our ideas through art and design.
Our poster speaks clearly about how people in poverty don't feel listened to, and don't feel part of the democratic system. One of our group said "Let the hole in democracy be filled with our voices" we feel that people in poverty have a lot to bring to the table… and events like this should be common practice …
We can only build a more fair society when we all work together.
I think I speak on behalf of the other groups here when I say … we reach out an open hand and are willing start important conversations with you and others in power.
Just ask us and we will be here in a flash..
Seamus
When one is on their own they feel weak, but when you bring a thousand voices together we feel strong.
This whole project in bringing many different people together from across the country …which is very important, we are hearing the same things from the different places. We hope to be heard !! We need to be united!!
Working together with other groups like Thrive Teeside and The Doleanimators is so important.
I drew a bridge on the poster,, the bridge represents the importance of coming together… MPs, people in power ,, and the powerless.
We can work together and make things better for all.
It's time to listen to people in poverty; we are experts on poverty and have a lot to contribute.
Lareine
Our poster represents the need to listen and work together
People in poverty go through a lot of challenges and feel rejected by society because they feel nobody listens to them which causes anger, frustration, set back even depression. Why are we excluded from the debate?
For example, as a mother with a special need child, I find it sometimes hard to cope alone with the challenges that are attached to dealing with a child with complex needs.
Social workers are often in people's life's and in many ways represent the government, in my case they provide little help and complain that their hands are tied, I feel the cuts to this very important service
Everything is cut.
Because of lack of help, at the beginning some parents struggle to the point of breakdown and as a result their children are taken away from them.
Families need support and I feel we are not listened to in the times we need to be listened to the most.
I was lucky and found ATD Fourth World in my days of real need, ATD helped my family stay together by supporting us and listening. I fear other families might not have the same opportunity.
We should not feel ashamed every time with words such as scroungers, lazy, just because we need support.
I think the government should listen to more poor people and understand better what we are going through.
Angela
The reason I drew the megaphone is to try and give an understanding that poverty must end and be eradicated. Our voices need to be heard. People living in poverty feel they are not listened to. The Government needs to listen to us. We know a lot about poverty and have ideas and answers how to work together to over poverty.
We offer our help and are very willing to work with government on solutions to poverty.
The bridge in our poster is saying everyone needs to come together and build bridges not walls.
Thank you for listening
21/6/2017
 Giving Poverty a Voice links up with the Voices from the Margins Campaign. Focusing on  the General Election and what issues need to be addressed.
0 Comments
5/6/2017
People have asked me on numerous occasions why I started the skill sharing project a little over four years ago now, the answer is both deeply meaningful  and easy.
ATD Fourth World had given me a lot of help and advice while at Frimhurst Family House, and gave me a chance to have somewhere to take stock of where my life was heading. I wanted to give something back somehow.
Now being the sort of chap that's handy with tools, the obvious way to help was with decorating the place and general upkeep.  So I sat down with Stewart a member of the team and laid out my vision, which I am very pleased to say he jumped in with and the Skill Sharing residential project was set in motion.
Now four years down the line the project is still going and its grown in strength, we have been able to have two residential week long stays at Frimhurst Family House, one in the summer and one in the winter over these four years. During these stays we help people learn about painting and other decorating skills. We have added a small kitchen, repaired and repainted windows, decorated bedrooms, replaced flooring, cleared leaves, even dug the first section of the community garden at Frimhurst; to us it hasn't mattered the job we have dived in and completed the task, as we love the place and it has enabled us to build friendships, learn skills and provide support to everyone who has taken part.
That's the reason I have done it, and continue to do it, sure it has been stressful and there have been ups and downs, but to see the pride on the guys and girls faces at what they have achieved over the week for me there was no better reward.
So in closing I want to say thank you to ATD Fourth World team that have helped us and all the participants that have taken part over the four and a bit years.
Before the residential stays took place at Frimhurst Family House the main thing that helped inspire me to begin this project was the weekly skill sharing workshops at the ATD Fourth World National Centre at Addington Square London.  I was part of the team there that renovated the community kitchen and took part in the attic conversion to provide volunteers accommodation.
By James ATD Fourth World
As an important pillar of our Family Support Programme, our Skill-Sharing Workshops and Access to Volunteering initiative hold fast to the conviction that everyone has something to offer. Our aim is to furnish people with the support and encouragement they need, through concrete volunteering opportunities at our National Centre in London and Frimhurst Family House in Surrey, to be able to contribute to the running of ATD Fourth World.
https://atd-uk.org/projects-campaigns/family-support/skill-sharing-access-to-volunteering/
0 Comments
10/5/2017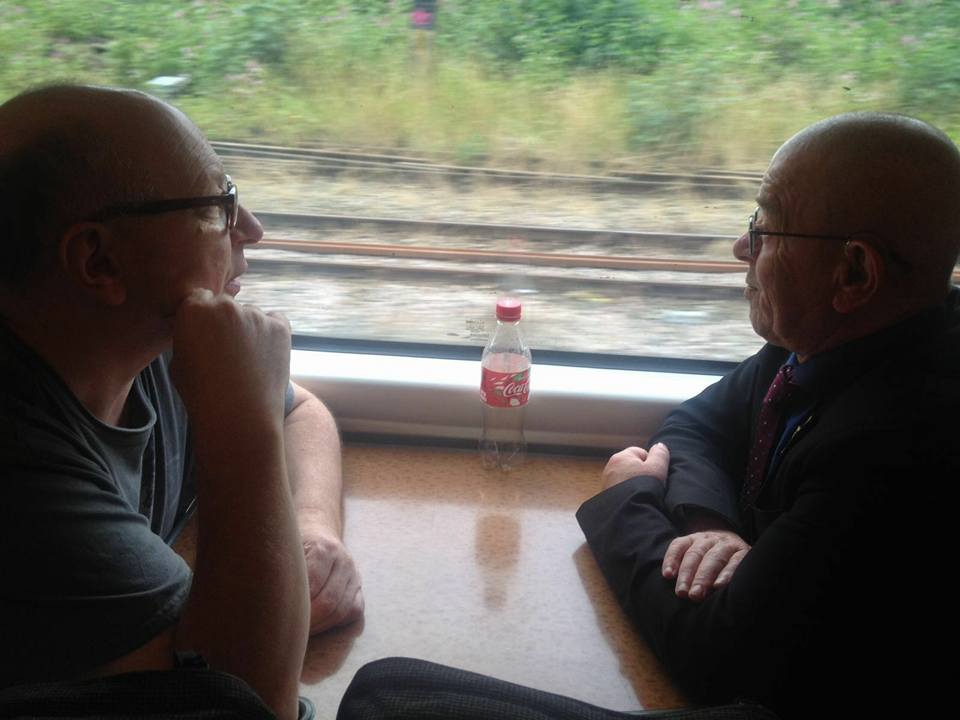 In the summer, Jackie Cox and Church Action on Poverty organised a residential meeting in Windermere. This important event brought different groups together who are fighting against poverty so that they could share their experiences, expertise and views. Representing ATD Fourth World were Ian a new activist who recently started volunteering for ATD Fourth World UK and Seamus a long-term activist and family member.
Naomi accompanied them from the full-time team.
Ian remembers, "It was my first time representing ATD Fourth World UK. At first I was a bit apprehensive, but the company of Seamus and Naomi gave me the confidence to give my presentation to the rest of the group."
Seamus said, "Ian asked me, 'would you like to speak first?', and I said, 'Go ahead.' He went first. We both spoke up. He didn't need any help from me. He did well. I told him how well he did. It is really important to support each other is, when I first spoke out the first time I remember how hard it was, and now I have the confidence to help others.
In preparation to the meeting, Ian and Seamus were asked to pick up themes they wanted to present at the conference in order to write their speeches. Ian decided to share his experience of volunteering with ATD Fourth World at the Open Community Lunch organised every Thursday. "It is a chance for different people to meet up, and to make friends. We all get involved in the cooking and preparing the meal and it makes me feel good at the end of day seeing people enjoy the food and the company
Both Seamus and Ian remember how welcoming the place was saying:
"We felt very welcomed by all of the people from different organisations. Even though we didn't know each other we managed to build up a friendship between us. At first, we didn't talk too much, but we got to know each other, and then we realised we had a lot in common. Our struggles are similar."
Seamus spoke about helping Ian to prepare, saying:
"It is important to help someone who is new to ATD Fourth World. When I first started 30 years ago, I was asked to speak in Parliament. I got help from a member of the team back then, and he gave me tips on speaking out. I was given a 'pat on the back' and a confidence boost. Over the years it gets easier, and with practice it gets better and better.
"I have spoken out at many different events since and feel proud of this. I like to always ask others in the group first, who wants to speak and on what theme, we often work together. People like to feel involved, it's a partnership, encouraging each other is the way we work at ATD Fourth World. The older activists have more experience and we can help the new people. Like me and Ian, it is good to put us together so we can support one another. The old one can always help if the other gets stuck."
Ian said, "I agree with Seamus. It gives us new people a chance to learn. It gives us insight into ATD Fourth World and also the other work that is going on out there."
Another theme Ian wanted to speak about was the respite stay he took part in. "I enjoyed my stay at Frimhurst Family House because it was so tranquil and quiet. I felt relaxed there. Going to Frimhurst gives us a chance to unwind, it's a peaceful place and for anyone who is struggling in life it's really needed"
Seamus: "Frimhurst is so important, it's a break from daily life and we build friendship there. When we stayed at Windermere it was the same. It was a different house, but it was similar, the atmosphere was exactly the same. When you go to Frimhurst, you feel welcomed.
Ian: "Jackie made us feel welcomed. She was very kind, introduced us to others and made us feel at ease."
Seamus: "After the conference at Windermere I felt refreshed. It was a very good achievement we really supported each other. I've gotten so used to it that I've become confident. It's also the others around you that give you confidence. We really learnt a lot from the others there and hope to carry this work forward."
Ian: "I would like to do more public speaking and maybe one day I can help others to stand up and speak out."
By Seamus & Ian ATD Fourth World
For more information about Church Action On Poverty
http://www.church-poverty.org.uk/
0 Comments
3/5/2017
Like others, I admire conventionally healthy, beautiful bodies. I am not a fan of stick-thin figures but there are those who are. There are those who find short, fat bodies like mine repulsive but, thankfully, there are others who do not. I am also physically disabled and have several chronic illnesses. For some this makes my presence distasteful or difficult to cope with; yet there are those who see me as a person first and recognise my disability afterwards, and they are comfortable with my company. Reactions to the bodies of others are as diverse and perverse as our reactions to our own bodies. Our human bodies are amazing and miraculous, so why are we so easily made to feel ashamed of them?
I would like to change my body, to weigh less, to be healthier, to be able-bodied, but have neither strong willpower nor a magic wand to achieve these things.  This being so, I concentrate on the positives in my life, on what I can do rather than what I cannot do, on what I like about myself, not on things I don't like. I look around me and see my friends and my family and count my blessings; without them I would be housebound and very lonely. To them I am a person, not an ailing body, I love and am loved for myself and so I have joy in my life.
I am pained by the current obsession in the West with youth, beauty and thinness, demoralising – even destroying, those who cannot achieve the look that they see on every magazine cover and billboard. Children as young as five are bullied for being overweight or ugly when they are neither, and they internalise a negative self-image that can have life-long implications for them. Our collective self-confidence is becoming image-driven and people are suffering because of it, even to the point of self-mutilation and suicide. We feel appreciated for how we look, not how we act.
Our bodies were designed to enable us to be mobile, able to hunt and forage, able to build a shelter, have children and protect ourselves. As the majority of us no longer need to do most of those things, we have come to judge our bodies, not on what our bodies do but on how they look and on the opinion of others. Strangely this has led to the opposite disorders of obesity and anorexia – both of which can kill.
It is ironic that whilst Western populations, attempting to be thin, spend millions of pounds on exercise machines, diet foods, slimming pills, and even cosmetic surgery, the populace of many other countries cannot even find the means to eat enough to stave off starvation and death. In the faces and bodies of size zero fashion models, there are frightening similarities to the gaunt images that stare at us, hauntingly, on news programmes about areas of drought and misery.
It is time we began to appreciate the wonderful bodies we have been gifted, to enjoy them and look after them. We must value what a person contributes, not just how they look. At the same time, we must try to improve the health and welfare of those around our world whose bodies are starved, diseased and destroyed. We are dying of privilege while they are dying of poverty. This must change so that all of our bodies can be healthy and productive instruments of freedom.
By Moraene  ATD Fourth World
25/4/2017
We are proud to welcome a guest post from Annie, Surviving Safeguarding
A Parent's Guide to the Child Protection Process
I'm going to keep this post short.
I launched my website in May 2015, having spent the previous month putting my heart and soul into writing my socks off every evening whilst my son slept. At first, I wrote because I was angry. Angry at myself and my own failures and mistakes. Angry at the way my son had been unnecessarily removed at birth and then clumsily handed back 258 days later in a car park. Angry at the way I was made to lie to my older children, still in the care system, about their younger sibling spending time at home when they were not permitted. Angry that the local authority would not engage with me, would not trust me and would not give me a chance to demonstrate I could, and had changed. Angry at the predominant voice in social media being one to encourage fear of social workers and fleeing of families.
I hoped that by writing, I might show some parents that there was another way, that they could be empowered with knowledge and support, that they could engage with social workers, that they could survive the child protection process, too.
I hoped that by writing, I might remind some social workers that service users are real people too, that there are real and enduring effects of our interactions for our families – long after our cases are closed and social workers have moved on, and how important it was to listen and be aware of the experiences of the families they work with. I wanted to remind social workers of the power of their role and the need for humanity and kindness, always.
In a Utopian way, I wanted to help both social worker and service user work together, respectfully and mutually contributing to the relationship for the benefit of the whole family – and the social worker themselves.
I never thought anyone would actually read my website, I just hoped some may stumble across it. I still, to this day, never think about anyone actually sitting and reading my website, and when I'm told people do, I get quite emotional and feel very humbled.
Almost two years on, and my motivations have not changed. In fact, if anything, I am even more motivated to fortify the relationship between social worker and service user and that is at the heart of every single one of my training sessions. Because of my profile, I feel a great responsibility to ensure the voice of parents involved in the child protection process is heard. Without wishing to sound arrogant in any way, I try to speak for those who cannot, for whatever reason. I take this responsibility extremely seriously and carry it with me always. I would never do anything to disrespect the trust of those within the profession, and the families I work with. I've never been any good at anything before, but I'm good at what I do, and I feel I make a difference.
I have been aware of various "social work blogs" since I launched my own and have read many with great interest. When I started on this journey, I found them an education, a different perspective – I guess the way some people feel reading mine!! Some of them made for difficult reading; it was painful to read of another human being emotionally worn-out in a job they entered to try to help people like me. Some of the light-hearted posts made me smile and laugh; it was a joy to know that these same authors could find levity as a tool to keep them going, even in distressing times. However, the general theme of these blogs were a positive reinforcement that most social workers truly wanted the best for their service users (for want of a better term) and wanted to work with us. One of them I really rate is Ermintrude's blog and I would encourage everyone involved in social work to read this website.
However, more recently, I have become increasingly concerned about a blog by a practising social worker who calls himself "Social Work Tutor". Initially, I was interested in what he had to say and quite buoyed by the addition of another dynamic, powerful voice. In fact, we even exchanged email addresses when he asked me to write a chapter in his book. This was not progressed, because the rehabilitation of my 12 year old son broke down and, after explaining this to the Social Work Tutor, I was ignored.
Around the Autumn of last year, I began to notice more and more posts from the Social Work Tutor about the emotional impact of being a social worker. I read many of them, and in the first instance, found myself agreeing vehemently and calling for more support for those particularly at the "frontline" of practice. But they continued, more and more were produced, now becoming "memes", many of which were followed by lengthy justifications using very emotive language. There is a time and a place for this and my opinion is that publicly, where service users have free access to read it, is not always the right one.
There was a limit to my sympathy; this person chose to be a social worker, I didn't choose to be sexually abused by my father and my children didn't choose to be failed by me, their mother. This person could choose to leave their job and do something different with their lives.
I contacted the Social Work Tutor and asked him to tone these posts down as I felt they were creating an even bigger divide between "us" and "them". It was everything I was working against. It was divisive. It was disrespectful. It did not encourage engagement. How on earth can you engage with a social worker after reading this sort of thing?
There followed an exchange I can only describe as "shocking" whereby this person used the fact that he worked in a neighbouring authority and knew social workers in my authority, the fact that a very distant relative of his wife was married to a friend's daughter and that any criticism of him might upset their children (aged 3 and 1), and the fact that he would find any criticism extremely upsetting. This person also then twisted my words to suit him in a move which I have to say left me chilled, considering his position as a child protection social worker.
I understand others have criticised this person's work too, and have been met with emotionally provocative language, threats of legal action and "blocking". If you have a public profile as I myself do, you have to learn to take criticism. I get called a child abuser on a weekly basis. It doesn't upset me any more.
The Social Work Tutor did not tone the posts down. In fact, they have escalated into something I find deeply distasteful, an example of which I have attached below:
As a service user involved in child protection, I cannot begin to describe how horrifying this is. This will sound ridiculous, but my instant response upon reading this is to feel protective towards the families I work with and represent. I know they would feel disempowered and feel frightened and intimidated by the power of a social worker. I know this, because I feel it, too.
Another upsetting "meme" created by this person seems to poke fun at large families, talking about the "awkward moment" the social worker is trying to remember everyone's name. I have a large family. On court documents, my name is not spelled correctly, and social workers regularly mixed up the names of my children. A local authority trying to remove my children who can't even call each of us by the correct name?
I could go on, but around 1300 words ago I promised to keep this short.
If you are a social worker considering writing a blog, by all means, please do. Other social workers, senior management, service users, and the general public need to hear your voices. Please do talk about the difficulties of the role, please do articulate the lack of support, please do write down how these things affect you as a human being. We need to understand how best we can all work together to build relationships, and a big part of that begins with being honest and being vulnerable with each other.
However. Please don't poke fun at, nor shame service users for their choices. Please don't construct veiled memes to highlight the mismatch of the power dynamic. Please don't be downright discourteous to your fellow human being.
It is divisive. It is disrespectful. It does not encourage engagement.
Thank you for reading,
Annie
http://survivingsafeguarding.co.uk/author/safeguardingsurvivor/
2/3/2017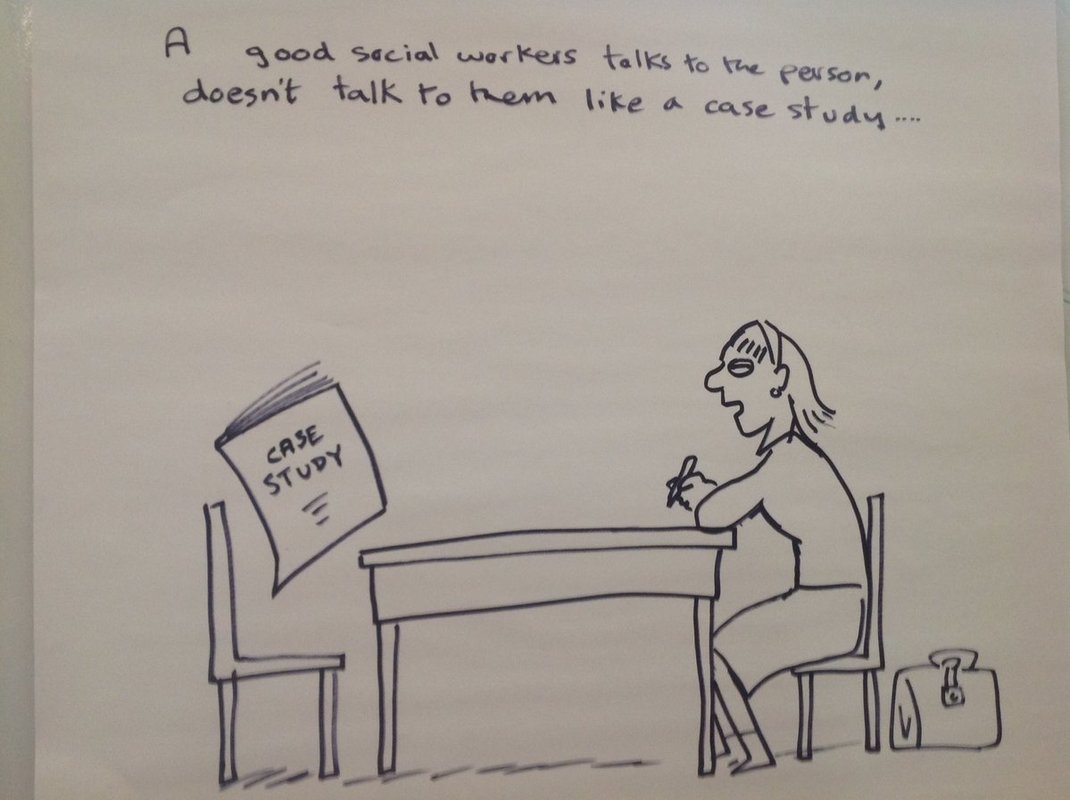 The following is a presentation given by Andrew, a father whose family have been the subject of social service interventions and child protection plans, at the Reinforcing or Reducing Inequality among Children? The Role of Child Protection Services conference at King's College London on 28 February 2017. #cwipconf17
Andrew : The Roles of Child Protection Services
When I was asked to speak to you all today, I was told that other people would talk about facts and figures and statistics. I can tell you what these statistics mean in real life. I can tell you about my own experience.  When social services are involved in your life, you are in the spotlight. It is like living under a microscope. You feel like you have to agree with everything the social workers say. If you don't agree with them you know that you will lose your kid. It feels like having a gun to your head.
I've had bad experiences with social workers and good experiences. A good social worker will talk to you; it is about you and your family, not about your case file or statistics. I am fortunate to have had good social workers this time around; one, they have tried to see things from my point of view and see what life is like in my shoes and, two, they have gone back to their managers and fought my case for me.
My wife fell pregnant two years ago. We were told by our social worker and her manager that they wanted to make sure we were meeting our baby's needs and that she was developing like a new born baby should.
When social services are involved in your life, you need them to be understanding. I know they are focusing on my daughter's weight. But I didn't go and get her weighed last week because I was sick and my wife was out at college. There was nobody take her. You need social workers who understand that and don't jump down your throat when you have a good reason for not doing what you said you would.
In the past, with our older children, I feel like there was never a fixation on a baby's weight like there is now. My daughter is now messing with her food and messing about at mealtimes. It puts pressure on me and my wife to feed her and to persevere. Despite all this, she is still within the centile but this pressure is new.
When she was born, we were sent to an assessment centre for three months. It was worse than being in prison. We were the eldest people there, surrounded by immature children having children.
But we agreed to go because we know that if social services have concerns, you have to work with them to get rid of them! If they want you to do something then you have to do it.
Going there also proved to the social worker that we were determined to keep our baby, even if it meant taking advice from staff who didn't even have kids of their own. You have to show willing.
When we came out of the assessment centre, social services made me the main carer for our child. They asked me not to work or look for work. It doesn't work that way when it comes to the JobcentrePlus; if you're not allowed to look for work then you get no benefits.
Social services cannot have it both ways. I cannot be asked to be the main carer and only stay at home with the baby. I need to go out and work to earn money. Nothing in this world is free. You can't feed a child on fresh air. And if you can't provide for your child then social services will take your child away.
In the end, social services realised I needed to be able to work part-time to get benefits. My work advisor was a really good support for me. But the real difficulty is that not working means you have no money. And if you have no money then you can't provide for your child.
I have more outgoings than income because being on benefits is no good. Everybody wants the best for their kids and themselves but that doesn't mean just feeding them; it means keeping a roof over their head, clothing them. A life on benefits means I can't go on holiday. It means having that not nice feeling in your stomach when your teenage son asks for a laptop or trainers at Christmas and you're not sure you have enough money for the rent, the gas, the electricity and the food.
A child does not come with a bottomless pit of money so I need the freedom to go out and work. I still want a normal life for me and the kids.
Dignity means respect. Living on handouts, which is what being on benefits means to me, means no dignity.
In the end, I want to repeat what I said at the start. I've had bad experiences with social workers and good experiences. A good social worker will talk to you; it is about you and your family, not about your case file or statistics.
It is also important to have a good support network. I am lucky to have family, friends and ATD Fourth World. This made a difference because having them there meant I could fight to go back to work and know they would visit my wife to support her with our children.
You need to know what support my family has needed outside of social services: holidays with ATD, someone to come to court with us, someone to come to case conferences and meetings with social services, someone to visit us when we were in the family assessment unit, someone to support my wife her confidence and get her out of the house when she was having her panic attacks, someone to support our son through the loss of his brothers and take him out places so that when he feels he can't talk to us he has someone to talk to.
Everyone needs support with kids. With kids, you go through good and bad but it feels like social services are only there for the bad. If social services really want to work with families then they cannot just walk away from a family the moment the child is adopted. If you want to work with families then it is the relationship that has to be the most important thing.
Thank you.
By Andrew ATD Fourth World
For more info about our Social Work Training Programme :
https://atd-uk.org/projects-campaigns/policy-participation-and-training/social-worker-training-programme/
Cartoon imagines from the conference by  @harrymvenning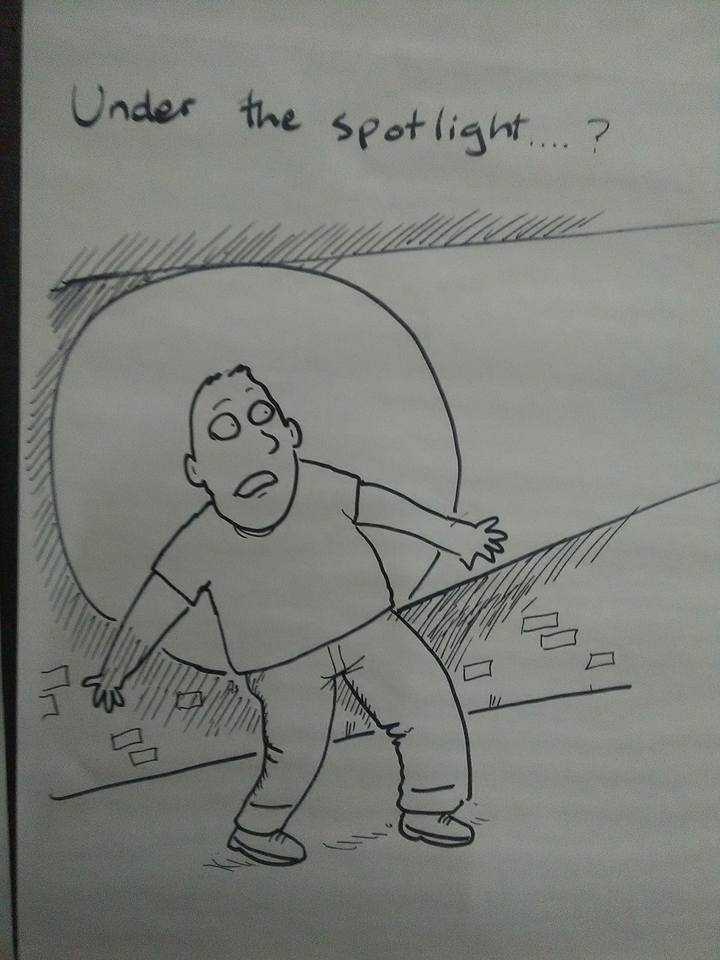 0 Comments
20/2/2017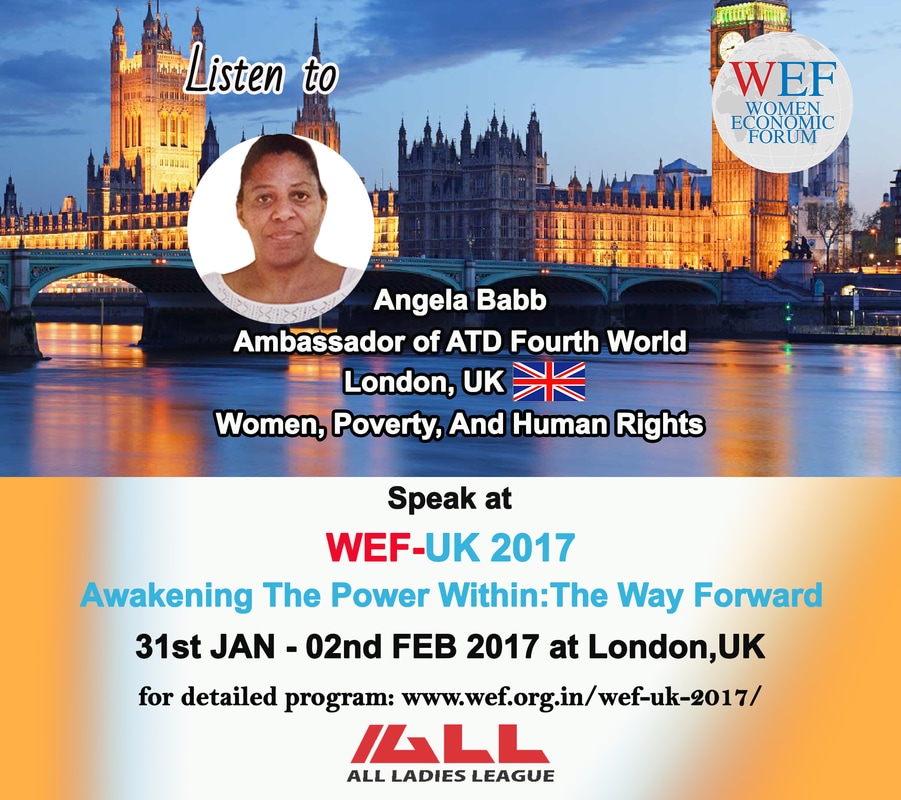 On the 1st February 2017, ATD Fourth World members Angela Babb and Diana Skelton were invited to speak at the Women Economic Forum in London. This conference brought together 250 women from Britain, and twenty other countries in Europe, the Middle East, and South Asia. The forum's goal is to enable women to expand their opportunities and increase their global influence through networking, collaborating, and inspiring one another. Angela and Diana's talk was part of a panel entitled, "Women, Poverty, and Human Rights". It included presentations by Carrie Supple, director of Journey to Justice, Dr. Meera Tiwari of the University of East London, and Santosh Dass, Vice Chair of the Anti-Caste Discrimination Alliance. Angela's talk, below, focused on why she got involved in the Roles We Play: Recognising the Contributions of People in Poverty (www.therolesweplay.co.uk) , and on what it means to live in poverty in Britain today
Angela Babb: "The Roles Women Play"
I got involved in the "Roles We Play" project because so many people in poverty don't realise how much they do that's positive.
The word "poverty" didn't mean much to me before. It's a big word that makes people think of Africa. But in fact we are in poverty here in Britain too. Poverty is when others think you must be a scrounger because you need to rely on benefits sometimes. Poverty is when you get stigmatised. Using food banks can leave you feeling humiliated—but you have no choice if a food bank is the only way to provide for your family. You see your kids get bullied at school for not having the right trainers. You can have your door kicked in by bullies. And if that happens on a Friday, the council won't send anyone to fix it until Monday. So what do you do with your children for the weekend? It's not safe to sleep at home, but if you take them somewhere else, you're leaving your flat unlocked, and you might not find anything left. Being bullied can make a child completely distraught and afraid to go outside or even afraid to sleep—but even teachers refuse to recognise it and they don't give the child any support.
Health professionals are no better. You can see your child struggling year after year, but not actually receive a diagnosis of autism until the age of 17.
And if you are struggling to help your children, sometimes the only response from social services is to remove the children from your custody. When that happens, it might be many years before you can see your own children again, and before they're allowed to see their brothers and sisters. By then, there's been so much strain and stress that you have to get to know them all over again.
When your children get older, you see them trying to get a job—but they get their confidence knocked right off. Racism hurts too. Once on a crowded bus, a gentleman shouted at me, my baby, and my 27-year-old daughter: "There shouldn't be no chocolate people on the bus!" The gentleman didn't stop there: he gave my daughter a full-blown punch in the mouth. I was gobsmacked. I asked the bus driver to call the police. But not a single other passenger would speak up to the police about what they saw.
We mums have to be strong for our kids. My mum worked in a school as a dinner lady and also worked in the city cleaning office buildings. We always focus on our kids; we put ourselves last. If we're not strong for them, how can they count on us?
It is important to have a voice. Everybody has a right to be heard. But sometimes, you try to express yourself clearly, but the right words just won't come out. To have a voice, you need to have the opportunity to meet other people who respect you. The "Roles We Play" project gives people a voice and the chance to share the different stories that they have. The project tells people that each life tells a different story; we're people, we're not just a number.
For more info about the Journey to Justice http://journeytojustice.org.uk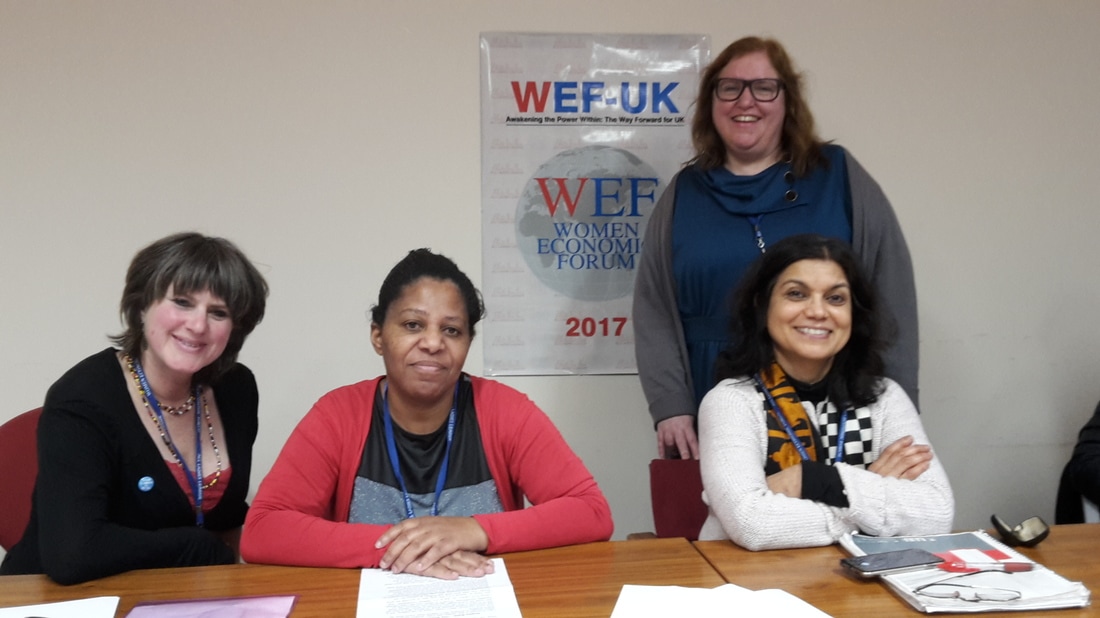 1 Comment
1/2/2017
 Families in poverty have taken the brunt of austerity measures since the global economic crisis began, resulting in growing social and economic inequality. In Britain stringent cuts in welfare and public services have led to significant hardship for vulnerable children and families. The Child Poverty Action Group estimates that there were 3.9 million children living in poverty in the UK in 2014-15, 28 per cent of children, or 9 in a classroom of 30. The number of children in absolute poverty has increased by 0.5 million since 2010 (www.cpag.org.uk). Some families are at far greater risk, for example large families have been particularly adversely affected by the lowering of the cap on benefits (www.ifs.org.uk). Over recent years there has been a rapid growth in foodbanks with an estimated rise of 54% between 2012/2013 and 2013/2014 (Perry et al., 2014). The number of homeless families living in temporary accommodation also has risen, with a rise of more than 300% since 2014 in the number of families housed illegally (for more than the statutory maximum of six weeks)(Helm, 2017).
Pelton (2015) argues that poverty is the predominant context in which harm and endangerment to children thrive, and is multifaceted, involving direct and indirect relationships. Poverty undoubtedly makes parenting harder, and impacts differentially on individual families, with particularly serious consequences for more vulnerable individuals and those without formal or informal sources of support (Hooper et al., 2007). Yet at the same time that many families are suffering increased hardship, severe reductions in local authority budgets are leading to significant cuts in family support services, such as children's centres and youth services (Sammons et al., 2015).
Alongside the decrease in family support provision to address need, there has been an intensification of identifying risk. The national statistics show that child protection investigations increased by 79.4 % between 2009–10 and 2014–15 (DfE, 2015). Whilst there was an increase in children placed on a child protection plan (40.4 %) over this period, the much larger increase in investigations meant that the number of children who came under suspicion and were investigated but were not found to be significantly harmed more than doubled from 45,000 to 98,000 (DfE, 2015). Devine and Parker's (2015) analysis of referral and assessment trends similarly found practices that were preoccupied with detecting abuse, ignored need and frequently left families alienated and frightened. In addition new applications to the family courts to remove children from the parents' care have also court continued to rise over the past few years, with 12,758 applications between April 2015 and March 2016, which represented a 14% increase from the previous year (CAFCASS, 2016).
Although no official statistics are collected on the socio-economic background of children and families involved in the child protection system, it is highly likely that increase in care proceedings are primarily affecting children from poor backgrounds. A study by Bywaters (2015) provides recent evidence of a clear link between deprivation and a child's life chances in relation to their ability to live with their family of origin. Similarly Hood et al. (2016) found that the overall system has become increasingly geared towards protective rather than supportive interventions, with deprivation levels continuing to be the key driver of referrals.
Whilst most families in poverty do not maltreat their children, a review of the literature has reinforced the significance of poverty as a contributory causal factor in child abuse and neglect (Bywaters et al 2016). Poverty is most closely associated with neglect, the highest category for child protection plans, and acts both directly through the capacity of parents to maintain the basic conditions for healthy child development, such as food, shelter and warmth, or to buy a variety of forms of support, and indirectly through the stresses created by low income. Poverty is not just incidental but woven into the fabric of people's every day lives; an influential factor in family relationships on a day-by-day, hour by hour basis, in its own right and interacting with other forces such as parental mental health, substance use and domestic violence (Bywaters et al 2016), and compounded by increasing levels of inequality in society (Wilkinson & Pickett, 2009).
Despite evidence linking material deprivation and parenting difficulties, Conservative Government ministers and policy advisors have strongly repudiated the view that social injustice and inequality are factors that need to be considered when trying to understand and deal with the harms that children and their families experience (Featherstone, 2016). The neoliberal individualizing of blame and the 'othering' of people in poverty is the dominant policy discourse (Warner, 2015), as clearly exemplified by the statement by the then Secretary for Education, Michael Gove (2012) when he spoke about needing to rescue children from 'a life of soiled nappies and scummy baths, chaos and hunger, hopelessness and despair'. Social work educators have been criticized for focusing too much on poverty and inequality and teaching students to excuse parents in poverty for their 'bad choices' (Narey, 2014).
High caseloads and frequent staff turnover, scarce support services, and an increasingly narrow, time-limited and risk averse focus characterise much of children's social work in local authorities. Recently, Dave Hill, President of the ADCS, warned that because of the funding crisis the system was approaching a "tipping point" and the effects of six years of austerity on services could not be understated (Stevenson, 2016).
This context makes it much harder for social workers, despite their best intentions, to reconcile practices with the primary values of the profession: the promotion of human rights and social justice.  Developing effective relationships with families is made more difficult for both practitioners and service users. There is much research on how alienated families become by systems that convert their need for help into evidence of risk (Featherstone et al., 2016).
Poverty is undoubtedly about material disadvantage, but it must also be understood in terms of relational and symbolic injustices in a deeply unequal society. Lister (2013, p.112) refers to poverty as:
a shameful social relation, corrosive of human dignity and flourishing, which is experienced in interactions with the wider society and in the way people in poverty are talked about and treated by politicians, officials, professional, the media, and sometimes academics.
Families living in poverty have spoken about how poverty-related shame and stigma is compounded by a child protection system that is inherently shaming (Gibson, 2015) and unjustly blaming by failing to address poverty and other social adversities that frame their lives (Gupta & ATD Fourth World, 2015).
Feelings of powerlessness and voicelessness characterises many families' experiences of child protection processes and were linked to subsequent feelings of shameful inadequacy, as a parent explains about her experiences of a child protection conference:
So you are sat there observing what everyone else is doing with your life, and your children's life (who potentially have no rights) on the basis of strangers around the table. It is degrading, humiliating. Everything is taken away from you". (Gupta and ATD Fourth World, 2015: 137)
The shift in local authority social work services from support to policing in a highly risk averse context fosters fear and distrust in many families. As a result, families in need feel they have "nowhere to turn to" and are too scared to approach children's social care services for fear of punitive responses (Morris et al., 2015; Gupta et al., 2016).
Service users have also described being judged without reference to the socio-economic contexts of their lives and viewed as if they were entirely responsible for their problems. Without an adequate understanding of the reality of poverty, the assessments made about the family or quality of parenting may be subjective and inflected by middle class presumptions or prejudice. A key message that comes from service user perspectives as well as academic research is that poverty matters, and attention to the effects in relation to families' lives, as well as social workers' judgements and interventions is necessary, as one ATD Fourth World activist explains:
"I am supporting a couple of families where, being aware of social work practice, it's clear that there is material deprivation, but there's also severe depression from the mother and that is raising questions over whether she can look after the children. So it's not clear cut what the issues are at play there. If the child is taken away, no one will say because of material deprivation, but that the mother can't cope because of mental health. But it's not that simple, there are many factors building up and material deprivation can play a huge role. Parents are judged because of the way they are suffering for things sparked by material deprivation".
Mason and Bywaters (2016) have concluded, poverty and allegations of neglect are so interlinked that prioritising context-blind, policing-type investigations over supportive measures to address poverty, will likely prove both ineffective and financially inefficient.  What is required is a reversal of austerity policies that are so damaging to the lives of families stuggling in contexts of poverty and rising inequalities, and a fundamental shift in children's social care provision away from investigation and risk assessment towards early help and family support, whilst still recognizing that some children will require protective action from local authority.  However, it is also essential that individual practitioners critically reflect on their use of power, on the influence of dominant discourses on how families' problems are framed, and on the subsequent judgements made. Finally, coming together and building alliances is recommended in order to truly promote the best interests of our society's most vulnerable children, as one ATD Fourth World family member explains:
"When families and social workers can work collaboratively in the best interests of the children, it builds a better knowledge base for both parties and the outcomes are likely to be better for the children. As you work together, you learn from each other."
Anna Gupta & ATD Fourth World
Written for the Social workers and service users against austerity campaign
References:
Bywaters, P. (2015) 'Inequalities in Child Welfare: Towards a New Policy, Research and Action Agenda', British Journal of Social Work, 45 (1), pp. 6-23.
Bywaters, P., Bunting, L., Davidson, G., Hanratty, J., Mason, W. J., McCartan, C., & Steils, N. (2016). The relationship between poverty, child abuse and neglect: a rapid evidence review. York, Joseph Rowntree Foundation Downloaded from https://www.jrf.org.uk/file/48920/download?token=Pmnooju4&filetype=full-report
CAFCASS (2016) CAFCASS Care Demand Statistics : July 2015, Available at
https://www.cafcass.gov.uk/leaflets-resources/organisational-material/care-and-private-law-demand-statistics/care-demand-statistics.aspx
Department for Education (DfE) (2015) Characteristics of children in need: 2014 to 2015, London, DfE. Available at: https://www.gov.uk/government/uploads/system/uploads/attachment_data/file/469737/SFR41-2015_Text.pdf.
Devine, L & Parker, S. (2015) Rethinking child protection strategy: Learning from trends, Working Paper, Bristol: Centre for Legal Research, University of the West of England
Featherstone, B. (2016) 'Telling different stories about poverty, inequality,
child abuse and neglect', Families Relationships and Societies, 5 (1), 147-153
Featherstone, B., Gupta, A., Morris, K. & Warner, J. (2016) 'Let's stop feeding the risk monster: towards a social model of child protection,' Families, Relationships and Societies, early on-line publication – first published 15th February 2016
Gibson, M.  (2015) 'Shame and guilt in child protection social work: new interpretations and opportunities for practice', Child & Family Social Work, Child and Family Social Work, 20(3), pp. 333–343
Gove, M. (2012) 'The failure of child protection and the need for a fresh start', Education Secretary speech on child protection on 19 November at the Institute of Public Policy Research. Available online at www.gov.uk/government/speeches/the-failure-of-childprotection-
and-the-need-for-a-fresh-start
Gupta, A. & ATD Fourth World (2015) 'Poverty and Shame – Messages for Social Work', Critical and Radical Social Work, , 3 (1), pp. 131-139
Gupta, A., Blumhardt, H. and ATD Fourth World (2016) 'Giving Poverty a Voice: Families' experiences of social work practice in a risk-averse system', Families, Relationships and Societies, 5 (1), pp. 163-172
Helm, T, (2016) 'Shocking' rise in number of homeless children in B&Bs at Christmas', The Guardian 17th December 2016. Available at:
https://www.theguardian.com/society/2016/dec/17/homeless-children-christmas-shocking-rise
Hood, R. Goldacre, A. Grant, R. and Jones, R. (2016) 'Exploring demand and provision in English Child Protection Services', British Journal of Social Work, Early online publication: May, 13th, 2016
Hooper, C., Gorin, S., Cabral, C. and Dyson, C. (2007) Living with hardship 24/7: The diverse experiences of families in poverty in England, London: Frank Buttle Trust
Lister, R.  (2013) 'Power, not Pity: Poverty and Human Rights', Ethics and Social Welfare, 7, 2, pp. 109-123
Mason, W. and Bywaters, P. (2016) 'Poverty, child abuse and neglect: patterns of cost and spending', Families, Relationships and Societies, 5(1), pp. 155-161.
Morris, K., White, S., Doherty, P. and Warwick, L. (2015) 'Out of time: theorizing family in social work practice', Child and Family Social Work, early online publication: 7 October 2015
Narey, M. (2014) Making the education of social workers consistently effective: Report of Sir Martin Narey's independent review of the education of children's social workers. Available at: https://www.gov.uk/government/uploads/system/uploads/attachment_data/file/287756/Making_the_education_of_social_workers_consistently_effective.pdf
Pelton, L. (2015) 'The continuing role of material factors in child maltreatment and placement', Child Abuse & Neglect, 41: 30 – 39.
Perry, J, Williams, M, Sefton, T and Haddad, M. (2014) Emergency use only: Understanding and reducing the use of food banks in the UK, London: Child Poverty Action Group,Church of England, Oxfam GB and The Trussell Trust
Sammons, P., Hall, J., Smees, R. and Goff, J. with Sylva, K., Smith, T., Evangelou, M., Eisenstadt, N. and Smith, G. (2016) The impact of children's centres: studying the effects of children's centres in promoting better outcomes for young children and their families, Oxford: University of Oxford
Stevenson, L. (2016) 'Unstable' funding for children's social care hitting services', Community Care, 7th December 2016. Available at:
http://www.communitycare.co.uk/2016/12/07/unstable-funding-childrens-social-care-hitting-services/
Warner, J. (2015) The Emotional Politics of Social Work and Child Protection, University of Bristol: Policy Press.
Wilkinson, R, Pickett, K. (2009) The Spirit Level: Why more equal societies almost always do better, London: Allen Lane.