Poverty by the Sea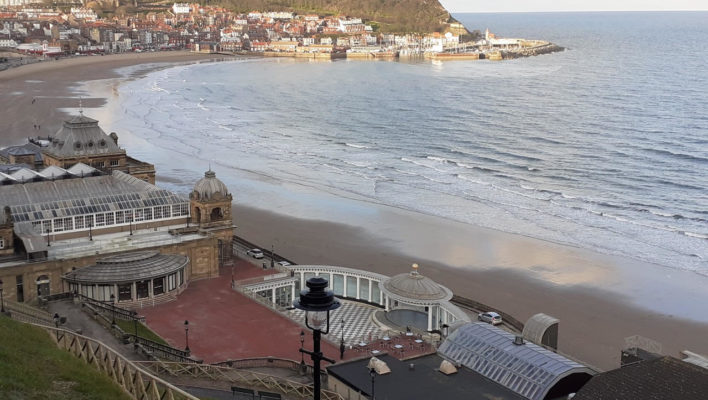 – Photo by Mark Vesey
This is the first article in a series focusing on what it's like to live in poverty near seaside places where others come only for holidays. We begin with a series of reflections that ATD ally Mark Vesey had upon reading The Seaside – England's Love Affair by Madeleine Bunting.
A summary of The Seaside – England's Love Affair

In this book, Madeleine Bunting travels around Britain's seaside resorts exploring them and revealing the struggles they are all facing with extreme deprivation and poverty. The populations in most seaside resorts in Britain fall into the worst categories for physical and mental health, unemployment, education, social mobility, drug and alcohol abuse in the UK. Scarborough, Skegness, Margate, Bogner, and Weston-super-Mare all rank pretty low. Jaywell, in Essex, is officially the poorest place in Britain, voted overwhelmingly for Brexit. 
Margate had millions of pounds spent on the Tate Gallery; but this has just gentrified the area and driven house prices up beyond the reach of already poor locals.  'Cuckooing' takes place there, where drug dealers and pimps move into a vulnerable person's home to run their illegal activities. Torquay has an affordable housing shortage since the council houses were privatised with many properties being traded as stocks and shares to make profit. Air BnBs and investors are to blame. 
Blackpool comes off worst of all with old hotels being purchased by investment companies and turned into sheltered housing or children's homes. The companies receive more money than rent from the government but offer little in the way of support. Isolation and mental health issues of people seeking cheap housing there has resulted in 's*** life syndrome'.  The Citizens Advice Bureau is overwhelmed. Most living in poverty cannot access Universal Credit as it requires an email or mobile phone. Many clients have no IT skills. 
Reaction to high spenders
A mega casino, 5-star hotels or an 'Eden of the North' may improve the bad image that the town has with higher spending clients. Most visit to get drunk on hen and stag nights. This has all sparked reaction within the community. A group has been set up called 'The Poverty Testifiers' who are part of the Blackpool Poverty Truth Commission. They are a team of locals who voice their opinions on issues they face to the leaders of the town. Their motto is 'nothing without us is for us'. 
The seaside is a place of last chances and second chances for some; resorts are full of dreams and despair. Some 48 million people visit the coast yearly. These resort towns hold 10% of the UK population, yet they receive less support and funding per head than most inner city areas classed as in need. The House of Lords did a report in 2019 suggesting a VAT cut on hospitality, or higher taxes on second homes. The media only covers 'poverty porn' stories about coastal resorts. The seaside has long offered an escape from reality, a sense of freedom and space, architecture to muse on and entertainment for all of the family. However, do Britain's crumbling resorts mirror a crumbling Britain? 
The author concludes that regeneration does not work for the poorest. 
A conversation with Mark Vesey
Caitlin Sibthorpe had a conversation with Mark to better understand the current situation seaside towns are facing and to find out where his interest in this matter came from. 
Mark was born in Ilford, Essex. He worked for the BBC for ten years as an engineer; but he and his wife Kate Evans wanted a different life, away from London. At the time, Margaret Thatcher was elected for the third time and they felt that "hope was slipping through the cracks". They wanted to volunteer to support others and to leave England. That is when ATD came along. Mark and Kate helped to co-host family well-being residential stays in Frimhurst Family House, set up a street library activity for disadvantaged children in Reading, and then decided to join ATD's International Volunteer Corps. 
They worked in France and America focusing on various projects, from setting up a conference at the United Nations, to supporting people in poverty by teaching computing and how to apply for jobs. There was never a quiet day. As time passed, they wanted space to be with their families, so they moved to Scarborough for pastures new, but have always carried the light for ATD since and continue to support ATD's work as allies.
As an author, Kate has helped with ATD's publications and is currently a Trustee for the ATD Fourth World Trust. Mark explains, "I took early retirement, so I have now been retired for a year or two but I am the chairman at the Maritime History Museum in Scarborough. I am very interested in all things seaside, so when I saw Madeleine Bunting's book I was interested to read it. I first thought it would be about seaside towns; but it focuses on poverty and all the problems British seaside resorts face currently."
A 'norm' that is unacceptable
Poverty, unemployment, poor health, low levels of life achievement and outcomes: this is the norm in the seaside towns of England. "Scarborough has got one of the poorest wards in north Yorkshire. Blackpool is the worst in the country." Mark said "I thought: this is something ATD should focus on."
Scarborough is trying to regenerate itself to bring in more income, he explains. "They have just employed a cultural director to organise festivals and events to bring more tourists in; but after reading Madeline's book, I learnt that places like Margate have done that already. 
"Building a new Tate for example; but money has not trickled down. It has simply gentrified the town: property prices have gone up; the poor are still poor, and are in fact being pushed out. 
"Madeline argues that regeneration does not work, which is a bold and challenging statement."
'He threw them in the sea'
Caitlin and Mark both share fond childhood memories of the seaside. Caitlin recalls building sandcastles at Camber Sands on her family caravan trips. Mark reminisced about venturing to Southend for fish and chips and ice cream. He adds, "The British way of life is still fun. There is an interesting history. Scarborough is Britain's first seaside resort; they discovered spa water there in the 1600s. People would come and drink it, as it worked as a laxative to flush their systems.
"Then in the early 1700s, a doctor wrote a book about a few patients who were depressed. To treat them, he threw them in the sea and they claimed to feel a lot better. The seaside now holds a similar appeal: you have space, fresh air, water, a freedom which is a real pleasure. But behind that, if you come in the winter, it is cold and windy. You have a lot of cheap accommodation, rising unemployment, people on low incomes, and overt poverty. Seaside resorts have seasonal difficulty; however, it is important to note that poverty is there all the time but hidden away."
A state of uncertainty
Asked by Caitlin what support is in place for people struggling in these areas, Mark responds:
"Kate volunteers for Scarborough Friends of Refugees which runs a conversation club every Wednesday. Its aim is to be welcoming to asylum seekers and refugees who find themselves in the town, as well as to assist in improving their English where required. Several asylum seeking families from Iran, Iraq and Libya had been housed in a dilapidated hotel. Eventually the place was deemed unsafe and the people were summarily moved on.
This is a recurring problem: families come from unsettled backgrounds and enter this new state of uncertainty. "They had to move to another town, which disrupted their kids' schooling. They cannot settle at all; it is an awful situation. This is happening in seaside resorts, particularly because of their cheap accommodation that lurks around off-season." 
The need for solidarity
How will England face this long standing dilemma? Caitlin and Mark have the same hope: that instead of pumping money into "regeneration", there should be greater interest in focusing on the communities who reside year-round in these seaside towns. It is a shame that profit enters the forefront of investors' minds so quickly that they miss the fact that it will not be lucrative all year round. 
Additionally, there can be separatism between locals. This is often caused by misunderstanding, on top of the constant changes in lifestyle and the instability forced upon those fleeing war zones. 
What's needed instead is a renewed investment in the power of solidarity and community strength. 
______
Future articles in this series will include reflections by people in poverty living in seaside towns.