ATD's inclusive governance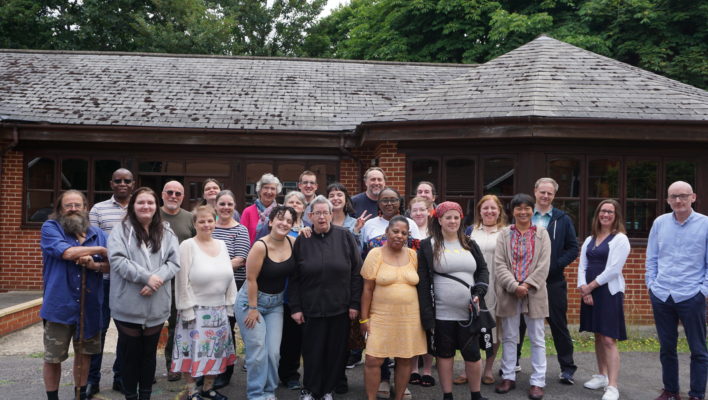 Considering that ATD Fourth World is not a traditional service provider, a collaborative approach is part of our ethos. The ATD Fourth World community includes full-time core workers, families living in persistent poverty, allies, and volunteers. All are encouraged to get involved in every aspect of what we do, from project planning to evaluation, from fundraising to campaigning, from administration to governance. The way we operate is unique, placing the focus on the experiences and voices of people living in poverty, and giving those voices their rightful credibility.
As part of this approach, we host an annual Away Day for activists with lived experience of poverty, team members, our board of directors and our trustees. On 6 July 2023, this year's Away Day was attended by thirty people, gathered at Frimhurst Family House to review achievements and challenges of the past four years, and to brainstorm ideas for the future. 
Some highlights
Because the term of ATD's National Coordination Team will end in 2024, a "renewal group" was formed last month to name the next NCT. Lived experience activist Lareine Mouoguia is part of this group. She reflected:
"Here in ATD, everyone is the same, there is no protocol., You as a member are valued. Your voice counts, your ideas are considered. I was thrown into this renewal team. I've never done something like this before, ATD has given me this opportunity. This is special, it makes me feel wanted. They respect you as a person; they respect your view; we are in this together to help each other. It's really inspiring to me." The other participants in the renewal group are: Patricia Bailey, Susana Castro Mustienes, Ben Cheney, Patrick Daniels, Caroline Davies, Murielle Double, Kate Evans, Pierre Klein, Letitia Mason, and Robert Jordan."
Crisis support, well-being, and outreach to asylum seekers
"Together in dignity" is one of our two overarching programmes of action. It involves: outreach to get to know new families in poverty, particularly parents with young children; supporting families through crises and strengthening their support networks; and offering well-being activities, either residentially or during day-long outings or creative workshops.
Activist Eric Knibbs said: "This side of our work is very important because there's so much social need that goes unrecognised and isn't catered for." Patricia Bailey added, "If you're going through a crisis, the worst thing is having to deal with it all alone. It makes a big difference to know that you've got someone to talk to. Even if ATD can't change the situation, it's really important to know you have someone to talk to. It makes that person feel they're not going through it on their own."
Activist Angela Babb said: "Surviving in poverty is getting harder as government policies become more punitive and divisive. This creates feelings of fear and insecurity. It drains your energy and can make you ill. The well-being stays make a big difference for families who have never had a holiday before. The whole idea when you go to a well-being activity is for you not to think about your problems. Having a place to go to where we are not judged helps us dare to trust the people around us. It's where we feel free to be ourselves. It's a lifesaver."
Having someone listen
As part of our outreach, ATD has been collaborating for several years now with Home-Start Surrey Heath. Recently, they asked us to co-host a short-term project with the local families seeking asylum who are housed at a reception centre located near Frimhurst Family House.  Murielle Double explained: "With this project we meet asylum seekers to offer wellbeing support. They can come here to do arts and crafts, socialise, and discuss together with people experiencing the same things. It is rewarding to see how people are so grateful to have someone listen. It makes a link to our research, Understanding Poverty in All Its Forms', we understood how much poverty damages your health and well-being.
"There is a link with the experience of the people seeking asylum. They are trapped in this space; they have no freedom; they are not allowed to cook for themselves; they have no recourse to public funds. We are talking about people who have been forced into a situation of destitution. We need to understand poverty in all its forms and to fight it in all its forms."  
Giving Poverty a Voice
Our second overarching programme of action, Giving Poverty a Voice, empowers people with experience of poverty to express their views and offer solutions to the problems affecting their lives, while offering policy makers an invaluable insight into overcoming poverty from the bottom up, particularly in relation to the right to family life.
Summer Mayes has been part of ATD since she was born, thanks to her parents' involvement, but this year marked her first foray into representing ATD publicly. She explained: "Anti-poverty practice training is a very important part of Giving Poverty a Voice. For a long time, ATD has been doing this training for social work students at Royal Holloway University. Since 2018, we've also been doing it at the University of Birmingham. And more recently, we've been doing it with Brunel University, and with in-practice social workers in Southwark Council and the Royal Borough of Greenwich.
This year, we got a new invitation, not to train social workers, but to speak  about poverty to professors and students at Liverpool John Moores University. We were invited because there's a new food bank on the university campus and a professor who grew up in poverty wants to help her colleagues understand that, for some students, struggling to afford food is a constant worry and not just something new because of the cost-of-living crisis."
Parent-to-parent advocacy
Tammy Mayes spoke about the Parents, Families and Allies Network (PFAN): "In 2019, ATD joined PFAN. We're parent-led, and we also have allies who are social workers. We run public webinars once a month, and last year ran a joint webinar with ATD. When the UK had an Independent Review of Children's Social Care, PFAN published a shadow report called "The Way Forward" that was featured on the BBC. And now we're preparing to write a follow-up report called "Going Forward".
PFAN has a member in Wales called PAN, the Parent Advocacy Network. PAN has made a lot of progress in promoting parent-to-parent advocacy. The West Glamorgan Council has seconded a social worker to develop fully funded parent advocacy training with complete government buy-in. There is a solid investment in leadership with accredited college training from multiple third-sector institutions. There is also funding for further training so that parents in poverty can scale up their involvement."
Human rights partners
Diana Skelton spoke about new partnerships and a key academic report. "Currently, we're in a partnership that is supported by Amnesty International and aims to point out to the government ways they could better support families in poverty. This relationship with Amnesty started in 2019 when we were invited to speak to their staff about the right to family life in the UK. It was new for them to work on poverty in the UK as a violation of human rights. This led to a collaboration led by people in poverty from ATD and other groups. We organised four webinars in a series called Rights Bridge. Then a year ago this process led to a new partnership called Growing Rights Instead of Poverty Partnership (GRIPP),  led by activists in poverty. There are partners who support GRIPP in the background: Just Fair, the University of Essex, and Amnesty. 
"This summer, Amnesty featured GRIPP on the cover of their magazine, championing our work by challenging its members to consider poverty as a human rights violation and povertyism as a systemic issue. The article includes an interview of Patricia Bailey that denounces: forced adoptions; the fact that poverty gets confused with neglect; and the trauma caused by social service interventions that separate children from their families."
New report
"While collaborating as part of GRIPP, we deepened our own work on this issue. In early 2022, Angela Babb, Tammy Mayes, Taliah Drayak, Anna Gupta, Simon Haworth and Yuval Saar-Heiman helped us launch a new series of study groups on poverty, social work and the right to family life. We also ran peer-led focus groups open to the public and supported by our allies at the University of Essex Human Rights Centre. On 27 June, they published a report based on this collaboration: 'I have walked this journey alone; my soul is tired': Poverty, Child Protection, and the Right to Protection and Assistance to the Family in England. Our long work on this issue is now backed up by new academic evidence."