Tackling Prejudice with Giving Poverty A Voice Blog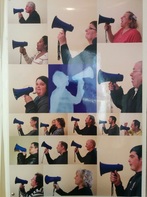 One of the main obstacles in any anti-poverty work is challenging the public perceptions of poverty, often based on the misleading main-stream media agenda or lack of real experience and understanding of poverty.
This new blog aims to counterbalance these negative perceptions in creating a space where real life experiences, thoughts, expertise and challenges can be shared publicly by those living on the sharp end, supporting people with experience of poverty to tell their own stories in the way that they want to tell them.
"There have been many stories about people living in poverty in the media recently but, by and large, they have been negative stories that demonise and represent 'the poor' as 'other'. The effect can be to distance the viewer or reader and no doubt make them less sympathetic to the policies needed to tackle poverty. As argued by free churches in a letter to the Prime Minister, the myths about poverty perpetuated by the media and politicians 'are convenient because they allow the poor to be blamed for their poverty and the rest of society to avoid taking any responsibility'. Even supportive stories about people living in poverty can sometimes represent a form of 'sympathetic othering' by representing them as somehow different and as passive victims, lacking agency. Insofar as their voices are heard, the story has been framed by someone else".
Baroness Ruth Lister, Member of the House of Lords (The Roles We Play Foreword).
In attempting to tackle the prejudice so often shouldered by the most vulnerable members of our society, this blog seeks to show that only through reciprocal efforts based on empathy, not pity or charity, can we endeavour to develop our human capacity for change.
We hope this blog will stand as a challenge to the prevailing negative stereotypes of people who experience poverty in the UK. Only when we focus on the positive actions of individuals and communities can we move away from blaming people for their situation and instead involve them in finding solutions.
It is our hope that this blog offers an alternative perspective on, and provides the reader the space to reflect on, this very human, yet corrosive, societal issue. It is our hope that all of the material produced as part of this project can be used as a resource for a more inclusive and constructive debate about overcoming poverty in this country, creating a platform for positive change.
Dann Kenningham
ATD Fourth World UK