International Movement ATD Fourth World
ATD Fourth World UK is a member of the International Movement ATD Fourth World, working in more than twenty-five countries throughout Europe, the Americas, Africa and Asia. It works with affiliated organisations in 90 other countries and has over 100,000 members worldwide.
As part of our commitment to representing people living in poverty at an international level, ATD Fourth World has a permanent delegation at the European Union and hold general consultative status with UNICEF, UNESCO, ECOSOC, the International Labour Organization and the Council of Europe.
On 17 October 1987, ATD Fourth World was at the root of the laying of a Commemorative Stone honouring the victims of extreme poverty, violence and hunger on the Parvis des Droits de l'Homme et des Libertés in Paris. Five years later, the United Nations recognised 17 October as the International Day for the Eradication of Poverty and called on all nations to renew their commitment to fighting poverty and to show their solidarity with the poor.
Since then, more than thirty similar commemorative stones have already been laid around the world, from the European Parliament in Brussels to the Gardens of the United Nations in New York. Each one bears the words of Joseph Wresinski, the founder of the International Movement ATD Fourth World: "Wherever men and women are condemned to live in extreme poverty, human rights are violated. To come together to ensure that these rights be respected is our solemn duty."
Latest news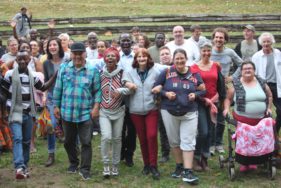 In October 2018, ATD Fourth World's international centre near Paris hosted a global gathering of activists living in poverty, their (…) Read more →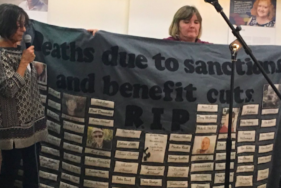 One speaker addressing the United Nations Special Rapporteur displayed a quilt she is making in memory of people whose deaths (…) Read more →
"It was very important for me to have this invitation to speak at the United Nations. I've been with ATD (…) Read more →