Poverty = Discrimination Music with a message event 10/5/2016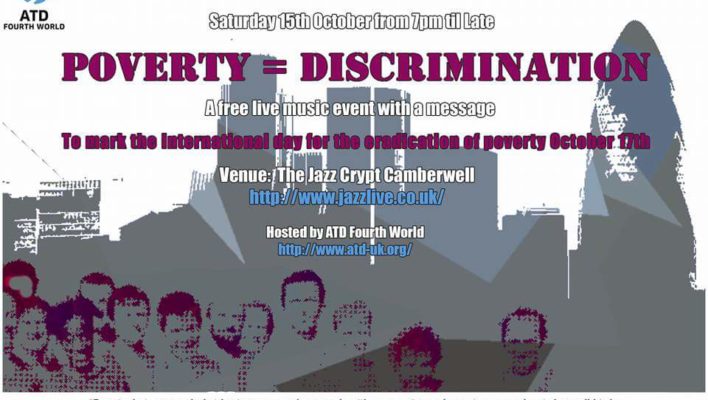 Saturday 15th October from 7.30pm
Join us for a night of music and entertainment with a message.
Held at the renowned Jazzlive at The Crypt St Giles in Camberwell, this public event marks the International Day for the Eradication of Poverty.Show your solidarity with people affected by poverty.
​
Help us to challenge the negative attitudes held towards people who are experiencing poverty through an evening of music, spoken word and message.
The event aims to stimulate constructive and inclusive public debate about the portrayal of people who experience poverty and social exclusion in the UK and celebrate their resilience and achievements.
Join us in raising awareness about the work of ATD Fourth World and others who strive for positive change.
Bands on the night:
The Discount Orchestra
Colors UK
The London Gypsy Orchestra
Ariadne's Labyrinth
Johnny & Maggie
Dj Bab Tasco (aka Chango Mutley)
"On this day we recommit to think, decide and act together against extreme poverty — and plan for a world where no-one is left behind. Our aim must be prosperity for all, not justa few." United Nations' Secretary-General Ban Ki-moon
Artist Biogs
The Discount Orchestra:
"London's Finest Purveyors of Speed-Folk and Gypsy-Punk" .
From the raw, visceral energy of Gypsy-Punk, to the feet-twistingly manic tempo of Speed-Folk, The Discount Orchestra provide a high-octane, seven-piece blend of eclectic dance-floor stomp, guaranteed to get you bouncing. Hard-grifting rhythms, topped with melodical oddities.
Formed in South London in 2011, The Discount Orchestra take their inspiration from London's dark, anarchic corners. Conjuring tales of love, loss, and post-apocalyptic survival, over a soundtrack that dances between genres. They've honed their live show at packed gigs and sold-out festivals over the last 4 years (Bestival, Wilderness, Boomtown) and have earned their reputation as a band to watch.
With a line up of Sax, Trombone, Accordion, Fiddle, Drums and Bass, topped off with a combination of vocal styles, their riotous blend of Balkan influenced music incorporates elements of Folk, Gypsy, Ska, and Circus, with a healthy dose of Punk, and is perfect for a late night of raucous entertainment.
Their debut EP 'And She Dances' is out now on Batov Records.
www.thediscountorchestra.com |info@thediscountorchestra.com
Colors UK:
Colors UK, are the UK's first port of call for Jrock / Punk.
Originally from Japan and dating back to 1988, the band was reformed here in London in July 2010. One sold out mini album already behind their belt, the band have gigged extensively and rerecorded their anthem 'Hello G' with an official video to critical acclaim. With new material showcasing their unique blend of punk rock juxtaposed with eastern melody, and plans for a second mini album, the band are set to seize every opportunity which comes their way – watch this space!
Latest EP "Paranoid" Now on Sale!!
First Music Video/Hello G on Youtube:
http://youtu.be/obpbbs_cdPw
New EP "Colors -Paranoid" can be downloaded from:
https://itunes.apple.com/us/album/paranoid-ep/id731776270
http://www.amazon.co.uk/Paranoid-Explicit-Col…/…/ref=sr_1_3…
http://www.cdbaby.com/cd/colors4
KenG Official Twitter: colorsnokenji
https://www.facebook.com/colorsuk.jrock.london/ |colors.no.kenji@gmail.com
Ariadne's labyrinth:
Ariadne's Labyrinth is a violinist and electronica artist.
Energetic and playful rhythms, intricate melodies and live violin. The music is at once quirky, deep and absorbing and laced with elements of techno and ambient styles.
https://soundcloud.com/ariadneslabyrinth |sharonsubbarao@googlemail.com
Maggie and Johnny:
Maggie and Johnny are; Maggie Casey (whistles, flute, fiddle and singing) and Johnny B (mandola, flute, mountain dulcimer and singing). They met in the folk session in the greatly missed Grosvenor pub in Brixton. It was discovered that they lived in the same street so it was inevitable that they play more music together. South Londonmusicians for many years, Maggie plays in sessions, folk clubs and the odd ceilidh, and Johnny is a long standing member of The No Frills Band.
Bab Tasco:
Bab Tasco is a jazz/funk/hip hop/reggae/global/roots kind guy who loves to DJ.
It is also a spoonerism of Tabasco. Expect hotness & make sure you wash your hands afterwards!
Like our Poverty = Discrimination
Giving Poverty a Voice: Events 2015 page https://www.facebook.com/Oct17thEvents?fref=ts
Twitter: @ATDFourthWorld
Please visit our GlobalGiving UK page to donatehttps://www.globalgiving.co.uk/donate/10980/atd-fourth-world-uk/
For more infomation on this event contact:
Dann Kenningham
National Coordination Team
kenninghamd@atd-uk.org
48 Addington Square
London SE5 7LB
020 7703 3231
www.atd-uk.org
Facebook: ATD Fourth World UK
www.therolesweplay.co.uk