Building a stronger more powerful voice for change!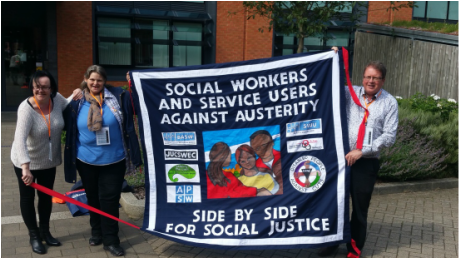 After a very successful presentation at the British Association of Social Work (BASW) summit in January'Talking about the future of social work', ATD Fourth World was again invited to present at The UK Joint Social Work Conference (JSWEC) last week.
ATD Fourth World was presenting under the umbrella of the newly formed 'Social Workers and Service Users Against Austerity'  campaign, alongside Dr Peter Unwin from Worcester university.
Our workshop was entitled Values, Ethics and Social Justice.
Amanda's presentation spoke about ATD Fourth World's Social Worker Training Programme, the importance of bringing parents voices to the forefront of the discussion and why she continues to take part in the programme.
Amanda delivered the presentation confidently to a room full of social workers, campaigners, academics and service users.
"My name is Amanda and I am a grassroots activist with ATD Fourth World. I first became involved with our Social Worker Training Programme in 2009. 
The aim of the project is to bring together families living in poverty, academics and those working in the field to discuss and debate issues relevant to contemporary social work practice. We also look to find the best ways to present the perspective and experiences of those living in poverty so that they can have an input into social work practice and research. 
This is my opportunity to try and make a difference for families that are struggling and have social service intervention in their lives. We try to give social workers a different perspective on poverty, hardship and how it hurts families. For me personally, my taking part in this work comes from my own experience of dealing with social service intervention. By me speaking out, it gives voice to those who cannot speak out for themselves. For all of us, the key thing is that social workers and families start finding better ways to work together.
Through the project we have covered a number of themes. These include the relationship between poverty and shame, the impact of material deprivation on social work practice, the politics of recognition and respect and applications for the Capabilities Approach in social work. 
The second part of the project focuses on delivering a training module to students and social workers at Royal Holloway, University of London. Being able to speak out here gives students the chance to hear first hand experiences from the other side of the fence. We look at what good practice means to all of us and help them to understand how to support families and what families come up against. We try to explain how having social workers involved affects parents in their relations with other parents at school, the GP, the nursery and the shame it brings with it. 
One issue we have talked about many times is the impact of austerity on social work. One parent told how the local youth club closed down and so she opened her front garden to young people. She said that she preferred to have the young people where she could see them so they don't get into trouble. But having the young people in her front garden has caused problems with her neighbours – not just about noise and litter – but about how they look at her. 
Another example is of a family that is currently going through a child protection case. The case conference recommended that the mum go to counselling and parenting classes. The social worker admitted that he referred the mum to counselling but the service claimed she didn't meet the threshold for access. The case conference chair was gob-smacked. Does not getting a service mean she is more likely to lose her kids? How is that justice? 
Whenever I talk to social workers or students, I know they go into social work with the best of intentions and wanting to do their best to support families to stay together. But they also talk of caseloads and timescales that are pretty unmanageable. Their hands are tied. 
My fear is that social workers now have to stretch themselves to be able to give the input that some families may need. Is that the social work that we all want? How do we move forward to a social work that is more than that? 
Amanda received a lot of positive feedback from the audience. One social worker said that it takes a lot of courage to stand up and speak out in front of a group like this.
Another lecturer commented on the importance of involving more parents in the training of social workers and said that the Social Worker Training Programme is such an important concept, bringing social workers and parents together in a safe, non-judgemental learning space is very much needed in the profession.
Amanda later reflected on the event saying: This event was important to me because it gives us a chance to meet new people, academics, social workers and other like-minded organisations. Listening and learning from the other presentations made me realise how we could collaborate, work together and build a stronger more powerful voice for change!
Written by Amanda and Dann ATD Fourth World
To find out more about ATD Fourth World's Social Worker Training Programme
https://atd-uk.org/projects-campaigns/policy-participation-and-training/social-worker-training-programme/
More about BASW
http://cdn.basw.co.uk/upload/basw_124443-4.pdf
https://www.basw.co.uk/blog/blog_read.php?pid=26