Peer Support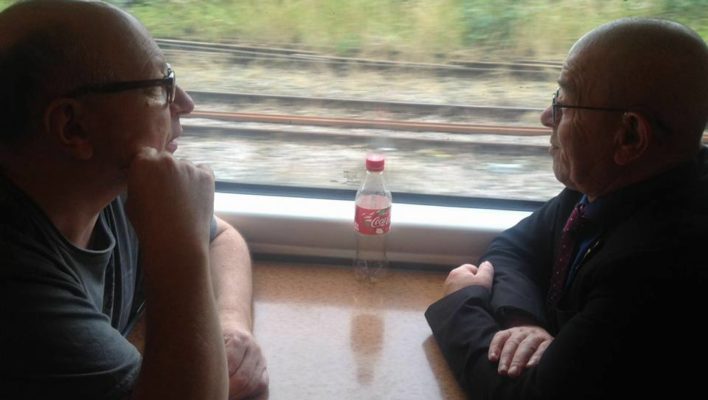 In the summer, Jackie Cox and Church Action on Poverty organised a residential meeting in Windermere. This event brought different groups together who are fighting against poverty so that they could share their experiences, expertise and views. Representing ATD Fourth World were: Ian, a new activist who recently started volunteering for ATD Fourth World UK, Seamus a long-term activist, and Naomi from the team.
Ian remembers, "It was my first time representing ATD Fourth World UK. At first I was a bit apprehensive, but the company of Seamus and Naomi gave me the confidence to give my presentation to the rest of the group."
Seamus said, "Ian asked me, 'Would you like to speak first?', and I said, 'Go ahead.' He didn't need any help from me. I told him how well he did. It is really important to support each other. When I spoke out the first time I remember how hard it was. Now I have the confidence to help others."
In preparation for the meeting, Ian and Seamus were asked to pick themes they wanted to present. Ian decided to share his experience of volunteering with ATD Fourth World at the Open Community Lunch organised every Thursday: "It is a chance for different people to meet up, and to make friends. We all get involved in the cooking and preparing the meal and it makes me feel good at the end of day seeing people enjoy the food and the company."
Both Seamus and Ian found Windemere welcoming: "We felt very welcomed by all of the people from different organisations. Even though we didn't know each other, we managed to build up a friendship between us. At first, we didn't talk too much, but we got to know each other, and then we realised we had a lot in common. Our struggles are similar."
Seamus spoke about helping Ian to prepare, saying:
"It is important to help someone who is new to ATD Fourth World. When I first started thirty years ago, I was asked to speak in Parliament. I got help from a member of the team back then, and he gave me tips on speaking out. I was given a 'pat on the back' and a confidence boost. Over the years it gets easier, and with practice it gets better and better.
"I have spoken out at many different events since and feel proud of this. I like to always ask others in the group first, who wants to speak and on what theme. We often work together. People like to feel involved. It's a partnership. Encouraging each other is the way we work at ATD Fourth World. The older activists have more experience and we can help the new people. Like me and Ian, it is good to put us together so we can support one another. The old one can always help if the other gets stuck."
Ian said, "I agree with Seamus. It gives us new people a chance to learn. It gives us insight into ATD Fourth World and also the other work that is going on out there."
Another theme Ian wanted to speak about was the respite stay he took part in. "I enjoyed my stay at Frimhurst Family House because it was so tranquil and quiet. I felt relaxed there. Going to Frimhurst gives us a chance to unwind, it's a peaceful place and for anyone who is struggling in life it's really needed."
Seamus: "Frimhurst is so important. It's a break from daily life and we build friendship there. When we stayed at Windermere, it was the same. It was a different house, but it was similar, the atmosphere was exactly the same. When you go to Frimhurst, you feel welcomed."
Ian: "Jackie made us feel welcomed. She was very kind, introduced us to others and made us feel at ease."
Seamus: "After the conference at Windermere, I felt refreshed. It was a very good achievement. We really supported each other. I've gotten so used to it that I've become confident. It's also the others around you that give you confidence. We really learnt a lot from the others there and hope to carry this work forward."
Ian: "I would like to do more public speaking and maybe one day I can help others to stand up and speak out."