Listening & Understanding.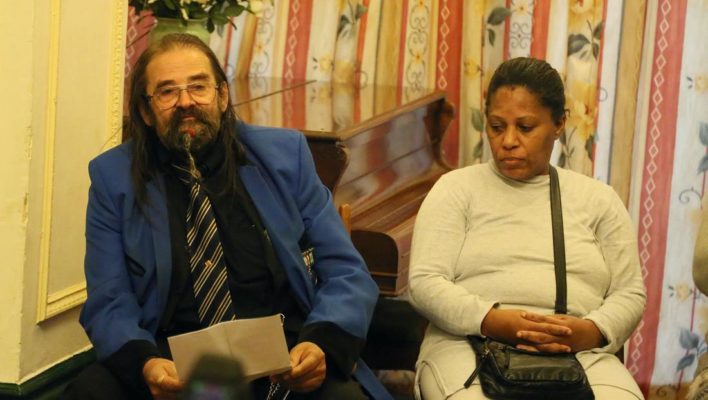 As part of the worldwide campaign "STOP POVERTY: All Together in Dignity" and Frimhurst Family Housecelebrating 60 years as "A place of Freedom". Eric speaks about why Frimhurst Family House is special for him.
Stories of change: "Listening" by Eric Knibbs: 
When families are going through a difficult time, often what they need is someone to listen to them. If you don't listen, you don't find out the truth of what's going on and this makes it difficult for people to get the help that they need.
If you tell people what to do, then they lose the capacity to make decisions for themselves. It's like being in the Army, where they tell you what to do, and it's the same with social services, and so many other organisations.
Here at Frimhurst Family House it's different, people listen to each other.
​When we first met ATD Fourth World my family was struggling to stay together, to make ends meet, and to make friends and be heard: we were feeling really isolated.
At a local church we met a gent' called Johnathan Hayes, who was working there at the time, and he had a contact at ATD Fourth World called Jeremy Boutwood.
Jeremy was a Social Worker for adults with disabilities, who volunteered with ATD. He encouraged us to get in touch.
We went along to one of the monthly National Gatherings that used to take place at Frimhurst Family House, and we were introduced to some of the families who came from Camberley, Guildford and London.
Going there for the first time was scary: I was like fish out of water. But we were made to feel very welcome, and after a few trips it was like we belonged. Like we were family.
Frimhurst allows families who are going through a difficult time to go on respite stays where they can get away from the stresses of their day to day lives. It gives them a chance to talk to, support and learn from each other in a respectful and non-judgemental environment.
I started to go to the regular family social events that we used to have at Frimhurst: that's how I became really involved with ATD Forth World. We had these social events just so we could talk to each other, and we used to solve so many problems, just from talking to each other because we could share our experiences and give advice based on what we had gone through in life.
If you don't listen, you don't learn, and we are all supposed to be learning everyday of our lives, just like scientists trying to solve problems!
We have all got important things to say, we just need someone to listen to us. Each one of us has life experience that matters.
Frimhurst has given a lot to my family, without Frimhurst my family would not have stayed together, it would have collapsed.
I found support in so many different people who gave me advice based on their experiences: Like when Social Services turn up at your house and accuse you of not having enough food for your children. Instead of getting mad, you can invite them into your home, and show them that you do.
People would say things to me "Don't put up a brick wall, invite them in to your life".
If you make it more friendly, it takes away the authoritarian air, it's about finding ways to work with them.
That's what I have learnt from listening to people. When I listened I felt a lot better, as I felt I was being listened to as well. It made me feel like I was worth listening to, and that maybe what I was saying making sense. This in itself makes you feel more worthwhile.
I remember on one particular stay that I was part of, there was a mother who was very angry, because she was going through some trouble with Social Services.
All she wanted to do was to hit people.
I sat with her and listened for the whole day, occasionally I would steer the conversation, but not push it. Eventually she came up with an idea that would suit her, and Social Services.
When people are listened to, and their ideas are taken on board, you can often come up with better answers, and these are the solutions that work.
In the end it turned out that she was able to keep her family together, and family is really important, because no-one can survive forever on their own.
This is the way I feel about life.
Frimhurst lets us come together, lets us talk about things that matter, and lets us talk as friends, like one happy family.
Sometimes we have minor disagreements, but we work together. Frimhurst is the family that you choose, rather than the family that you are born into; much like the whole of ATD.
I've been doing a psychology course to help me better understand what I'm listening for. With this course I've found better ways to listen. I'm doing this to progress towards the 'Family Counselling Course'.
If you have the hat to say that you are a trained councillor, then Social Workers will listen to you as well, and if you don't you're just a 'busy body', but that hat gives you officialdom.
My plan is also to do sociology and then I will have a good framework for family counselling. It will take me a couple of years, but it's something I can do with my life that I can make good use of. It's something that I can put against my name, that can make anyone listen to me.
Thank you for listening & I hope Understanding.
​By Eric ATD Fourth World UK
​Speaking at FRIMHURST FAMILY HOUSE