Celebrating 17th of October – United Nations Day for the Eradication of Poverty in Glasgow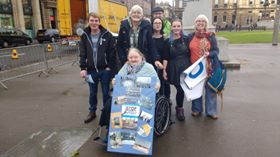 17 October 2017
I have always wanted to celebrate 17th October United Nations Day for the Eradication of Poverty in Glasgow. Since visiting that city many years ago and being invited by families of the Glasgow/Braendam Link to return, it has been a dream. This year found me travelling north as part of an ATD Fourth World UK delegation from London to make a presentation in George Square, at the stone laid there as a place to gather in remembrance of the human rights of people living in poverty.
The four of us — myself, my daughter Bea, Shaeda Croft, and Stephen Baker — arrived in Glasgow as the tail end of a hurricane struck. Fortunately, we were invited to have the event at the Glasgow City Chambers overlooking George Square. The event was opened and facilitated by Poverty Truth Commissioners Caroline and Aisha.
They introduced us to the main speakers who were all people living in poverty and who shared "Let Me Tell Yous", testifying to the courage and struggles they and others around them face. The speakers came from several groups: The Poverty Truth Commission, Bridging the Gap, ATD Fourth World, and Mission Voices. It was attended by more than 100 people from all over Glasgow, including families and members from local community and national organisations.
Resilience in the face of heartbreak
It was my privilege to represent the ATD Fourth World families from London. I spoke out about the great injustice being suffered by sick and disabled people being sanctioned and left destitute by the Department of Work and Pensions. As I spoke, I saw many heads nodding as they recognised the situation I described. There was a real feeling of solidarity in the room. One by one, speakers told of how systems intended to support the poorest and most vulnerable had not only let them down, but become an oppressive and controlling force on their lives.
It was heart-breaking. Yet it was obvious that there was a great deal of strength, resilience and determination too.
The day was lightened by singing and a drama about the right way to support people, using food banks as an example.
Eva Bolander, the Lord Provost of Glasgow — together with Keith Brown, Deacon Convenor of the Trades of Glasgow, and Ian Dickson, Lord Dean of the Merchants House of Glasgow — attended the event and gave a civic reception. Eva spoke at the end and reminded everyone that "the City Chambers is your place. You are welcome here." As we left the hall after the event, several people stopped me to thank me for what I had said and to tell me their situations. As many of them headed home alone with what they had just heard, I was grateful that I could share my thoughts with my companions, including friends Joyce and Al.
Celebration
In the evening, the Scottish did what they do best: organised a party. There was a live band, singing and Scottish dancing. Because 2017 is the sixtieth birthday of ATD Fourth World's family house, Frimhurst, and because there were several other anniversaries being celebrated, there was an abundance of lovely cakes to share.
Short speeches accompanied the cutting of each cake but the dancing soon resumed. It was a chance to meet and speak with some of the Scottish people with whom ATD Fourth World is in touch through Corrinna Bain, an ATD core-worker who lives and works in Glasgow. By the end of the night, I felt that new friendships had sprung up, old ones had been renewed and strengthened. It was with a heavy heart that I left these friends. I hope that it will not be as many years before I go back to Glasgow.
— By Moraene Roberts
'I've never experienced a welcome like this!'
Wow! Does Scotland know how to throw a 17th October celebration! Even in a hurricane they managed to put on an amazing event. We got to see the commemorative stone at Glasgow's George Square before heading inside (away from the wind) to enjoy speeches, testimonies, drama, and music in the beautiful Civic Hall for the official part of the ceremony.
Hearing about peoples' struggles and experiences of systems and attitudes in their daily lives was emotional. It was inspirational to see their strength and determination in fighting, and also the sheer force of will they have to effect a positive change in their own futures.
Live music and traditional dancing
I left the ceremony feeling very positive and excited, which was lucky because the Scottish ended their celebrations with a huge party. The crowd included lots of families who live in poverty, some of whom are involved with ATD now, and others who used to be involved years ago. There were also past and present volunteers.
It was hosted in a lovely big hall, the Pearce Institute, with loads of food, live music, and traditional Scottish dancing. The place was packed with families and kids, all greeting and catching up with each other. Though I'm not much for dancing with strangers, I had a great time watching others dancing. I also loved talking to the families and volunteers about their memories of Braendam House, Glasgow/Braendam Link and 17th Octobers of years gone by.
There was such an amazingly positive atmosphere and sense of community and friendship. You could feel solidarity in their resistance to the adversity and struggles of daily life and a real positive vibe that they would overcome and things would get better.
An honour and privilege
I have been lucky enough to attend 24 separate 17th October events all over the place, but I have never experienced a welcome like this one. Everyone was so nice and so happy we were there and wanted to help us meet people. They encouraged us to try everything, and they asked a million questions about ATD UK/London and how our respective houses differed.
I told them about how the Glasgow Youthies of the 80's and 90's had written a song about their ATD house, the Braendam Link. They brought the song to Frimhurst during an exchange, and then we in London adapted it into a song about Frimhurst, which they loved. We had a rousing chorus of the song and a good giggle after. I can't say enough just how much I loved my whole experience of Glasgow and how grateful I am to have had the chance to go, at last. It was a genuine honour and privilege — and can I go back next year, please?!
— By Bea Roberts