On Road Media: Learning to Say No When a Journalist Pokes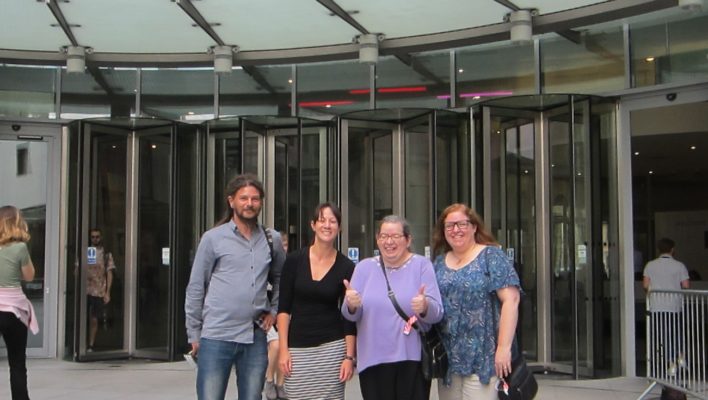 Patricia, second from right, also met with BBC Newsnight editors as part of the On Road Media project.
On 17th October, to mark the World Day for Overcoming Poverty, the Baroness Lister of Burtersett hosted a panel discussion in Parliament about meaningful participation by people in poverty. Among the speakers were Patricia Bailey of ATD Fourth World and Alana Avery of On Road Media. They spoke together about their collaboration on a project called "Poverty in the Media".
 Alana: Since 2008, our small, award-winning charity, On Road Media has been improving understanding of communities or issues that are misrepresented in the media. We collaborate with media across the UK on accurate and fair portrayals of different groups, that are vulnerable to misrepresentation. We support people to shine a light on their experiences by connecting them to the media and this can lead to real social change, preventing exclusion and prejudice. Across our various projects, our work has led to nearly £5 million in programming; including new soap storylines, reporting, documentaries and more.
Our pilot programme with the Joseph Rowntree Foundation began in January. We're supporting a small group of people with lived experiences of poverty and low incomes to develop media skills, resilience, and confidence to engage with the media, on their own terms.
We hold informal, friendly, off-the-record meet-ups – we call them "interactions" – with the media, giving them a chance to gain a better understanding and make human connections with people with personal experiences of poverty. This collaborative and creative approach can influence cultural content and lead to more nuanced, fresh coverage and reporting about poverty.
Our peer support group are less alone in their local activism or campaigning now. They have opportunities to choose when is a good time for them to share their story; to think about their boundaries; and to understand why and to what gain. Using the research JRF have done with The FrameWorks Institute, we're supporting the group to use messages and tools that change hearts and minds when it comes to what poverty looks like in the UK.
Patricia, before On Road Media, what was your experience with journalists?
Patricia: Once, I met a journalist who had no idea how her questions were coming across to me. She said she wanted to know what I thought, but she kept poking and poking. She dug in without really listening. She wanted me to talk at her pace instead of at my own. So, I wasn't comfortable talking to her at all.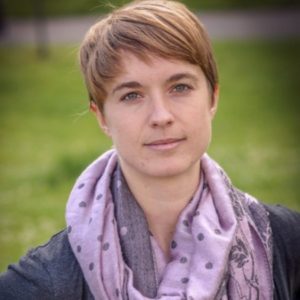 Alana Avery
Alana: And what's it like being part of the On Road Media group?
Patricia: With On Road Media, there's a very different way of working. First of all, before even talking to a journalist, all of us people with lived experience of poverty have had time to build our own peer support network. We understand more how the media works and we've gained confidence to speak to journalists.
We all have friends in the group now. I like seeing the group regularly to catch up on what's going on for the others. We encourage one another. We can keep our spirits up together when things are hard.
Alana: We meet once a month for peer support and there's an online group to keep in touch in between interactions with the media. What do you like about the group?
Patricia: In our peer group, we also help each other to say no when we're not comfortable with the way a journalist pokes at us. We can think about what our own boundaries are. And in the media training that Alana does with us, we can practice saying no. If one of us doesn't like the question a journalist asks, we can end an interview, or we can change the subject.
Alana: So far, we've had interactions with BBC News, BBC Newsnight and Cosmopolitan. What was it like when we met Cosmopolitan magazine for an "interaction"?
Patricia: We went on a media interaction with Cosmo last month. We didn't know what it would be like or how they would receive us. Now I think the journalists didn't know what it would be like to meet us either. We were nervous, and they seemed a bit nervous too.
They do have a big job because it takes a lot of courage to ask certain questions. Once we'd met, all of us could relax more. It makes life a bit easier, knowing that you can have a relaxed conversation with a journalist.
Alana:  The pilot continues until the new year supported by the Joseph Rowntree Foundation. For more information visit On Road Media's website or follow them on Twitter