We Are Never as Happy as in the Happiness We Share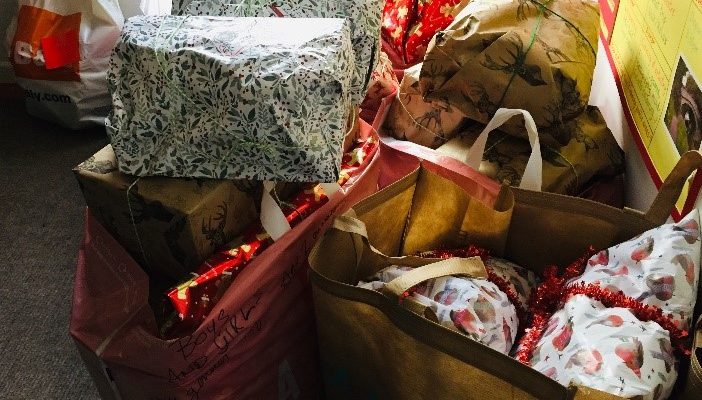 By Chantal Levesque French
Every year, a lady in the community brings several bags full of presents, beautifully wrapped and labelled, to Frimhurst Family House, so they can be distributed and bring some Christmas cheer to families living in poverty. Her generosity is overwhelming. I have often wondered how she could afford to do this, as she doesn't strike me as being extremely well off. As always, she insists on anonymity and will not give us her address, so we have no way to send her a thank you card.
This year, when she came to drop off the gifts, we spent time showing her photos from last year's Christmas party in London. Seeing the smiling faces of children holding her presents meant the world to her. As we chatted, it became clear that she lives a modest lifestyle and that she values kindness and generosity over the drive to success. She told us how, after falling on hard times herself in the past, it had become clear to her that she wanted to reach out to others going through hardship. Unfortunately, she is too busy to do volunteer work. So instead, she asked advice of her pastor at a local church. Because the pastor makes donations to Frimhurst on occasion, she decided that this was how she was going to make a difference.
Throughout the year, she puts money aside for these gifts. She goes to every sale she can find in order to stretch her money as much as she can. She stores all her goodies until the time comes to begin beautifully wrapping each present.
Overwhelmed by her kindness, I just had to let her know what a special person she is. She replied, "I do this because If I didn't, I just wouldn't be able to enjoy my Christmas.   It makes it so much more special to know that I have somehow made a difference."
People like this woman make you truly believe in the true spirit of Christmas.
Kindness is magic.