Building Quality in Inclusive, Participatory, and Emancipatory Research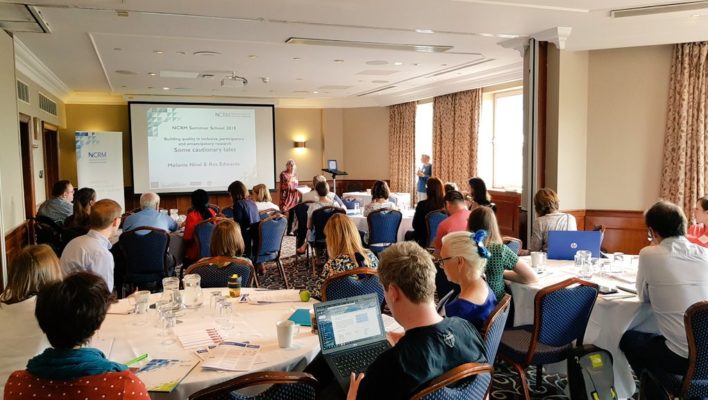 On 3–5 July, the National Centre for Research Methods hosted this summer school in Southampton. Moraene Roberts and Tom Croft represented ATD Fourth World on a panel called 'Perspectives on participatory action research and policy development to inspire and inform'. This session examined the nature of robust participatory methodologies, the conditions needed to enable inclusive practice, and the challenges in enacting such approaches.
Moraene Roberts and Tom Croft spoke about the Merging of Knowledge Approach they have been using where marginalised people living in poverty collaborate with academics to design, carry out, and analyse a participatory action research on the multi-dimensional nature of poverty.
Dr. Ali Rouncefield-Swales, a research fellow for children, young people and families at Edge Hill University, reacted to their presentation on Twitter, writing: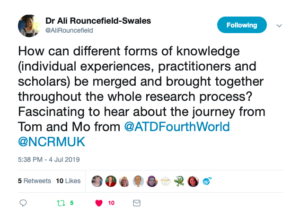 Looking back on the panel, Moraene reflected on the questions they were asked:
'I got the feeling that their way of working is really different from ours. They're experienced at carrying out research that has value, but they've been frustrated when they see that the solutions proposed by their research have not worked. One of them asked at what point we first involved people in poverty in our research. When I said it was from inception at our very first meeting at Oxford, my questioner was quite shocked because he had never worked that way.

'Someone asked why we have planned so many steps to visit people in poverty with feedback from our research. In other studies, participants are questioned; but then the researchers walk away and do what they want with the results. We don't want to work that way. We want people's involvement all the way through to disseminate the findings and to tell us who should get copies of the report.'
Prof. Kaz Stuart of the University of Cumbria also expressed positive feedback on Twitter: