Pushing Forward for a Socio-Economic Duty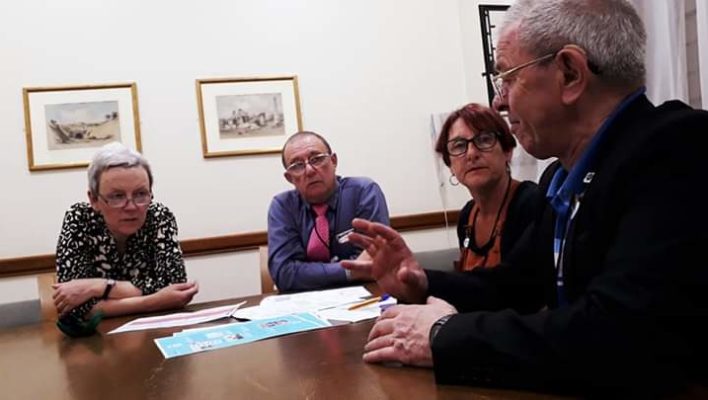 At left, Margaret Green, MP, listens to members of Poverty2Solutions.
After a very encouraging meeting with Harriet Harman MP in March and Margaret Green MP last month, Poverty2Solutions is continuing to ask that the socio-economic duty (section 1 of the Equality Act 2010) be triggered. This means that UK law would ensure the meaningful involvement of people with direct experience of poverty in its implementation and monitoring. Poverty2Solutions members say:
'We don't just want to dust down the 10-year-old draft; we want the involvement of people with lived experience of poverty in the implementation and the monitoring enshrined.'

'We are proposing a transformative way of making policy.'

'We want to go beyond people with lived experience of poverty as just contributing or being consulted about policy changes that have a direct impact on their life. We want to be partners for change and have our rich experience and expertise recognised. We know the system; we know what it is like to struggle every day; and we know what needs to improve.'

'People with direct experience have numerous accounts and case-studies based on lived experience and the experience of others we know in our communities.'

'People struggling with poverty are mistreated and disrespected by the system. Discrimination and exploitation by private landlords is commonplace. Families are left living in inhumane conditions, forced to make difficult choices between heating the house or feeding the family.'

'We know very well about the failing Universal Credit scheme that it is leaving people without enough money for weeks on end, leading to debt, eviction and deep anguish. There is a rise in illegal "loan-sharks" in the community due to people having nowhere else to turn.'

'No longer wanting things done to us and on our behalf, we now want to be recognised as stakeholders with equal rights to inform decisions that are made.'

'People are struggling to understand and access their basic rights. Services across the board treat us with disdain and distrust. Our children are discriminated against and bullied in school because of our financial situation.'
The socio-economic duty would be a protection for many vulnerable members of our society. There is already a series of duties in place within the Equality Act in UK law to reduce inequality, taking into account disability, gender, ethnicity, and rightly so. This leads us to ask the question: why is there not also a duty focusing on social and economic issues? Surely this is in everyone's interest?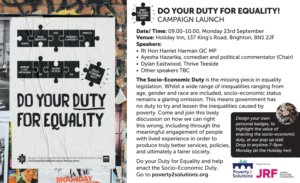 Poverty2Solutions are a coalition of three grassroots organisations, based in their communities and led by people with direct experience of poverty. We have worked together for more than three years with support from the Joseph Rowntree Foundation and other stakeholders. We are not willing to let this question be brushed under the carpet. We are making a clear request to all parties across government to support our campaign, 'Do Your Duty for Equality' and enact section 1 of the Equality Act – the socio economic duty – involving us as partners in the implementation and monitoring. We are ready to sit down, think, talk and act to make this transformative policy a reality for all.
– Dann Kenningham