Practice Guide by British Association for Social Work Features ATD Fourth World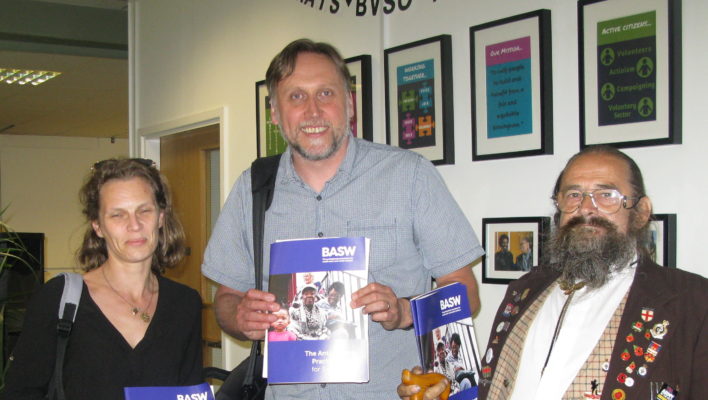 Above: Laura Mason, Tom Croft, and Eric Knibbs represented ATD Fourth World at the launch event.
---
On 4 September in Birmingham, with the Child Welfare Inequalities Project, BASW (the professional association for social work and social workers) launched its Anti-Poverty Practice Guide for Social Work.
In written assessments by social workers:
The words you write impact on parents and how they are seen. Don't exaggerate for effect. Words like "shabbily dressed" and "grubby" really hurt and stay with people years down the line. They are worried that is how they are viewed. I know of parents whose children have been forcibly adopted by the local authority and who worry that their children won't come and look for them when they are older if they look into their social service files and see reports like this. You have to be really careful how these reports are written about people in poverty who are trying their best.
This statement by Shaeda Croft was part of ATD Fourth World's message during the launch of the new BASW practice guide.
The guide, which encourages practitioners to consider the impact of deprivation in assessments and decision making, drew on focus groups with members of ATD Fourth World who have lived experience of poverty. The guide also highlights the participatory research of ATD Fourth World on understanding poverty in all its forms.
The guide examines what Alex Turner of Community Care calls the 'moral muddle' of social workers who feel that 'to identify poverty as a critical issue was felt to be stigmatising, yet to deny its impact was profoundly unhelpful to families'. The way forward advised is a strong focus on socio-economic rights.
During the launch, activist Laura Mason asked that social workers 'treat us with respect as an equal and don't look down upon us'.  She praised one social worker who had been compassionate when Laura was coping with trauma: 'She put her hand on my shoulder as tears were rolling down my eyes. That contact changed our whole relationship and everything that came after.'
Eric Knibbs spoke about the hard choices faced by parents in poverty: 'Do I eat or put shoes on my children's feet? Nine times out of ten, you don't eat. A lot of social workers don't realise how much sacrifice a parent makes on a daily basis because they don't see it.'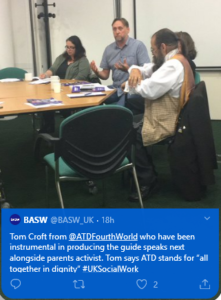 The BASW report is available here. To learn more about the report, please see the BASW website.