Susan's Journey: 'No Longer Crouched, No Longer Crushed'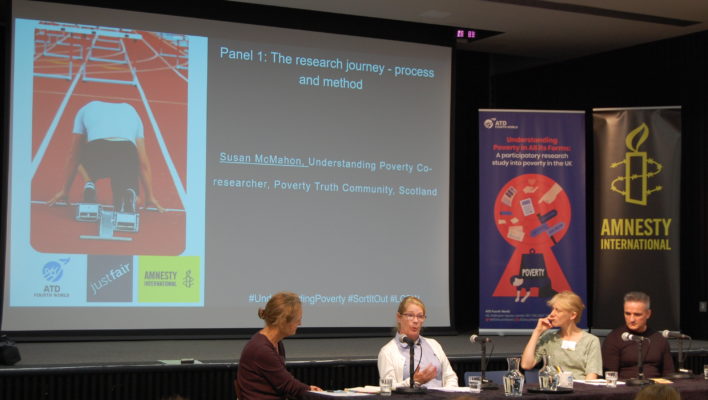 During the 14 October 2019 launch of ATD Fourth World's three-year research project on 'Understanding Poverty in All Its Forms', Susan McMahon spoke about her experience of becoming a co-researcher in Britain and collaborating on 'The Hidden Dimensions of Poverty' with research teams in Tanzania, Bangladesh, and elsewhere.

I'm part of the Poverty Truth Community in Scotland in Glasgow. I had been asked about the research, if I wanted to become part of it. The first thing that impressed me, I must say, was the mention of Oxford University. I thought, 'That's the closest I'll get to Oxford. Yes, I'll do that'. At first, I was a wee bit sceptical as well. I'm thinking, 'Here we go — another paper exercise, but I'll go along and see'.
I must say also I believe it's really important for people with lived experience of poverty to be included in research. As co-researchers we had to try out all the tools and exercises ourselves first before determining which ones we would use with the peer groups. One of the first ones we used was looking at photos and being asked: 'What does poverty mean to you?' I had picked this image [of an athlete crouched over]. Then we kind of sat with the image. For me that image meant — I was actually quite surprised and shocked at what was hidden in me and wasn't aware of, I felt gutted, I was quite emotional — I chose that image because I always feel crushed. I feel like, down beneath everything, I'm crushed with poverty.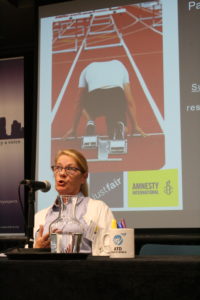 We then went back into a larger group and somebody else had picked the same image as me.  It was so positive what they shared — they were geared up to fight the fight. It woke me up to what was in me: the emotional crushedness that was inside me, that I was walking about with and I wasn't aware that that was the case. There was a lot of blame, shame, guilt. This actually came up again and again in the research.
When I'd seen the difference with how the other person saw the same photo, I started to talk to myself and say: 'You're not staying doon there!' Something in me woke up and says: 'Get up, get up, you don't need to be crushed.' So I began to unpack all the stuff that was in me. And then it came up again and again and again in research. I was identifying and I was hearing it from different angles and people from different situations.
I was surprised as well with what the women from Tanzania shared. I was really affected by hearing their story. They had a pot of soup that they used to guard, that was their whole life, this pot of soup. And then there was a comparison from the academics who had their houses, their cars, their TVs and whatever, and their concern in life was to build higher walls to keep this safe; while for these women, it was the pot of soup. I really felt the impact of that comparison.
We also heard from Bangladesh about 'tiger widows', ladies that had lost their husbands who'd been out working and were killed by tigers. The women were then labelled as 'tiger widows' and blamed for their husbands' bad luck. These different stories from women made me see that as a woman, with the struggles that I had in life, it doesn't help being a woman.
Our connection was also the impact of poverty. It was the same emotional impact and this makes me angry. It's about the injustice of poverty. But for me, I recognise there's been a change in my position. My awakening sparked a change. So I'm no longer crouched; I'm no longer crushed; I'm standing up.
It's really important that the powers that be and the people that can change things do see and recognise the research. But for me personally, I think it's really important that people experiencing poverty actually get the information in our report given to them. This is because a piece of information, a bit of knowledge can change something in your life. If you are just struggling on every day doing what you do, thinking this is how it is, and you don't see any hope, don't see any change, then that's how you'll stay. But I believe that people can change. I was wanting the report to go on buses where people can see it, people who use buses, people that are experiencing poverty, so they begin to start to go: 'That's right, I do live with this'. Because sometimes you don't recognise what you're living in. That's me.