Remembering Rev. Paul Nicolson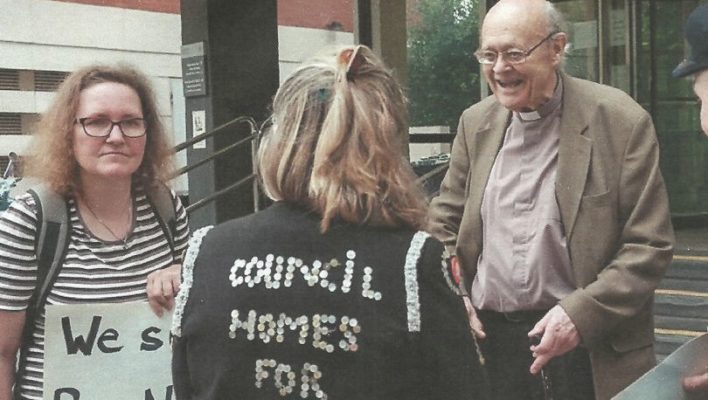 On 5 March 2020, Rev. Paul Nicolson died at the age of 87. Many members of ATD Fourth World recall his energetic anti poverty efforts:
Alison: "He was a truly wonderful selfless man that tirelessly helped the poor in difficult situations. He gave children holidays that had disabilities or who were from struggling families. He met my kids and got on so well with them and we met his beautiful young grandson whom he doted on. I enjoyed debating religious and political matters with him. He was a true gent as they don't make any more. I could say a lot more how wonderful that man was, but for now I'll just say that he helped me and my family a lot and I love him. RIP #RevPaul xxxx"

Bea: "Reverend Paul was just wonderful! When I was 18, I was about to be kicked out of my flat. Not only did he help me keep it, but when he discovered that for three years there I'd had no hot water or heat, in just 45 minutes he got a plumber in there to fix everything. Paul was awesome. He always turned up to campaigns prepared with tea and sandwiches. He'd sit with us and chat. He'd always have bags of leaflets and information and always knew what to do, who to call, and which MP you needed to contact. He was always full of information. But he would always say that he could tell me what to do and how to do it but couldn't do it for me. He was a total inspiration and even in old age and in ill health, he kept turning up at things, working, helping and encouraging. They don't make them like him any more."

Matt: "He may have been the most active octogenarian I've ever met! Paul was an amazing person, a real one in a million. We may not have always seen eye to eye with him, but there was no doubting the huge respect that he had for ATD Fourth World, and also the great respect that I, and we, had for his huge personal commitment to end poverty and debt in the UK."
Shortly before his death, Rev. Paul wrote this article in the Daily Mirror. Here, his family gives news about his death and how his work will be continued.