A national scandal: the link between child poverty and forced adoptions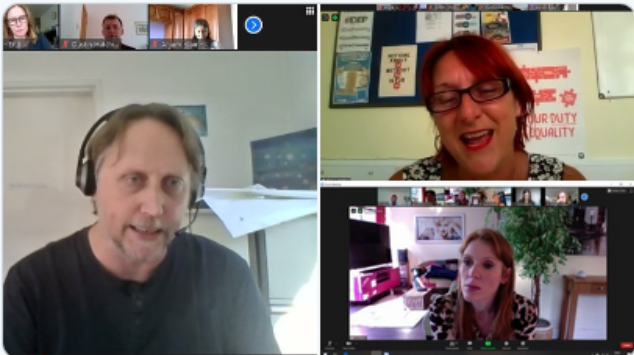 Above: Thomas Croft, Tracey Herrington and Angela Raymer
---
On 26 June 2020, the Child Poverty Action Group and the End Child Poverty Coalition hosted a meeting with the leadership of the Labour Party. Below are the remarks by Thomas Croft on behalf of ATD Fourth World.
---
I would like to raise one issue that we believe is extremely important to acknowledge and address through a thorough policy debate. I would also like to underline the importance of recognising the expertise of having lived experience at the heart of the policy making process.
The issue that troubles us greatly at ATD Fourth World is the clear link between child poverty and the very high rates of child protection investigations and court proceedings in the UK.
The fact is that early-help budgets and family-friendly preventable actions, such as the Sure Start Programme, have been cut to nothing. Coupled with the large number of children in care subject to forced adoptions, this is in our view a gross injustice. The statistics are shocking.
When we take into consideration that by some estimates 90% of children forcibly adopted come from families living below the poverty line, we do believe we are in the realms of a national scandal.
Poverty has a hugely damaging impact on family life.
Parents really struggle with the stress, strain and stigma of raising their children on a very low income. It is grossly unfair if the main response of society to the challenge families face is to do very little until people reach crisis point and then investigate parents and forcibly remove children from their home.
Covid-19 has obviously made this situation even worse through the closure of contact centres and the reduction in face to face social work. Court proceedings and contact moving online coupled by the growing digital divide families in poverty face really concerns us. Standards of justice have dropped.
We are also concerned that the Government's recent legislation weakening safeguarding across social sector could lock in this reduction in standards post Covid-19.