"Why We Need Digital Inclusion"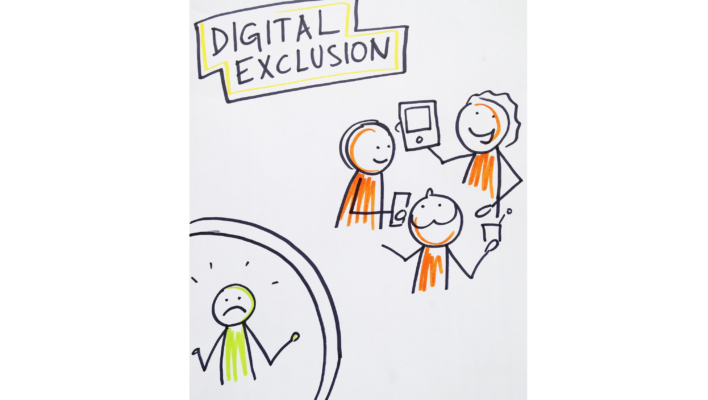 On 12 February 2021, Taliah Drayak spoke about research done by ATD Fourth World and the Parents, Families and Allies Network (PFAN) on the high-level "Multi-Stakeholder Forum" organised by the United Nations Commission for Social Development. The theme of the commission was "Socially just transition towards sustainable development: the role of digital technologies on social development and well-being of all".  The full event can be watched on United Nations WebTV.  Taliah's remarks are below.
---
I'm going to start by outlining some of the ways the digital divide exacerbates existing inequalities. Then, to imagine measures that could help close the digital divide, I will describe an example of how PFAN — the Parents, Families and Allies Network — exercised digital inclusion last autumn.
Since the pandemic caused public services to move almost completely online, we've seen a domino effect where people who have the least access to smartphones and data see all their human rights impacted. While schools are closed, families entitled to free school lunches have been invited to pick up the meals in person—but only if they can register online first. When you can't complete the job centre paperwork online, you can't access the social security benefits you were entitled to, and that loss of income damages your well-being in many ways.
Every barrier has a knock-on effect
One mother used to go online through a Wi-Fi hotspot at her job. But during the pandemic, she has had no way to go online and thus has stopped attending her substance abuse support group. Not attending the group means she can no longer fulfil the conditions set for her to have contact with her children. Her social worker never thought to ask if she could afford data to attend the substance abuse group when it went online—and the mother was too ashamed to ask for help.
Everything that helps keep you afloat is online. When you can't access it, that bumps up your child protection rating and amplifies the problem. Even well-designed policies become meaningless if people in poverty can't access the tools to enforce that policy or hold the system accountable.
The same is true with the family court system
Since the pandemic began, most hearings are held remotely, via video-conferencing. Parents without smartphones or data are the least able to access lawyers. These parents also struggle to be able to print documents about their court case and to complete assignments set for them. These are serious documents that can have forever effects on a judgement about children's custody. Without the first access point, the door to all other access points slams shut and the most vulnerable people end up being made even more vulnerable.
In PFAN's research, parents in poverty told us that the shift from physical courtrooms to virtual ones has created a host of problems. There are many technical problems or distracting noises in the background such as screeching and constant feedback. When you can connect only by phone, you can't consult documents shown on screen. Without seeing faces it's hard to tell who's speaking. At a virtual distance, you feel even less able to understand and you feel traumatised. You feel even less supported and have less access to services that could help.
The loss of human contact involved in going virtual is making it much harder for families to process the decisions affecting their custody of their children — their whole world.

A 'do no harm' approach to research
Last fall, PFAN organised research to consult many of these parents in order to understand their experiences. We invited parents to contact us by telephone or email. Most of the 53 who responded sent text messages, because the internet is not their first port of call. Then we provided vouchers for them to purchase data to take part in the focus groups. When they joined us by video-conference, most used telephones. We saw wobbly hand-held images. Their internet connections were often weak. What they could see on the video call was limited by the narrow size of their phone screen.
We wanted to gather their stories to find a better way forward—a "do no harm" approach to research.
Our goal was for them not to feel discarded, used or abandoned. To that end, we had to offer these parents as much time and patience as possible.
The vast majority were in the midst of a crisis where it's fight or flight. To help them find what's most important in what they were trying to say, we always let them start at the beginning so that they could feel seen and heard beyond describing one isolated incident.
By listening to them before convening the focus groups, I was able to group together those who were experiencing similar situations so that they could see they're not alone. This helped them to feel safer. Most groups had a majority of mothers and one was composed of almost all fathers. Our research questionnaire took one hour, and so we scheduled all the focus groups for two hours. That way, we had time for the conversations to make parents comfortable at the beginning, and after the interviews, we continued listening to whatever parents wanted to tell us.
They all need to feel protected and valued
We also continued to offer support after writing up the research through individual phone calls and emails. We're still in touch with many who request that because we've given them hope. It's motivational for them to stay involved in case they can help others by speaking out—and by contributing to events like this one. It is my privilege to lift up the voices of parents coping with a lot of pain and trauma. We need a system that justly and holistically helps families overcome the challenges and hurdles they're facing.
Final comment
This has been an incredible discussion. What is worrisome to me as we discuss the vast gaps—in food inequality, digital inequality, gender inequality and financial inequality—is that we may further commit injustice and trample human rights as we seek remedy through blame on those who are most heavily impacted by poverty and inequality, instead of offering support.
We must ensure that our children, who are most heavily impacted by this pandemic, have their right to family life upheld, every bit as much as their right to education and other human rights.
Children, families, and parents need to be supported as a whole, not as separate parts.