Please support resilience in tough times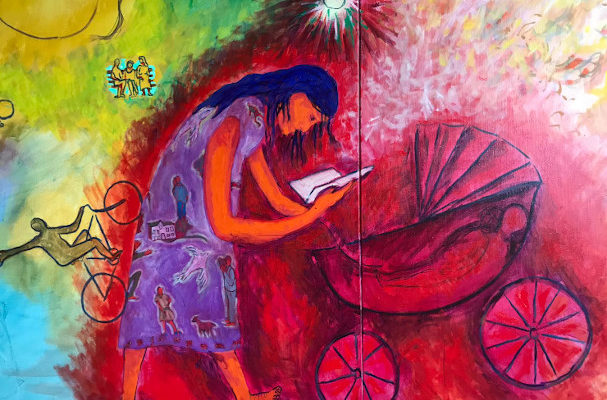 Detail from "Lives that will not be silent", 2019
© Guendouz Bensidoum, ATD Fourth World
Dear friend and supporter of ATD,
In my thirty years as a friend of ATD, I do not remember a time when the unequal impact of events on those experiencing extreme poverty has been so great.
Many of the families in our ATD community live in cramped conditions on crowded estates where it is difficult to isolate. I recently watched a mother drag a pushchair up a steep flight of stairs to her flat and realised that if someone had been coming down it would have been impossible to avoid contact.
Schools are relying on online teaching methods and digital resources. Children who lack access to computers would be allowed to go to school; but we know from the last lock-down that many families in poverty fear the risk of infection and keep their children home. In one family, several teenagers queue for use of the mobile phone, which their parents also need for their role as activists with ATD.
People's lives are complex. Ill health, disability, special needs, and fragile mental health are intricately linked with extreme poverty. The usual means of support — health visitors, special needs groups, and many forms of therapy — are not available. ATD's staff team and volunteers are ringing families to provide a friendly voice and help with referrals for support.
Although ATD is engaging more than ever in many virtual forums, its usual in-person activities are suspended and grants for projects are being held over. We are adept at making a little go a long way but there are hidden costs.
Your help, small or large, makes a difference:
£5 provides a pack of basic art materials, craft paper, felt tips, pipe cleaners and paints for a young child to complete a school craft project. We send out many of these.

£10 purchases a basic Bluetooth keyboard for a mobile phone to facilitate schoolwork.

£28 covers the cost of two hours with one of our core team to help a family connect to Zoom or WhatsApp. The team are highly skilled and qualified professionals, but they commit to working for the London living wage of £10.85 an hour, £14 with overhead costs.
Every amount great or small, will make a difference to the life of a family.
Your generosity is appreciated and will reinforce the resilience and courage of families in poverty in these tough times.
Thank you,
Letitia Mason (Chair ATD Ltd)
in link with Patrick Daniels (Chair ATD Trust)
and Thomas Croft and Diana Skelton (National Co-ordination Team)