Socially Distanced Activism: Voices of Lived Experience of Poverty During COVID-19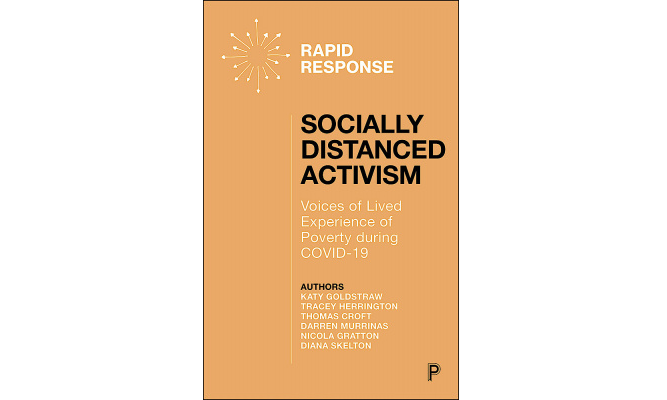 How would your experience of the COVID-19 pandemic have been different if you had no access to the internet? In this new book published by Policy Press, the APLE Collective (Addressing Poverty with Lived Experience) explains that its pandemic activism was rooted in the expertise of people in poverty. This resulted in the decision to campaign against the exclusively digital response to the crisis and the alienation of people in poverty.
Drawing on case studies from members of the Collective: Thrive Teesside, ATD Fourth World and Expert Citizens, this book interrogates the term 'lived experience' and critically investigates how knowledge gained from lived experiences of poverty is integral to developing effective COVID-19 policy responses.
Book editor Katy Goldstraw outlines the book's main points in this blog for Transforming Society.  In this blog post, Gwennaelle Horlait sums up the key points of the chapter contributed by ATD Fourth World.
The 23 June 2021 book launch event, chaired by Ruth Lister, a member of the House of Lords and Emeritus Professor of Social Policy at Loughborough University, can be watched here:
Remarks from Thomas Croft and Taliah Drayak at the book launch can be read below. Remarks from Diana Skelton can be watched here:
To order the book, please contact Policy Press.
Thomas Croft: repercussions of activism
The pandemic has affected the right to family life. In the UK, families in persistent poverty are disproportionately affected by child protection interventions, interventions which too often they experience as hostile and which can lead to forced separations of children from their parents. During the pandemic most family court hearings have had to be held remotely with a great impact on standards of justice. The Parents, Families and Allies Network (PFAN, founded in February 2020 and of which ATD is a member), is led by parents with lived experience of social service intervention who provide peer support and parent-to-parent advocacy to those experiencing similar situations.
Last autumn, PFAN carried out research with parents to understand their experience of remote court hearings during the pandemic. Taliah Drayak, one of the parent activists of PFAN who you will hear from later, explains in our chapter that
"We wanted to gather their stories to find a better way forward—a 'do no harm' approach to research. Our goal was for them not to feel discarded, used, or abandoned. After finalising the research, we continued offering support through individual phone calls and emails. We're still in touch with many who request it because we've given them hope."
With the loss of human contact resulting from services moving online, parents feel traumatised, even less supported, and less able to understand decisions. "It's injustice that drives me," one mother says. This is what motivates many PFAN and ATD parents who, despite their activism having repercussions on their personal and work lives, feel it is their duty to fill the support gap and be available 24/7.
Epistemic justice and emancipatory knowledge
In these and other projects, ATD Fourth World promotes epistemic justice by putting in place the conditions for co-production of emancipatory knowledge. The founder of ATD Fourth World, Joseph Wresinski, believed that an intrinsic part of valuing another human being is to recognise them as a thinking person with the capacity to hold and share knowledge and to offer insight into the human condition.
Denying someone their voice, or denying them the resources to build and share their thinking amounts to epistemic injustice, something which can do real psychological harm to the knower whose knowledge is denied, as well as resulting in the loss of precious insights from direct experience.
Wresinski identified three types of knowledge about poverty — from first-hand lived experience, from practice, or academic — and insisted that all three be given equal weight in the co-production of knowledge. In this form of participatory action research, all stakeholders are involved on an equal footing at all stages of the research process. The goal of the research cannot be extractive and theoretical; it must aim to effect social change. This is why ATD cultivates the conditions for people in poverty to be equal partners in working towards social justice and developing collective wisdom.
Taliah Drayak: Pulled apart but reaching out
One of the greatest challenges in making change, in giving and receiving support is accepting that there is something wrong. Nobody sees themselves as vulnerable. Nobody wants to admit they need help. Relationships are the critical key. Empowerment is vital to remedy vulnerability and enable activism and independence.
To understand where people are struggling, to understand what is happening that is creating this struggle, and to begin to put together the tools to support change and to overcome those struggles, it requires that we get right up close. That we listen, learn and work with those who are being challenged.
When the pandemic hit, we were suddenly pulled apart, held far away from each other in a most unprecedented way. It hardly needs explanation to explore how isolating it has been as we all try to navigate lockdown after lockdown, stuck in place to where ever the pandemic found us.
Stretching across gaps
In the work we do as parent advocates across national and international networks — the work we do with ATD Fourth World — we have had so many of the tools we usually use to support individuals taken away: reaching out and hugging someone, squeezing a hand, meeting up in person to listen, smile and cry with them.
And yet, out of the most terrifying and limiting situation, we have seen a new, and for some more inclusive, way of reaching out. Across the gaps created by seas, by mountains, by stretches of rural lands. Across the gaps created by disabilities and gender roles. Across the gaps created by language and dress codes. We have created groups for support, research and development; we have held meetings to build and unite communities; and foundling organisations have been born — online!
We have zoomed into the digital world opening space to allow relationships to made and to thrive.
We have reinvented connection and the behaviours that support connection. To come together: refusing to let a pandemic keep us apart.
It is incredible really.
Yet, yet, yet — there is a gap, a very big gap, where anyone without the technology and the infrastructure to freely access the internet has been shut out. Their life opportunities have been horrifically limited. To give an example of this let's consider the United Kingdom, where we wrongly take for granted that everyone has access to the internet, the skills to navigate it and the tools to use it.
Harrowing Stories
In our support work and research with children and families who have children in the care system, or on the fringes of the care system, we realised that the gap for families is incredibly far-reaching. During the pandemic, many parents living apart from their children went months, some nearly a year without any direct contact with their most precious and beloved children.
For many parents — the parents of the 80,000 children in the English care system — they may only have been able to see or speak to their child by phone or computer, if they had a phone or a computer and the financial stability to pay for it. Some parents lost all contact with their children due to poverty in a pandemic.
Focus groups with parents who had experienced family court hearings during the first lockdown, and the experiences which these families shared were harrowing. Their ability to participate in decisions being made about their lives was hugely limited and impacted in ways far beyond expectation.
Silenced
Families have been judged as neglecting or even abusing their children for the challenges they have faced due to poverty. If you can't get online to sign up for your social security benefits, you can't buy food and electric, and you don't have any way to access these fancy online classes and Jo Wicks activity groups online for your children. Instead of seeing the injustice, instead of seeing the inequality — too often this is judged to be a risk or a harm.
Silenced from the online world, silenced by courts and children's services by the necessity of confidentiality, these families have readily grasped the extended hands of support every time we have reached out. They want more than anything to be included in the decisions made about them and the systems that affect their lives. The way that we did this meant handing out internet vouchers, mobile phones, tablet computers, sometimes even going and standing outside windows — shouting across the distance, most importantly we went to these families and we listened.
As we move forward, with 'freedom day' shifted further out of reach,
it is essential, as we advocate for advocacy, that we be activists for activism.
We must enable everyone in our countries and communities to participate. Moving online has built bridges across some serious barriers to entry for many, many people.
Now, we must ensure that everyone is equally able to access the online world, for themselves, for their families, for our future.