Celebrating International Women's Day 2022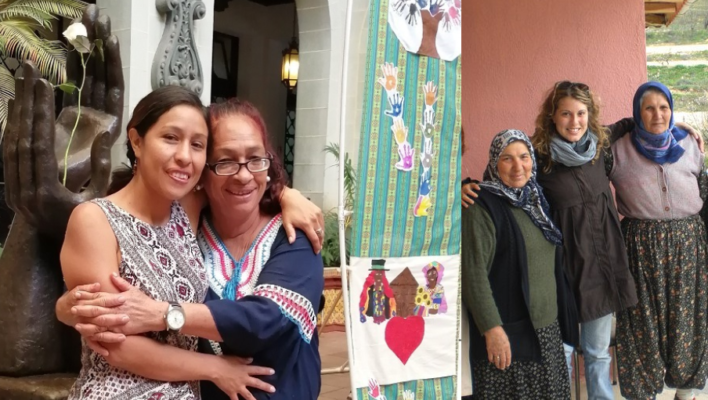 Above: at left, Vivi with her mother in Guatemala; second from right, Micol with women in Turkey
According to the United Nations, working-age women are 22% more likely to live in poverty than men.* This statistic brings to light the intersection between poverty and gender. In ATD, we acknowledge this intersection and the specific struggles of women in poverty. Therefore, in light of International Women's Day (8 March), ATD UK wants to celebrate and recognise the inspiring work women around the world participate in as part of ATD.
These women empower both themselves and other people in their communities through speaking about their lived experiences, volunteering their time, and reaching out to the most vulnerable around them.
Vivi – Guatemala
Vivi displays how empathy and compassion can be turned into community action and communication, by actively reaching out to those who were likely to be most isolated and alone during the pandemic. Her work with the 'Working and Learning Together' project and providing companionship to individuals without family or friends emphasised the importance of listening to people, on top of providing them with resources of sustenance. Vivi argues that the pandemic may have placed limits 'on the amount of time we can spend with people, but not how deeply we interact with them'.
Vivi showed us how important a sense of community and belonging is, and is a clear example of how anyone can help their community despite their financial circumstances, helping through compassionate actions. To read more about Vivi and other woman in Guatemala, please click here.
Emma – Bolivia
Emma was raised in a small town called Sotalaya. At age 7, she moved to the capital with her mum and siblings, looking for a better future and job. Emma was born into poverty, and in the video below, she explains the multiple struggles she had to go through as a child. She also raises awareness of the specific hardships faced by women in poverty, particularly in terms of motherhood. Her involvement with ATD started with her contribution to the 'House of Friendship', where she is committed to creating a fairer society.
Despite the language barrier she faced, (because her mother tongue of Aymara is not as widely used as Spanish in Bolivia) she not only completed her secondary studies, but has become an inspiration for many other women in poverty. As she developed in her role as a lived experience activist, she achieved incredible things, such as being invited to the UN in Geneva to talk in the name of people living in poverty in Bolivia.
Emma's story shows how important it is to speak out and make our voices heard.
Micol – Italy
Growing up with activist parents, Micol had a growing passion for overcoming social injustice, leading her to pursue a career in political science. Soon after earning her degree, Micol completed an internship with ATD Fourth World. Because she admired our objectives and methods, she decided to join ATD's international Volunteer Corps long-term. In the video below, Micol explains that she was attracted by ATD's radical ambitions for social change and unusual approach to activism, being led by people with lived experience of deep poverty.
Micol spent three years managing international communications at ATD's international centre in France whilst living there with her family. Now, she and her partner have moved to Tanzania to join ATD's team there, bringing their two young daughters along with them.
Micol's experience shows dedication and commitment to a cause and the various ways in which you too can get involved in creating social change.
– by Megan Easton and Eva Carrillo Roas
—
*https://www.globalcitizen.org/en/content/women-extreme-poverty-un-report/