Transformation Editors at the Daily Mirror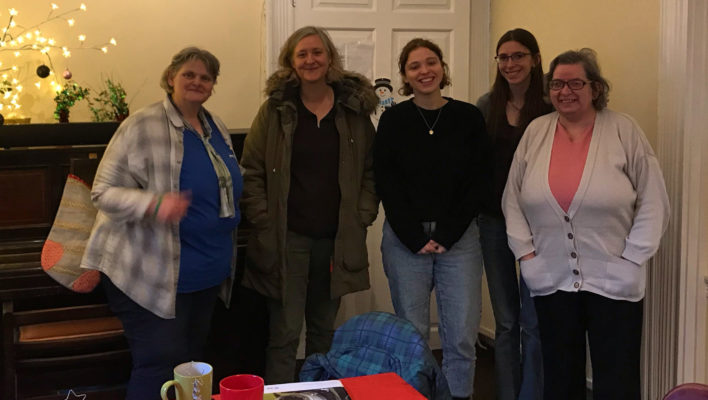 From left to right: Amanda Button, Ros Wynne-Jones, Robyn Vinter, Gwennaelle Horlait, Patricia Bailey
At the invitation of Robyn Vinter from the Public Interest News Foundation, two ATD Fourth World activists (Amanda and Patricia) acted as guest editors for the Daily Mirror. For two weeks in December 2021, they took part in various aspects of the newspaper's life—from sitting in daily conferences where decisions are taken as to what the next-day broadsheet will look like, to visiting the archives and printing site, and following a film crew making interviews on the UK's eldest estate. Reflecting the project's aim, which is to diversify newsrooms and improve the relationship between under-represented groups and the media, Amanda and Patricia were dubbed 'transformation editors'.
Ros Wynne-Jones, a columnist with the Daily Mirror, later drew on the relationship built in this project to interview Amanda for a column about the impact of rising energy prices.
Let's ask Patricia and Amanda what they think of their experience as guest editors
To listen to Amanda's interview in audio format, please click below.
To listen to Patricia's interview in audio format, please click below.
A written transcript of these two audio clips follows.
What exactly did you do during these two weeks?
Patricia: We were part of the Daily Mirror conferences in the morning to discuss what had been going on the day before in the news. Then in the afternoon there was another conference to decide what was going in the newspaper for the following day.
Amanda: We followed journalists around and saw how they put articles and newspapers together, and what exactly goes in it. I went to the photo archives where they keep all the photos that were done for the Mirror and also to see the printworks in Watford, where you get to see step by step how papers are printed and how they're put together.
In the first week, I also got a chance to meet with two lady bagpipers from Beacontree Estate—which is one of the eldest estates apparently in the country—and see them playing, and to watch a journalist interview a 98-year-old lady in Beacontree's Community Hall, who's lived there all her life.
What did you most enjoy? What did you learn?
Amanda: I most enjoyed going to Becontree, watching the bagpipers and listening to the old lady's story. And most importantly going to the photo archive and the printworks. What I learned is that you don't realise how much input and data or information and all different processes that happen before the actual papers are put together.
Patricia: I learned that it is a lot of hard work! You've got to decide what people will be happy with reading. I found it interesting to see what actually is going on behind the scenes. I most enjoyed going to the printworks in Watford and seeing how the paper is printed, all the machines… I really enjoyed that! It was a beautiful day. I loved it!
Any regrets? Things that you would have liked to do but that didn't happen?
Patricia: I was disappointed that I couldn't be part of the first outing to Beacontree Estate because from what I saw from the photos it looked like a very interesting day.
Amanda: One thing I wasn't too keen on was all the stairs in the printworks, but that's just the way it is designed, so there is nothing you can do about that!
Why do you think this project is important? Do you think that the public should have more say on what news is reported and how it is reported?
Amanda: It is important because it's a chance for the general public—for people like myself who would generally pick a paper, have a look at it five minutes and then chuck it to one side—to get to see how papers are put together, what exactly it entails for people to be able to access papers, to read them. It would give them a better insight of how things work.
Patricia: Yes. Members of the public should be more involved in how the newspaper is put together. It is nice to have your say on what goes in the newspaper and what doesn't. I really enjoyed being part of it and I was sad when it came to an end.