A theatre performance in London on 20 October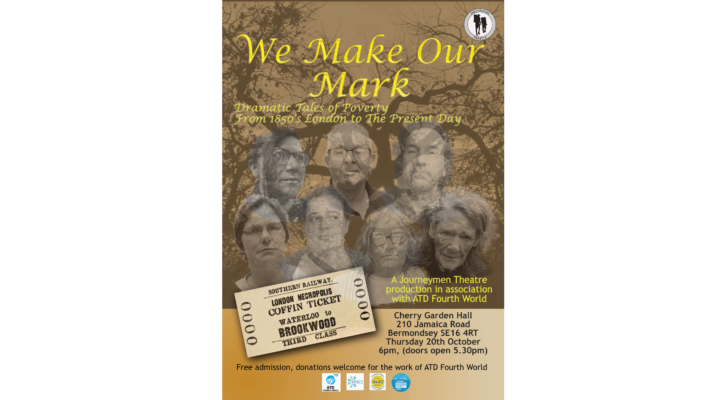 [This event is now over, but watch this space for photos and a recap article!]
"We Make Our Mark": Dramatic tales of poverty from 1850s London to today was a free theatre performance that was co-created with people in poverty to mark the United Nations International Day to End Poverty.
When: Thursday 20 October from 6 to 7:30 pm
Where: Cherry Garden Hall, 210 Jamaica Road, London SE16 4RT
In partnership with the Journeymen Theatre and London Challenge Poverty Week — and thanks to support from Parents and Communities Together, On Road Media, and 4 in 10 — ATD Fourth World is proud to present "We Make Our Mark", a performance about paupers buried in unmarked graves in Victorian London.
After an intermission, this theatre performance will be followed by poetry, dramatic readings, and a special screening of a video created by Poverty2Solutions: "Through the eyes and values of lived experiences: Listen up to level up".
To RSVP, please use our Eventbrite link.