Liverpool John Moores University: Challenging the Stigma of Poverty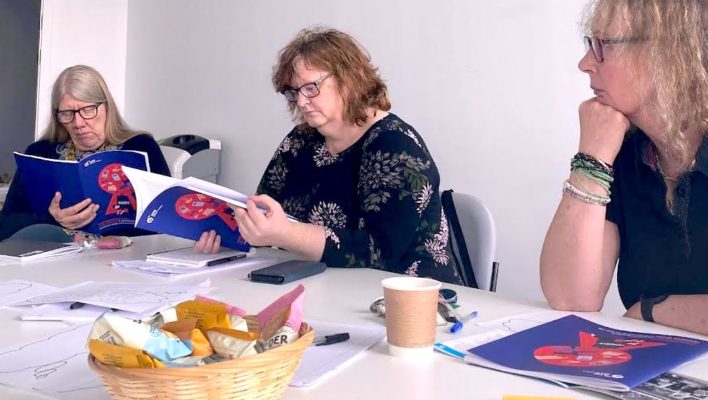 "It's many years ago now, but when I was a student I experienced homelessness. I struggled to afford books; I had to work almost full time and that interfered with my studies."  Dr Rachel Broady
There has long been a divide between poor and affluent students attending university and the gap is widening (Evening Standard, 2021). The UK is currently battling an extensive cost-of-living crisis and, in turn, food bank use is on the rise: "almost 90% of food banks see increased demand" (The Guardian, 2023). Growing austerity measures have impacted students greatly: "1 in 4 students regularly go without food and other necessities because they cannot afford them, rising to over 3 in 10 for students from the most socioeconomically disadvantaged backgrounds" (Russell Group, 2023). 
On the 17th of April, in collaboration with ATD, Dr Rachel Broady held a full-day participatory research workshop entitled 'Challenging the Stigma of Poverty to Promote Discussion'. This was undertaken in order to consider attitudes to poverty and how we can ensure respectful, inclusive and useful discussions about it.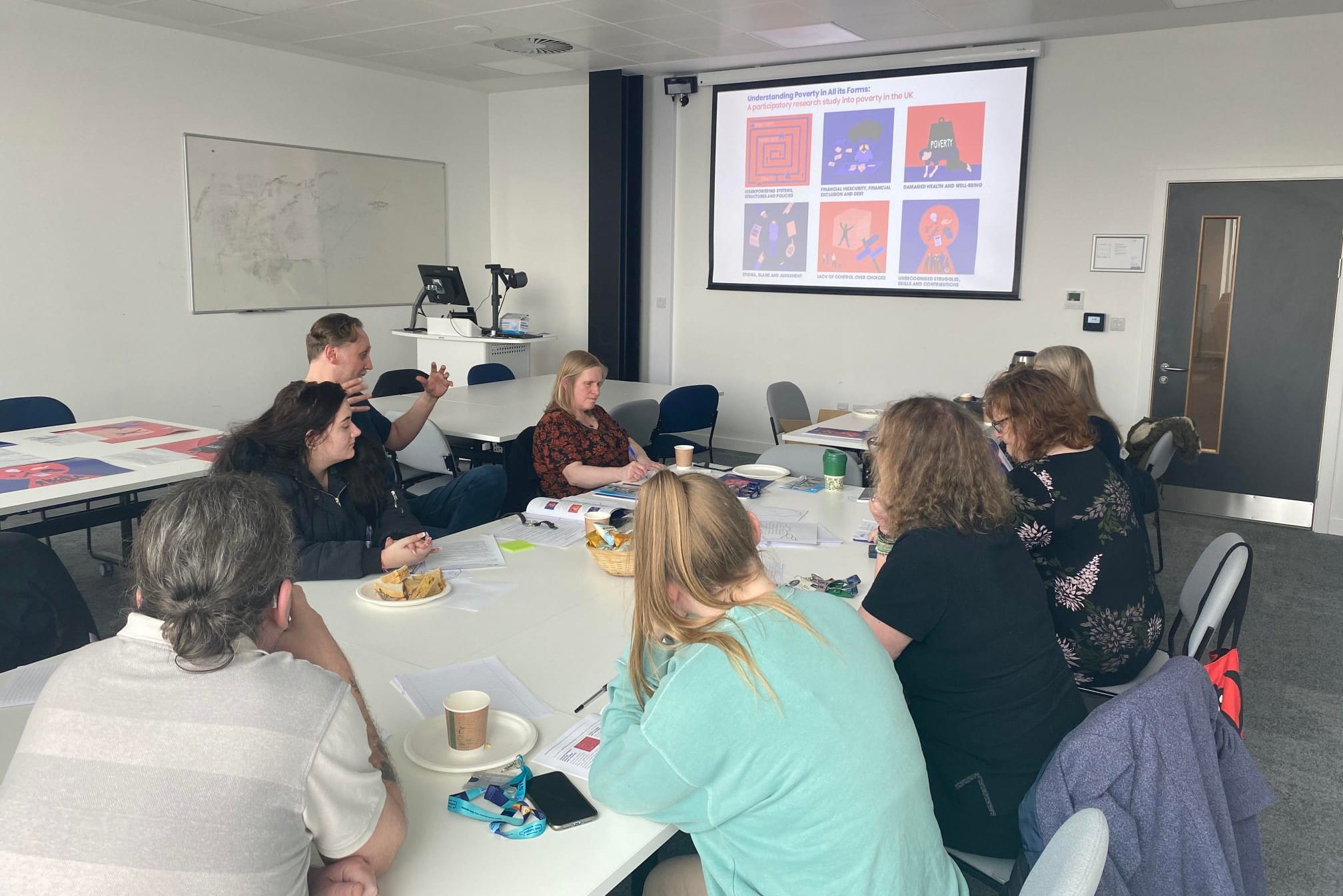 Dr Broady is a lecturer in Media, Culture and Communication at Liverpool John Moores University (LJMU). Her PhD was entitled: 'Poor Reporting: the political unconscious in journalistic responses to poverty and protest during the cotton crisis'. Broady's deep awareness of poverty is accompanied by a dedication for all to have equal access to opportunity and to avoid the experience of stereotyping and stigma. On top of her academic achievements, she is a journalist and longstanding ally to ATD Fourth World UK. In 2016-2019, Broady was a member of the group of co-researchers for ATD's national research team which produced a report on Understanding Poverty in All Its Forms.
Through challenging the dominant discourses across media and politics, the reality of poverty can be altered. This is why it is important for Broady to ensure that all young people gain a greater understanding of what it is like to experience poverty. For those students who are experiencing poverty, Broady wants them to steer clear of feeling ashamed. ATD activists travelled to Liverpool to facilitate in the workshop. It was attended by students, academics and wider LJMU staff. The purpose of the day was to formulate an approach that would push conversation about poverty in the right direction at the university but also in society as a whole. It was a day of empowerment for people to speak up about this delicate topic and to raise ideas of change which would then inspire the project's outcome.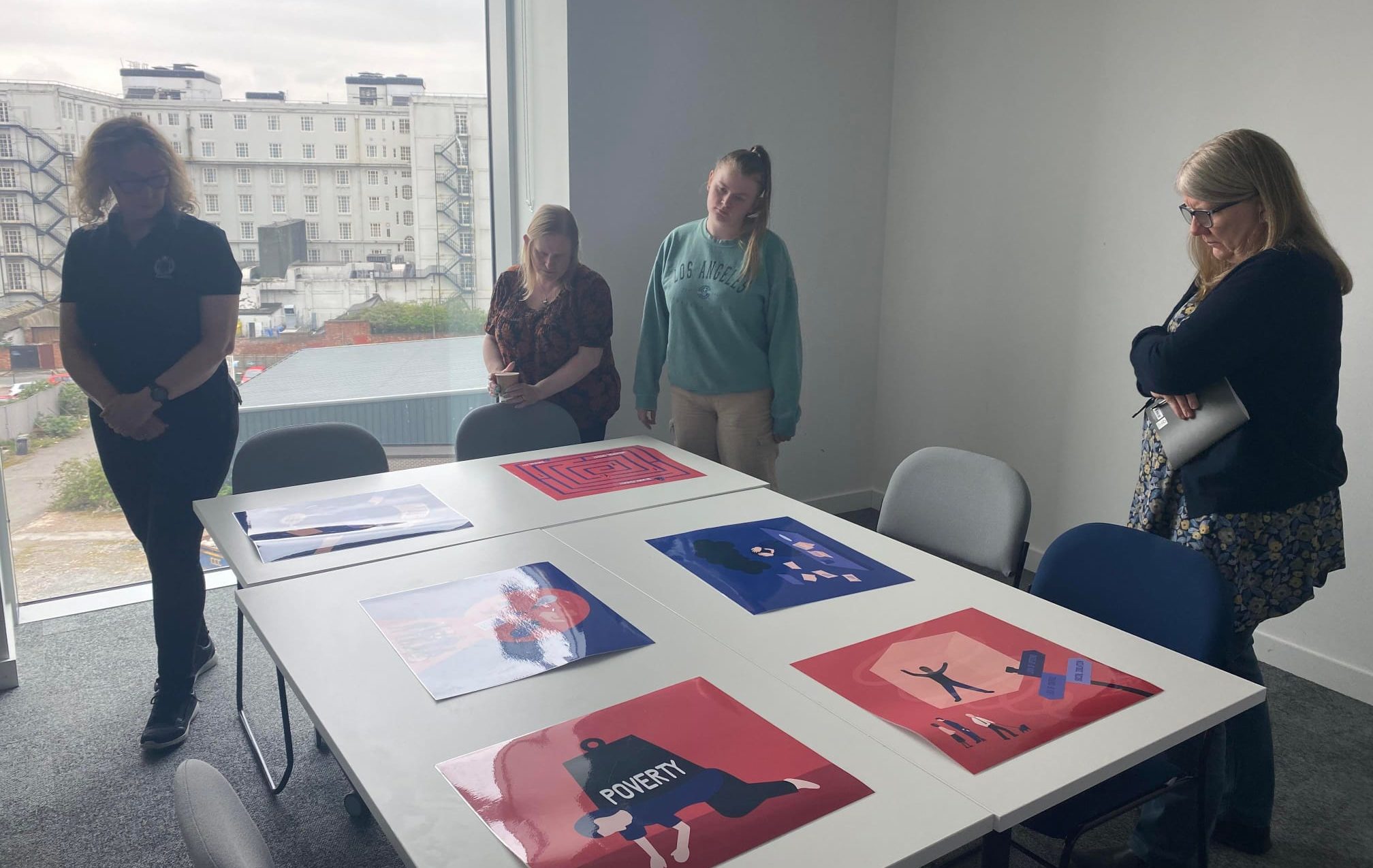 To understand better the roots of this project, we spoke to Broady about her journey and what lies ahead:
Could you explain your role in the Understanding Poverty research in 2016?
I joined the other researchers to consider what poverty means as an experience. I joined because I've experienced poverty and run a campaign in the National Union of Journalists to try to challenge stereotypes in reporting on the topic. I was placed in the 'professionals' group but very much felt I had a foot in both [this and the 'lived experience' group], having been claiming benefits most recently in 2015, sometimes while working as a lecturer, and before I was able to secure a bursary to start my PhD. The research was a great opportunity for me personally to be among researchers at a time when I was starting my own studies, but also made me feel comfortable because I was around working-class people who'd experienced what I had. I genuinely found it a positive and educational experience. 
Can you tell us about the Early Day Motion before Parliament on media portrayals of poverty? And what was it like for you to promote it?
The EDM was a collaboration with Ian Byrne, MP for Liverpool West Derby. He's my MP and I'm also aware of his dedication to fighting poverty and to making access to food a legal right through his Right to Food campaign  (https://www.ianbyrne.org/righttofood). Ian was among those who created Fans Supporting Foodbanks  a way to get football fans to unite in providing food to communities. I knew he'd understand how the media influences perception of the poorest in our society and how that can be used to justify brutal treatment of those in poverty, including justification of benefits cuts. So, we drafted the EDM.  EDM's are very difficult to be heard in Parliament but I'm proud to see so many significant signatories supporting it. 
Now you've started a project to challenge stigma at Liverpool John Moores. What drove you to undertake this?
The project at Liverpool John Moores came about from recent work with my Level 5 students (2nd year undergraduates) alongside Fans Supporting Foodbanks when they created campaigns to challenge hearts and minds when it comes to discussing poverty. I started to think about how else we could encourage open and honest conversations among students and staff. It's also informed by my own experience. It's many years ago now, but when I was a student I experienced homelessness. I struggled to afford books; I had to work almost full time and that interfered with my studies. So I'm alert now to the fact that university students are living through the 'cost-of-living crisis' (which is a euphemistic term that hides decisions being made that create a bigger division between the wealthy and the working class). Students are struggling too. I think it's important that we de-stigmatise this reality for many students, both to challenge stereotypes and to ensure open conversations that lead to essential needs being met. If we're too shy or ashamed to talk about poverty then we'll never be able to confront its damage.
What do you hope for in the future from the outcome of this project?
The project was really worthwhile in sparking discussions among staff and students. Poverty is a difficult subject to discuss. Whether you've experienced it; if your knowledge of it is limited; if your understanding of it is informed by media representation, if you want to help —  it is essential first, I think, to be able to have frank conversations about it. This way we can avoid embarrassment, condescension, providing inappropriate help or at the wrong time, and so on. Any response to poverty needs to be informed by those who have or are experiencing it. Poverty shouldn't be something that is hidden or treated as taboo or sensitive – it is a man-made problem that needs to be eradicated, and masking it won't help achieve that aim. The project has now moved onto working with an LJMU art student, Holli Armstrong, who is creating posters and postcards containing quotes from the day. These will be posted and distributed throughout LJMU.