Amnesty declares that poverty in the UK is a violation of human rights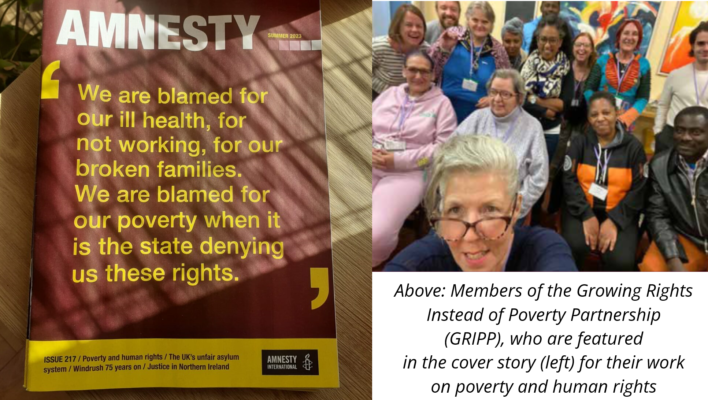 'Forced adoptions are horrendous.'
This is the title of an interview with ATD activist Patricia Bailey, featured in the Summer 2023 issue of Amnesty UK's magazine for members. Her interview is part of an 8-page cover story about ATD's work as part of GRIPP, the Growing Rights Instead of Poverty Partnership. As one of the partners of GRIPP, Amnesty UK is championing our work by challenging its members to consider poverty as a human rights violation and povertyism as a systemic issue.
Other lived experience activists interviewed for this article are Rahwa Beyene and Tracey Herrington. Rahwa spoke as a member of RAPAR, the Refugee Asylum Participatory Action Research. Her interview is focused on the right to work specifically for displaced people seeking asylum. She says: "We want status now for all so that people without citizenship can become positioned legally, shoulder to shoulder, with everyone else living in poverty, and we overcome it all together".
Tracey, from Thrive Teesside, is focused on the right to social security.  She says: "I live in the most disadvantaged ward in Hartlepool. We have high levels of deprivation, high health inequalities, lots of crime, and very little social mobility, opportunities and access to services. I see social injustice every day, including the way women are treated, and it's what I work against. But we're a close-knit community".
Patricia's interview is about ATD's work on poverty, social work and the right to protection and assistance to the family.  She says:
"Poverty gets confused with neglect. It is shameful that the poorer you are, the more likely you are to have your children forcibly taken from you. You see this around the number of children placed in care or put up for forced adoptions. It's all about what are the risks from the parents, not what are the risks from social services. Interventions and separation from your family actually has an opposite effect on children and families in need of support by causing further trauma."
To read the full article, please click here.