Obituary for Jean-Luc Penet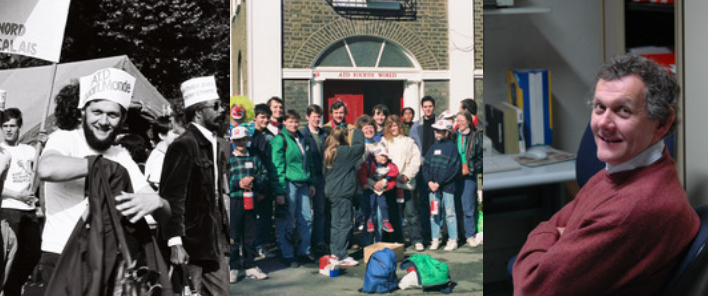 The following letter was written by ATD Fourth World's International Leadership Team about the death of Jean-Luc Penet, who had a critical impact on the development of ATD UK in 1991-2001.
7 July 2023
Dear friends,
On the 20th June 2023, we learnt of the death of Jean-Luc Penet in his seventieth year, after a short and brutal illness. He was a member of ATD's International Volunteer Corps from 1977 to 2006, and we want to bear witness, through these snapshots, to the active participation that he developed in ATD Fourth World during that time.
Jean-Luc came from the north of France. He studied in Lille, as did his wife Marie-Hélène. That is where he met ATD Fourth World volunteers and was taken straightaway by their active participation, the simplicity of their lifestyle, and their conviction that great poverty is a deep injustice. Together, the couple joined the Volunteer Corps with their first child. They would have five children: Perrick, Gaëtane, Erwann, Morgane and Annaïg.
Bold transformation
Very soon afterwards they left to go to Rennes, where they brought the work of ATD Fourth World to a turning point.  They decided that ATD should turn over to social workers from the child benefit fund a project of presence and family support at the heart of a housing estate called La Noé. The only involvement in that project that ATD continued was its research dimension, which meant seeking out new families living in poverty in Rennes and its surrounding area.
The Penets also found a location right in the centre of town to create a Fourth World House, a meeting place of mutual support for actions against social injustice. With his energy, boldness and entrepreneurial spirit, Jean-Luc kept practically only the load-bearing walls of this house. He created a new place that could house: an office; the first Fourth World People's University; a children's project for the worldwide Tapori network; and meetings with allies.
The house also had room for lodgings for Volunteer Corps members and their families. Everything was made with salvaged materials, and through volunteer building projects where young people and men long deprived of work rediscovered their knowledge and a pride in being the builders of a house with a mission and hope for them and so many others.
Unforgettable projects
Living and creating with "down-and-outs" invigorated Jean-Luc. He and his family happily created intentional community ahead of their time.
Then came ten years in the Nord-Pas-de-Calais region. Members of ATD there recall: "He really embodied ATD Fourth World, coordinating the roles of the core team, activists and allies". Lots of people were mobilised and got involved thanks to the force of his conviction, his generosity, and his human warmth.
Among the unforgettable projects organised by Jean-Luc were: protests against evictions; a forum called "We are all workers"; exhibitions; conferences; legal support and assistance for parents who were blamed for their destitution and accused of neglecting their children;  a trip to Bruges requiring twenty coaches; the development of newsletter called "ATD Fourth World Unity and Mutual Support"; and a workshop for the promotion of family life at Villeneuve d'Ascq.
He also organised the participation of dozens of people in the landmark event in Paris of 17th October 1987, when ATD's founder, Joseph Wresinski, got public recognition that poverty is a violation of human rights.
Moving to Britain
In 1991, Jean-Luc and Marie-Hélène were asked to take on a new role: developing ATD Fourth World in the United Kingdom. Jean-Luc had always been a big rapidfire talker – but he didn't know a word of English. Looking back at his time in the UK, Jean-Luc once  said of himself: "I was used to speaking to many people and running projects. Suddenly, I felt completely disempowered and useless. I worked as a cleaner, and delivered pizzas for a while. During this time, I was able to feel closer to families who cannot speak for themselves and who remain silent because society has no real time for them. […]
"I always had to count on other members of the team. I learned to be humble and to depend on others all the time. But this weakness has become a strength over the years. I had to tell families in poverty: 'I cannot speak for you. You are able to do it yourself! I can support you by being alongside you, but I don't know the answer. Let's go together.' […]
"I had the privilege of working with Moraene [Roberts], Tricia [McConalogue] and many others who really carry in their hearts the families who are hardest to reach. They have the ability to convey with great strength the message of those who experience the realities of poverty… Because I didn't understand how institutions work here in Britain, I had to be open to following a lot of outside advice on how we should do things to become more known and efficient in the British context. But at the same time, I had to make sure that we were remaining faithful to the ethos of ATD Fourth World. Maintaining this balance between trusting others with decisions and yet making sure they respect our ethos has not always been easy, but it has defined my role here."
Mobilising many people
Publications led by Jean-Luc, like Talk With Us, Not at Us and Out of the Shadows, allow people in poverty to be known not for what they lack but for their contributions.
Jean-Luc approached parliamentarians and supported the development of the All-Party Parliamentary Group on Poverty, where people in poverty had the chance to come and discuss their situation with MPs directly. Jean-Luc also mobilised renowned academics and worked with them and activists to give new training to social workers, a training in which living in poverty played a part.
With his enormous energy and enthusiasm, Jean-Luc spoke to everyone. He gave everyone a chance to participate; he gave everyone the impression that ATD Fourth World expected and needed their support. In this way, he mobilised a great number of young people.
Healing after trauma
After ten years in Great Britain, Jean-Luc and Marie-Hélène moved to ATD's international centre in Méry sur Oise. The place remains imprinted with Jean-Luc's talents for DIY, gardening, and artisanal crafts. We see his traces in the bushes in front of the workshop, the sideboard in dining room of the big house, the car park of the manor house, and elsewhere.
As usual, Jean-Luc was driven to shake things up, sometimes to everyone's delight, but sometimes sparking disagreements. It was around this time that Marie-Hélène, followed by Jean-Luc, discovered kinesiology, a treatment method to bring people out of overwhelming suffering or trauma. They decided to get trained in this field with a desire to benefit people living in great poverty. As ever, Jean-Luc forged ahead with high expectations of himself, and dedicated himself to this new practice.
After leaving ATD's Volunteer Corps, Jean-Luc kept up his ties to many core team members, allies and activists. In 2020, at the funeral of Moraene Roberts, he organised a tapestry workshop, inviting each person to write a message on a long piece of coloured material. Then he weaved these threads together, thus creating a work in honour of Moraene.
He often attended funerals, remaining close to all those with whom he had travelled even for a brief time on his social justice journey. In recent years, he often stopped round at the homes of many of these people. He continued to beaver away at ideas to improve everyone's situation, and also to share the friendship that he thirsted for. His friends from northern France in particular remained precious to him.
Our thoughts go to his family, Marie-Hélène, their children and grandchildren, and to his loved ones.

International Leadership Team of ATD Fourth World
---
This article was translated from the French by Jenny Wightwick.