Leeds: Dignity for all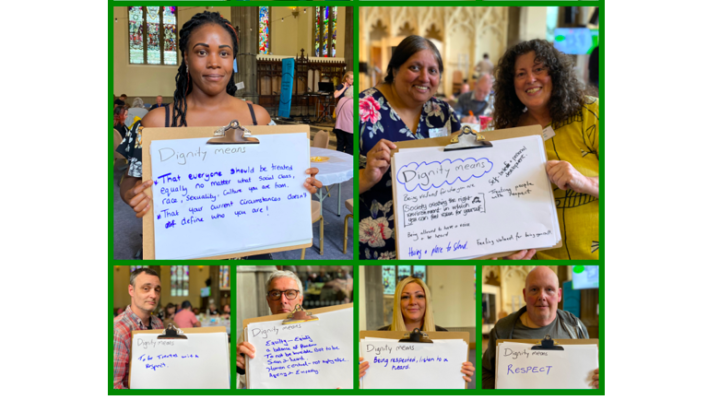 On 10 June 2023, ATD Fourth World UK traveled to Leeds to attend the "Dignity for All 2023" conference, an event that was jointly organised by the APLE (Addressing Poverty with Lived Experience) Collective, Church Action on Poverty, and the Joint Public Issues Team. It brought together over 100 people from a variety of different groups and organisations (such as the Poverty Truth Network, Self-Reliant Group, the Trussel Trust, Christians Against Poverty, Expert Citizens, and Thrive Teesside to name but a few), and the day featured a plethora of workshops presenting grass roots anti-poverty action led by lived experience, as well as presentations, stalls, discussion groups, and a panel conversation, all centred around the theme "Dignity for All" in the context of poverty in the UK.
The conference centred on people sharing stories of how they became community leaders and campaigners – and how we can uphold the dignity of people in poverty. The idea is for this to become an annual event that can help community activists (both those working within the church and those working outside of it) to feel part of a wider movement that raises the profile of their work to uphold dignity and put an end to poverty in the UK. 
The delegation from ATD was: Patricia Bailey, Amanda Button and Thomas Mayes, supported by Shaeda and Tom Croft and Sophie Rhys. In this article, Sophie shares her reflections.
Arriving in Leeds City Centre in the late afternoon of 9 June, we made our way through the deceptively quiet streets to our hotel to check in and sit down for a meal together. We celebrated the birthday of one of our members, and then retired early to our rooms tired from a long day of traveling and earnestly looking forward to the activities of the following day.
After enjoying a generous hotel breakfast buffet (in my opinion, one of life's greatest joys) we made our way to Gateway Church with the directional assistance of some very kind bus drivers. The church itself was beautiful — a gothic revival architectural dream — and we were lucky enough to be blessed with warm and sunny weather; barely a cloud in the sky marred this picturesque scene.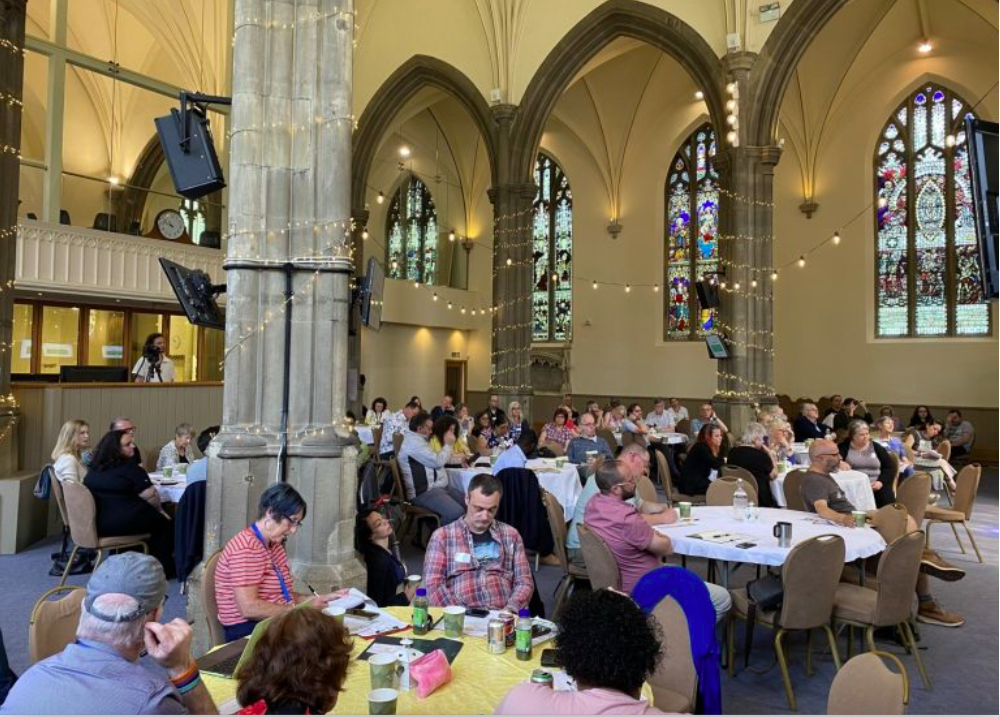 Why dignity matters
At the gates to the Gateway we connected with familiar faces — members of the APLE Collective, of which ATD Fourth World is a part — before heading inside for the opening panel conversation of the Dignity For All event .
The speakers were all activists with lived experience of poverty, and featured our very own Tracey Knight, a member of the APLE Collective (as well as of Expert Citizens and the Speaking Truth to Poverty programme). Together they discussed "Why dignity matters", passionately and thoughtfully sharing their knowledge and lived experience with one another and the audience. It was a proud and rewarding moment to listen to Tracey deliver eloquence and nuance to the discussion. She said:
"I think that services and systems need to be informed by lived experience of those of us who are on the receiving end, because the people developing them now have no clue – they've never had to receive a benefit, never had to use any of the services, and they've just shaped them as they think will work, without the thought to those people who are actually going to be using them."
Listening to Tracey, I am certain that my fellow APLE Collective members (as well as the rest of the audience) felt equal awe as I. The discussion was not open to the audience, and in a poignant turn offered no opportunity for the audience to ask questions, as they made the point that the lived experiences of those who have firsthand knowledge and understanding ought not to be questioned.
Food, dignity, agency, participation
Following the panel discussion, we were all offered several separate seminars to choose between, and our ATD Fourth World Team made sure to sample them all. One of the three themed discussions that took place centered around the topic of "Food and Dignity" — a particularly pressing conversation in the context of a "cost-of-living-crisis", as well as the ongoing (often stigmatically negative) discourse about food banks and food pantries in current popular discourse.
On this very topic, ATD Fourth World UK was recently part of a participatory research workshop — in collaboration with Dr. Rachel Broady and Liverpool John Moores University — entitled "Challenging the Stigma of Poverty to Promote Discussion". It explored attitudes to poverty and actions to ensure respectful, inclusive, and useful discussions about it — particularly in the context of a "cost-of-living-crisis", and in reference to university students living on-the-margins or in poverty. Our article on this project can be found here.
Another themed discussion on offer was "Agency and Participation": an open conversation facilitated by members of the Scotland Poverty Truth Community, LIFE, Expert Citizens, and All the Small Things Network that discussed best practice, highlighted how we engage and work alongside the community, shared experience on building relationships, and noted the value and importance of learning from one another.
Power, weight, significance
The final themed discussion was entitled "Speaking Truth to Power": dynamic and engaging conversations about creating change on a structural level and exploring how we can structure campaigns and activism so as to prioritize the truth of poverty and the knowledge of lived experience.
Following these themed seminars, the ATD Fourth World team reconvened in the airy main hall to share and discuss the knowledge we had collectively accrued. A break for lunch (another buffet, much to my joy) saw mingling and networking among the plethora of different organizations, groups and individuals. It begged a pause to reflect on the power of community organizing: my surety that the wisdom attained on this day would be taken to and actioned in all corners of the UK was an inspiring sentiment. All of a sudden I was — and still am — gripped by the weight and significance of this event.
We took a moment to peruse the stalls set up in the church hall — stalls that featured art from Leeds' Self-Reliant Groups, poetry, recipes, prayers, poverty reports from the APLE Collective, information about the Your Local Pantry Network, as well as resources about a variety of anti-poverty programs and campaigns — before choosing amongst our group who would sample which of the myriad of workshops that followed our lunch break.
One such workshop was on "Self-Reliant Groups", exploring what they are, and how they build power and purpose through shared action. Another was facilitated by Thriving Women, who questioned how we can bring the voices of lived experience into decision-making, and where poetry can be a means to inclusion: creating a movement that has the power to transform lives.
'Church on the margins'
Given we were at that moment standing beneath the great ceilings of a church, and that the event had been jointly organised by Church Action on Poverty, it also stands to reason that two of the workshops took a closer look at the role of the church in anti-poverty actions. One of these workshops was facilitated by the Trussell Trust and Church Action on Poverty's "Church on the Margins" programme. They questioned if and why low-income communities might be losing faith in churches.
Reflecting on this, they also explored the ways in which church communities can better use the skills, knowledge, and expertise of those with lived experience to improve their practices and designs making. In this vein, Church Action on Poverty runs a programme called "Speaking Truth to Power". Broadly, followers of Christian faith are called upon to "speak truth to power", but the question that stood out at the workshops is: "How should this be done?"
Oftentimes it is understood to mean that Christians are responsible for standing up for what is right and telling those in authority "what's what." But what is important to remember is that though allies without a lived experience of poverty certainly have an obligation to stand up for what is right, their voices should not drown out those of lived experience.
What was clear at the Dignity For All conference is that people living in or with experience of poverty are and have been "speaking truth to power". The issue (to name one) is that "power" is not listening. As a result, a key takeaway is that the role of the church as an institution — more than "speaking" — is to leverage their power to amplify. And to remember that when "standing up", we all need to be standing together, right beside those with lived experience.
Churches, power and change
The other was a workshop on "The church, power, and social change", an open conversation that asked the questions: "How do we make the most of the power the church holds?" "How do we ensure there is dignity and compassion at the heart of the church?" "And how can people with a lived experience of poverty be at the heart of this change? I volunteered to attend this particular workshop. The question of how the church has in the past, does in the present, and should in the future conduct anti-poverty action is a poignant one.
Christianity emphasizes the importance of compassion and charity towards the poor, teaching love and empathy. Followers are also encouraged to be generous in sharing their resources, and scripture is rife with examples — like the Good Samaritan — of those who exemplify this. It is important to note, however, that turning scripture into practice is an undertaking that requires nuance, and needs to be guided by those with lived experience. A significant sentiment shared during the workshop was that it is imperative that paternalistic (connoting, however well-intended, condescension) motivations and actions are failings that need to be avoided to ensure the dignity of all is valued and enshrined.
Maintaining self-belief
Overall, the Dignity For All event was brimming with power, truth, honest reflexivity, and shared ambitions. Ultimately, one of the key outcomes of the event — noted by Church Action on Poverty — is that among the attendees there seemed to be an "overwhelming consensus that this should not be a one-off event". The stream of knowledge shared on the day during panel discussions, workshops, presentations, informative stalls, and interwoven conversations flowed freely and productively, and it is imperative that we capitalize on the momentum that the event roused. Together, we need to utilize our combined experience, understanding, and determination to advocate for a swifter eradication of poverty in the UK.
As Tracey Herrington, from the APLE Collective and Thrive Teesside, noted:
"We recognize that it's our own experience and expertise that can influence change. We've got self-belief, but we need to ensure that self-belief stays, despite the difficulties we face on a daily basis. We know that things can change. We know that people will stay committed."
During the day we also all shared what dignity meant for us on poster paper, of which some of the answers can be seen here on Church Action on Poverty's blog post about the event.
A huge thank you to the organisers of the event, and every single person, group, and organisation that contributed their knowledge, shared their experiences, and participated in conversation. It was a true privilege to attend.