Blue Plaque Unveiling: Celebrating two Extraordinary Women at Frimhurst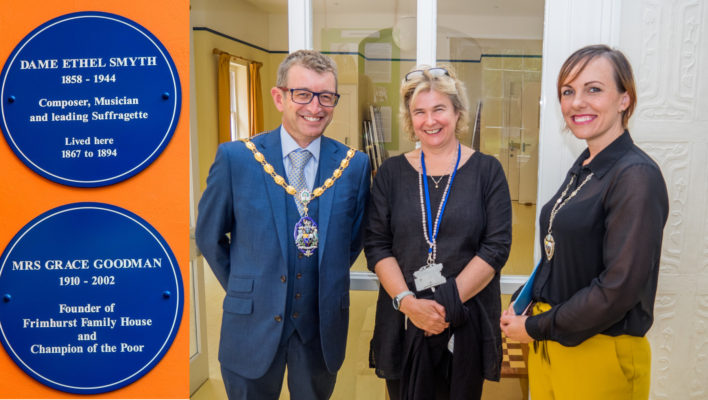 On Saturday, 15th September 2018, the Camberley History Museum and Frimhurst Family House joined together to celebrate the unveiling of blue plaques commemorating two extraordinary women: Ethel Smyth, who spent her childhood at Frimhurst, and Grace Goodman, founder of Frimhurst Recuperative Home.
About forty people gathered to witness the ceremony. The mayor of Surrey Heath gave a brief speech introducing the two women before unveiling the plaques. After some refreshments, everyone repaired to the drawing room to hear more about Ethel and Grace.
Tom Croft spoke about Grace Goodman, who opened Frimhurst Family House in 1957 as a recuperative home for families living in poverty. She had been deeply influenced by Theosophy which taught her to care for others. Her approach was unusual for the time: rather than simply teaching families various skills, she wanted them to find their own resources so they would be able to meet life from a strength within. And she led by example; her own inner strength and her trust in the families were extraordinary and unshakeable even in the face of severe challenges.
Dr Christopher Wiley gave a presentation about Dame Ethel Smyth (1858-1944) who lived in Surrey for most of her life. She was a true pioneer: author of several books, a prominent suffragette, and a successful woman composer of major works including operas. It was for the suffragette movement that she wrote the stirring song "The March of the Women". The audience was treated to audio samples of this and some of her other compositions.
It is great to have these two groundbreaking women and their connection with Frimhurst honoured in this way.