APLE marks the UN International Day for the Eradication of Poverty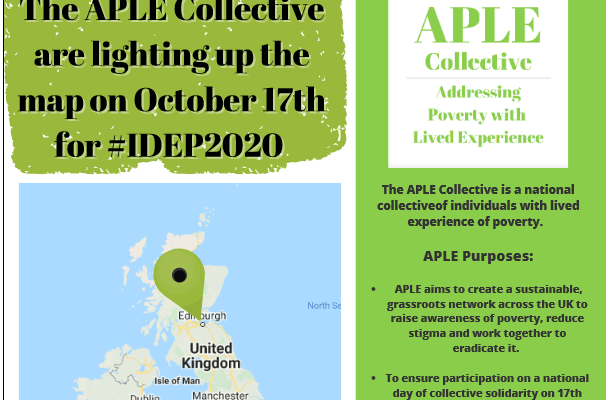 October 2020
"Wherever men and women are condemned to live in poverty, human rights are violated. To come together to ensure that these rights be respected is our solemn duty."
When Joseph Wresinski, founder of ATD Fourth World, first coined these words on 17 October 1987 he set a precedent for people from all walks of life to come together on that date to observe what has since become recognised by the United Nations as the International Day for the Eradication of Poverty.
The day represents an opportunity to acknowledge the efforts and struggles of people living in poverty all over the world, to break the silence that surrounds poverty and to speak out for justice and human rights.
The APLE Collective (Addressing Poverty with Lived Experience)–a growing grassroots network across the UK which aims to raise awareness of poverty, reduce stigma and work together with others to eradicate it–embraces the recognition and need to ensure participation on this national day of collective solidarity.
As part of its ongoing national work, APLE has set out to work alongside others in order to light up the UK map and provide and support opportunities to amplify the voices of people who live in poverty. A visual display of united solidarity is key to ensuring the voices of people living in poverty, who are all too often ignored, were amplified and had a UK-wide platform to say what is of importance to them:
"I will not be silenced and will persevere to ensure my voice, along with others, will be heard and acted upon. All too often, the issues we face on a daily basis are ignored or undermined. This cannot continue and I hope one day, with growing support, it will be impossible to ignore the realities of our difficulties "
Kath, Thrive
Covid worsens barriers
Amplifying the voices of people with lived experiences of poverty is challenging all too often. COVID-19 has exacerbated this. Barriers to participation are inherently problematic. There are also barriers to an ability to engage in meaningful conversation that could have the potential to effect change. People with lived experience of poverty have few avenues to effect change and generally need to rely on structures and methods that are fundamentally flawed; and consequently, participatory decision-making processes or arenas are not within reach.
Living through this pandemic has led to an over-reliance on technology, whether for accessing limited mainstream services, connecting with family and friends,  fully home schooling children or accessing the information disseminated within communities. According to the Office for National Statistics, 'in 2018 there were still 5.3 million adults in the UK, or 10% of the adult UK population' who are non-internet users and without any access to the internet. These people are becoming increasingly isolated and cut-off from mainstream society.
Lighting up the map
The APLE Collective community is disproportionately affected by the digital divide. With this in mind, amplifying the voices of our community on the International Day for the Eradication of Poverty was a challenge – one we embraced. Drawing upon individual skills and expertise, the collective developed a range of opportunities whereby all voices could have their platform. Their thoughts, experiences, comments and proposals were able to be disseminated through a range of mediums. Relying on support from people who were connected and gathering experiences and comments through the age-old use of pen, paper and phone calls supported the Collective's ability to light up the UK map.
In Scotland, the Poverty Truth Community  opened a Facebook page where people with lived experience of poverty had their voices heard and their experiences shared via video, blog, music and creative workshops. Lived experiences of people living in very difficult circumstances were at the heart of the amplification of voice with a key message: 'showing together we can change things'.
'Poverty is not an accident, it is man -made and can be removed by the actions of human being' (Nelson Mandela). For this change to happen experiences of poverty must be shared for people to know what to do to address poverty. People with lived experience of poverty must be part of the solution seeking process'
Aimee, Poverty Truth Community
Hartlepool Action Lab held their events online via social media, working with Hartlepool Borough Council and the third sector in the build-up to the day.
"Due to not being able to host physical events, expectations for the day were lower than we had had for the previous year. Although watching APLE's JRF takeover* was remarkable to see. Overall, we were happy to at least have gotten some content out, raising awareness of the day, and the need for listening to the voices of lived experience. APLE's JRF takeover was a bright spot and seemed to go down really well"
 – Darren, Hartlepool Action Lab (HAL)
Darren further commented he was personally 'proud of the messaging being put out across the nation'. When reflecting on the day and thinking about if things could have been carried out differently, he added:
"Great question, and one which we should always continue to ask ourselves.
"Given the current global pandemic, the fear and confusion, and the grief people are living through right now, I don't think we could have done things much differently, whilst still making sure that everyone was safe.
"We raised awareness, and did so with poise and compassion, to an audience of people who are in a position to help. If that's a bad day at the office for APLE / HAL, then I think we are in a healthy position moving forwards!"
In remembrance
ATD Fourth World marked the date this year with a small event, planting two trees in memory of two much loved grass-roots activists, Moreane Roberts and Leane Hilton, celebrating their lives and highlighting their commitment to fighting for the most vulnerable.
"17 October has been the most important day in our family's calendar since the late 1980s. It was mum's favourite day of the year [and] it all came from the fact that her first 17 October was at the stone in Paris and it was life-changing for her.
"This year, Covid has robbed us of lots of those opportunities but technology has enabled us to contribute and work together in new ways. It's given us a chance to think about what is important, where our priorities lie and what we want for the future.
" We can never replace those that went before but we can try to continue on the path they started, carrying their stories, memories and messages with us."
Bea Roberts (Moraene's daughter)
Adapting expectations
New members of Expert Citizens spoke openly about their expectations relating to lighting up the UK map and the amplification of people's voice through the APLE Collective initiatives
"We were unsure what to expect for IDEP 2020. Given that this was our first year with APLE and with the current climate, we were unable to set up an event. We were very pleasantly surprised though that our tweets and retweets hit huge numbers. We can only hope that next year we are in better circumstances and are able to arrange something befitting the occasion."
Phil, Expert Citizens
Thrive Teesside supported APLE's observance of the day with the launch of their special edition of a book called Thriving Teesside. This book was inspired by community members who felt demonised, ignored and undervalued by the wider society. Through a collection of their stories, poetry and photography, Thriving Teesside showcased the untapped skills and expertise alive in our community. It is with hope that by sharing their thoughts, others can be inspired.
"It is a testament to our community that Thriving Teesside has come to life. We have a lot to offer and feel strongly that our voice can be instrumental to make changes that will help us improve our lives. We don't want pity and we don't want to be stigmatised. We want the opportunity to make a difference."
Corrina, Thrive
This has been a difficult year, full of challenges and demands. Members of the APLE Collective pay tribute to all who speak out and dedicate their time to effect change. The voice of lived experience of poverty merged with other areas of expertise has the potential to ensure transformative change. In accordance with the spirit of the International Day for the Eradication of Poverty, it is important to break the silence that surrounds poverty and to speak out for justice and human rights.
---
*The Joseph Rowntree Foundation (JRF) invited the APLE Collective to take over its Twitter feed on 17th October.