Moraene Roberts (1953-2020) — Campaigning with 'a Banner Made of Silk'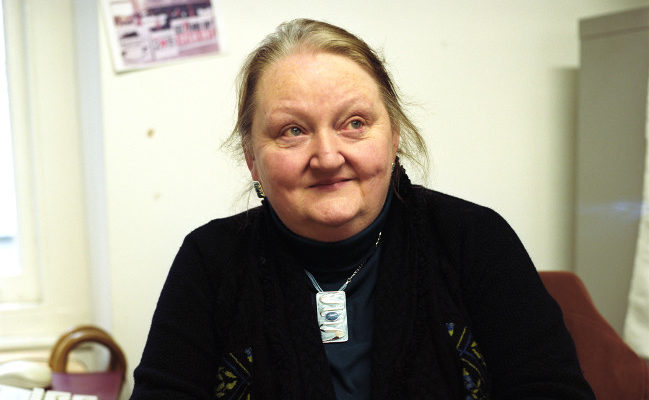 Moraene Roberts, a poet, researcher and campaigner for human rights, died peacefully on 12 January 2020 in Homerton Hospital, Hackney, surrounded by her children. Adored mother and grandmother, treasured friend and neighbour to so many, her loss will be keenly felt. Her lived experience of poverty and disability informed her unique voice which made an indelible impression on people of all walks of life. Baroness Lister of Burtersett said: "Moraene has always been such an inspiration. She had an impact on my understanding of poverty and on my writing". Julia Unwin, DBE, who was chief executive of the Joseph Rowntree Foundation in 2007-2016, called Moraene's passing "a huge loss for civil society as a whole".
In 2012, while researching the violence of poverty, Moraene spoke about how exhausting it is to always be fighting against violence, against poverty, against hunger. Then she added:
"To be told you can take the same voice, the same knowledge, the same emotion, and use it to speak for peace is to be given a power I don't think I've ever had before in the same way. Instead of having to fight against a government, against 'them', what I can actually do is go to them in a peaceful way and say: 'I'm bringing you something that you need to know in order to be able to provide for people like me in a humane and just way, a decent way.'
"We are not the problem; not the victims; we are part of the solution. It's like I can go with a banner made of silk, whereas before I had one made of heavy wood."
Moraene was introduced to ATD Fourth World in 1990 and quickly became a key figure. She was instrumental in developing the All-Party Parliamentary Group on Poverty in 1997 and in ensuring that it broke precedent by allowing people with lived experience to speak before MPs. She also helped to pioneer a tradition at Royal Holloway, University of London, where for fifteen years now parents with lived experience of poverty have contributed to a module of social work training. After many years playing an unofficial role shaping the vision of ATD Fourth World UK, Moraene joined the National Coordination Team in 2014. Moraene was guided in all her endeavours by her great sense of humour and her deep empathy for everyone she met. She was a cherished mentor to successive generations of ATD Fourth World activists, allies and Volunteer Corps members.
Moraene was born of Irish and English heritage in Liverpool in 1953. She is survived by her three children — Brionne, Ianto and James — and by eight grandchildren. Moraene recalled:
"I was born into poverty, came out of it a bit through not very good but regular work, and fell back into poverty as a young mum when I got divorced. Economically, I'm still in poverty. For me, it's what I see, it's what I live, and it's what I fight. I am of value to my community and to society; but I'm invisible to those who do not know me; I'm stigmatised by the headlines they read."
In 2019, Moraene described what it felt like for her to have endured decades of poverty alone; and then to have built strong connections with others in similar situations:
"Poverty takes away ownership of our own lives. Every agency we come into contact with has something to say about our lives as if we can't speak for ourselves and are bound to fail. […] For ourselves, we're often so battered down by the situation that we accept it. But when you see others suffering, you feel indignant about what's been done to them. You begin looking for people to support. It really was a fight; it felt like a struggle for years and years. More than a fight, it was a rage: how dare they impose this on us, and then blame us for it? Eventually you can get over the rage — but you can't do that alone.
"Realising that you're with others gives you courage. […] I believe it is important to seek out the excluded people, to be an opportunity for them and to learn from them. All of us need some place where we can feel normal, without anyone chipping away at our dignity. […]
"All of my life, I have been fighting against poverty and discrimination — but 'fighting' and 'against' are words of violence. Ultimately, it is people you are fighting. In these days, I have learnt new ways to end poverty, new tools, new words. I have learnt the language of sharing peace in our lives."
All people, all human
I'm telling the people with power
that I have power too.
If you stifle my voice,
and deny me a choice,
I will show my power to you.
I will not come with a weapon,
I will not come in fear.
I will come with others
as sisters and brothers
and a voice you will have to hear.
I'm telling the people with knowledge
that I have knowledge too.
If you ignore my words,
and deny what you've heard,
my knowledge will be lost to you.
I will not come in anger,
I will not come in pain,
I will come as me,
with dignity,
and your denial will be to your shame.
I'm telling the people with control,
that I have control too.
If you put me in chains,
then hatred reigns,
and fear gains control of you.
I will not come as a prisoner,
I will not come broken to you,
I will come with pride,
and stand by your side,
because I am human too.
– Moraene Roberts
_____________________________________________________
Videos of Moraene
Publications by Moraene
The most recent publication on which Moraene collaborated was "Understanding Poverty in All Its Forms: A Participatory Research Study into Poverty in the UK", a report on work done in 2016-2019 and backed by an international research team from the University of Oxford and the International Movement ATD Fourth World. She wrote about it for Amnesty International UK in this article and for the Asia and Pacific Policy Society Forum in this article.
Other publications to which Moraene contributed include: Ce que la misère nous donne à repenser avec Joseph Wresinski (2018); "A Cup of Sugar" (2017); "The Body: Object of Shame or Instrument of Freedom?"; Artisans of Peace Overcoming Poverty, volume 3 (2016); "Living in Poverty Is a Denial of Human Rights"; The Roles We Play: Recognising the Contribution of People in Poverty (2014), supported by funding from the Joseph Rowntree Foundation; "Housing and Home" (2013) "Extreme Poverty Is Violence – Breaking the Silence – Searching for Peace" (2012), supported by UNESCO; "This Is My Life: Improving Support for Families in Poverty with the Sustainable Livelihoods Approach" (2011) supported by funding from Oxfam; Art Speaks: A Celebration of Hidden Talents (1999); Voices for a Change (2008) with the support of the Child Poverty Action Group; Getting the Right Trainers: Focus on the Family in the Fight Against Child Poverty in Europe (2005); Valuing Children, Valuing Parents: Focus on the Family in the Fight Against Child Poverty in Europe (2004); Education Opportunities Lost:The Eduction System as Experienced by Families Living in Poverty (2000); Out of the Shadows: The Collection of Poems From the Fourth World (2000); Participation Works: Involving People in Poverty in Policy Making (2000); Influencing Policy in Partnership With the Poorest (1999); and Talk With Us, Not At Us: How to Develop Partnerships between Families in Poverty and Professionals (1996).
Moraene has been a featured speaker at:
Amnesty International UK; the British Association of Social Work; the Council of Europe's Conference of the Project on Human Dignity and Social Exclusion; the Directory of Social Change; the European Parliament; the Fabian Society; the Family Rights Group; Glasgow City Chambers; Hackney Town Hall; the House of Lords, Parliament; the Making Research Count consortium of universities and their social care and health agency partners; the National Centre for Research Methods; the National Council of Voluntary Child Care Organisations; the Organisation for Economic Co-operation and Development; Oxfam UK; Regency College; Royal Holloway, University of London; the Sorbonne; UNESCO; the University of East London; the University of Luton; the University of Sheffield; Wandsworth Town Hall.
---
Photo by Eva Sajovic