Review of Ruth Lister's book 'Poverty'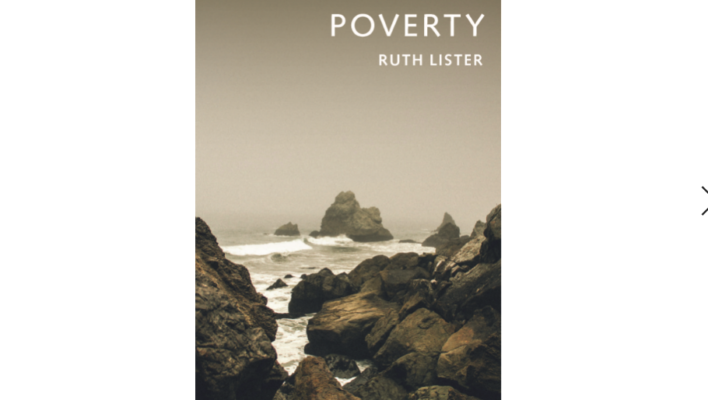 Ruth Lister, a member of the House of Lords and Emeritus Professor of Social Policy at Loughborough University, recently launched the second edition of her book Poverty. Below is a review of the book by ATD member Gwennaelle Horlait. Please click here to see news of the book launch.
---
In this fully updated edition of her book Poverty, Ruth Lister dissects the theme of poverty in depth and through the prism of human rights. She moves from discussing the multiple definitions and measurements of poverty to the question of how it feels to be in poverty, which she terms 'existential insecurity where having one appliance break down is a calamity […] an emotional wound that is corrosive to human relationships'.
Because this book exposes the many factors — be they interpersonal, internalised, institutional, historical, cultural, and others — that play a role in how poverty is experienced and in maintaining it, the author's message is clear: given its multifaceted causes and consequences, poverty is everyone's problem. We all have leverage and we can all do our bit to chip away at it.
This book is rich in academic knowledge but also profoundly underpinned by humanity. It references in turn both experts by experience from their work and also experts with experience of living in poverty year in and year out. Lister cites the mother who posted a photo of the meagre rations in free school meals as a person exercising everyday resistance to poverty. This book shows that even while political, media and popular discourses and attitudes can be deeply dehumanising, they can also heal and empower.
Moraene Roberts — to whose memory the second edition of Poverty is dedicated — said, "All of my life, I have been fighting against poverty and discrimination — but 'fighting' and 'against' are words of violence. Ultimately, it is people you are fighting. In these days, I have learnt new ways to end poverty, new tools, new words. I have learnt the language of sharing peace in our lives." Let's all substitute the abusive language of "deserving and undeserving", "welfare dependent" and "shame and humiliation" with the counter-narrative of "social justice", "respect" and "dignity".
You can buy Ruth Lister's book Poverty, 2nd Edition from Polity Books.