The Critical Importance of Friends and Allies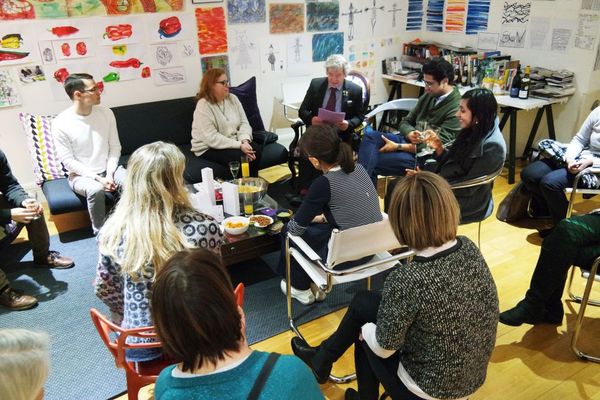 Above: a fundraising event for ATD held in the home of ally Christine Burkhurdt in February 2020.
---
Many people are involved in ATD Fourth World as allies and friends. Coming from all walks of life, they act in solidarity with people who live in extreme poverty. Many of them volunteer their time to contribute directly to projects or collaborations together with ATD; supporting fundraising and donations; being members of the ATD board of directors and trustees; and reaching out to others to invite them to learn about and get involved in our work building a more inclusive society.
At meetings held in London and Glasgow in 2020, friends and allies explained why they chose to be involved with ATD. These are some excerpts from their conversations:
Stacey: "I appreciate that support is provided without making assumptions. The team sees the individual and is always ready to genuinely listen."
Paul: "This is where I see the knowledge, capacity, experience and wisdom to foster the inclusion of people locked out of decision making."
Dani: "Public services can be chaotic. But here there's always an amazing platform for people who are silenced. It's a consistency I haven't come across anywhere else."
Gertraud: "What draws me is that people in poverty aren't told what to do but are invited to work things out for themselves. When they experience the strength of their own contribution for what might be the first time, it's like a beacon lighting up."
Diversity, patience, and hominess
Fran: "I'm nourished by the diversity here. The energy of people from different backgrounds coming together for a common goal is one of the things about ATD Fourth World that I treasure."
Judith: "The ethos here is rare and wonderful. Instead of a 'mother hen' approach, ATD Fourth World puts time and energy into a two-way process of time and patience to get to know each family or individual and ensure that all have an equal say."
Rachel: "I love the way people treat each other here. The communal kitchens are homey and family-like spaces where everyone pitches in. This reflects the notion of tangible accompaniment to create the right context for all people to be equal partners. Here, we're all accompanying each other."
Nick: "This is where we find together the solidarity and courage to challenge the culture around us by making sure that the voices of people in poverty are heard."
Valuing people without condescension
J.: "I value the absence of condescending attitudes, the rigorous approach to tasks, and the ability to get behind the figures and cold facts to provide an account of poverty from those with experience."
M.: "The best medicine for me is people: having lovely people show you love; and people supporting you and have you be able to stand up straight. In Frimhurst, I could see people who have been really broken through poverty; but these people are being seen for who they are and being valued. It's the same thing with Bridging the Gap, Glasgow/Braendam Link."
H and L: "We value above all its emphasis on the partnership between people living in poverty and those who have both the responsibility and the power to form policy and change public attitudes."
E.: "There's having that concentration on human rights. Mo (Moraene Roberts) was great at speaking about that. Human rights is missing in the dialogue right now on poverty. It's what first drew me to ATD in the 1990s."
T.: "There are people I know since '92-'93 where their circumstances haven't really changed; but they feel part of something. They are standing up straight and have something valuable to contribute. The Poverty Truth Community has worked like ATD by going back to people so they can contribute and make a difference. They end up holding themselves differently. We are facing a lot of challenges; but when you are singing 'Always look on the bright side of life', our spirits may be lifted, and hope shines through."
On being an ally
Franchesca Ramsey hosts MTV's "Decoded", a vlog about overcoming racism and other prejudice. She defines the role of an ally as "someone who wants to fight for the equality of a marginalized group that they're not a part of. … An ally's job is to support. You want to make sure that you use your privilege and your voice to educate others but make sure to do it in such a way that does not speak over the community members that you're trying to support or take credit for things that they are already saying. Speak up but not over.'
Her words call to mind the vision of Joseph Wresinski who founded ATD Fourth World and who continues to inspire our work. In 1977, speaking to allies of ATD, he said:
'Confronted with exclusion, people living in poverty remind us, established members of society, that a new alliance must be formed: an alliance between those who are excluded and those who are not. This alliance must transform the assumptions of political life and the thinking of our age. It must revive the spirit of our institutions, laws and religions. We must forge a new alliance with people in poverty in order to defend the cause of rejected people everywhere. To be faithful to this alliance, we will do everything we can to challenge any of society's projects that exclude the weakest. We will impose, in every field, the participation of the most disadvantaged people.'