17 October 2021: Events across the UK and in Ireland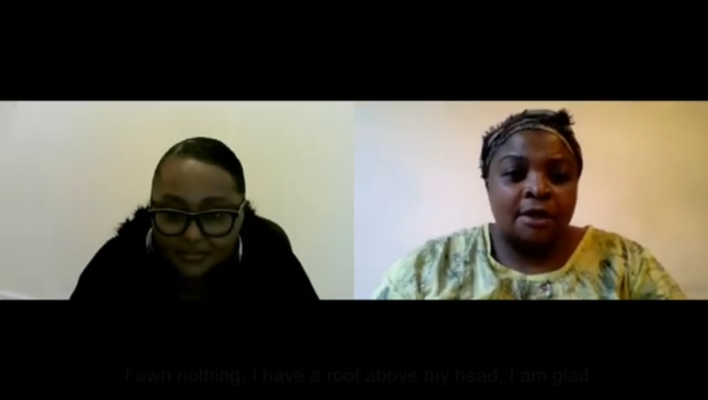 Above, Lareine Mouoguia (left) listens to Loraine Masiya Mponela perform her poem 'I Own Nothing'.
On Sunday, 17 October, to mark the United Nations International Day to End Poverty, ATD Fourth World and On Road Media ran an online poetry jam with participants from the Poverty Truth Community, the APLE Collective, and a poet youth laureate in California. Two videos are below and we plan to edit additional videos in the coming weeks.
The first poem is by Loraine Masiya Mponela, a migrants rights campaigner based in Coventry, England. Shes the current chairperson for Coventry Asylum and Refugee Action Group (CARAG), a peer-led community group.  Loraine explains that CARAG is a signatory for the #StatusNow4All Campaign 'which is calling for indefinite leave to remain for everyone stuck in the system, people who are undocumented and those with precarious visas as a public health measure'.  Loraine is originally from Malawi, and has a son, Comfort.
Gran Carol says about 'Mice Have Rights Too':
'It was written after a zoom meeting on human rights and at the end we were asked to say in a few words what we thought of the meeting. I have had problems with rats and mice for four years now and I had listened to people who also had this problem and got help.'
Also for the UN day, ATD Ireland published a book of poetry called Lockdown Liberties. The online version of the book can be accessed here. The video below presents the project.
And in Scotland, a virtual conversation called 'Little Stones, Large Cairns' was an opportunity for people in poverty to explain what makes the UN day meaningful for them.
On Thursday, 14 October, with support from the London Challenge Poverty Week, ATD Fourth World ran an in-person poetry jam in a community centre in Hackney Wick. To see videos from this event, please click here.