Youth voices tell the United Nations about their experience of social care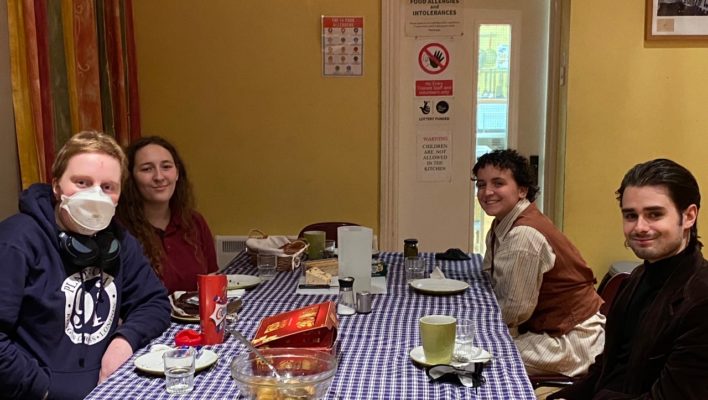 Above from left: Tiegan, Kaydence, Eva, and Lyle discussing their submission to the United Nations.
The End Child Poverty Coalition and Youth Voices have collaborated to write a submission for the examination of the United Kingdom's 7th periodic report to the United Nations Committee  on Economic, Social and Cultural Rights (CESCR).
Youth Voices is a project run by ATD Fourth World and Teen Advocacy, who are independent peer advocates offering support for young offenders, young carers, teens with disabilities and those experiencing complex family dynamics or divorce. The research was led by:
It was supported by: Diana Skelton and Eva Carrillo Roas of ATD; Lyle Barker of the University of Essex Human Rights Centre; and Dr. Gill Main who researches child poverty and social exclusion.
The CESCR committee is currently reviewing the UK Government's compliance with the International Covenant on Economic, Social and Cultural Rights. In this process, the contribution made by Youth Voices seeks to bring to the attention of the CESCR that children's social care in the UK can subject children in poverty to discrimination, and that harsh interventions that sever family ties can damage their well-being and impact their identity.
The Youth Voices project began in 2021 as a way to give evidence to the UN Committee on the Rights of the Child. In 2022, these young people with lived experience of poverty and the social care system took on the role of co-researchers. To make this submission possible the researchers of this submission were trained in safeguarding and research ethics to offer peer facilitation for focus groups consulting other young people across England and Scotland.
'No one helped me'
A few excerpts from the report are illustrated below. To read it in full, click here. As a trigger warning, the report makes reference to experiences of sexual abuse.
Shocking personal experiences were shared in order to inform the CESCR committee about children's experiences of social services. For example, one participant said about her experience in Derbyshire: "Children's Services placed me in adult accommodation when I was 15. They didn't explain anything to me or my family.
"They just removed me and housed me with seven grown adult men over the age of 18. I was abused by all of them. I was groomed and sexually trafficked in that accommodation.
"I ended up in the hands of a gang and was trafficked up and down from England to Scotland for sex. The social worker used to come out once a week to sign for my rent because I wasn't old enough to live there. She didn't check in, nothing. She used to take me to LiDL and buy my shopping and leave me. She didn't ask me what was going on there, or anything about my pregnancy at age 17. I wasn't even 'in care'. They didn't give a shit.
"I don't understand that you can put a 15-year-old girl with men and not expect the men to sleep with that girl. Social services might not have been the ones that were tracking me up and down the country, but they were the ones responsible for that care. Every time I was admitted to hospital with broken bones, no one helped me. Every time, I was just discharged straight back to my abuser. As soon as I turned 16, I didn't see a social worker again. They didn't care. I was already in the hands of men. It's very sketchy, the supervision of accommodation. Because they call it 'independent living', it's almost like when you're in that bracket of 16 to 18, you can't be placed on a care order, because you're about to be turning 18. So it's this grey area of: 'Somebody has to be responsible, but there's no time to put them on the order because by that time they'll be 18. We'll just throw them in this accommodation, wait till they're 18 and then move them on'.
"Today teenage girls are still being housed without supervision on barges and canal boats and on caravan estates. They're living with adults, and how do we expect exploitation to not go on? The world's going backwards."
Profiteering in care accommodations
The Youth Voices report explains how the accommodations that are being challenged by Article 39 are for the most part being run by private organisations whose intentions orbit around profit.
As explained in this article by the Guardian: "The majority of providers are privately owned, and the average cost of an unregulated place is £948 a week, with average operating profits of £330 a week, according to the Competition and Markets Authority."
These profits can skyrocket to surprising figures. One example is shown in a mini-documentary series by BBC Newsnight about unregistered accommodations: "It seems the kind of high-risk children that Klaudia lived with attracted premium payments for the company that ran the home, now called Harvest Care Group. Her council, Luton Borough, stopped using it in 2017 but many London boroughs kept the residents and the money flowing in for Harvest Care Group owner Craig Cameron. His company received more than four and a half million pounds in fees between 2015 and 2019, according to figures obtained by the open contracting partnership, and the spend network for Newsnight. Invoices seen by Newsnight indicate that Mr Cameron sometimes charged fees of more than £20,000 a month per resident."
Structures built on unfairness
Dr. Gill Main added insight to the submission:
Removing a child into social care "is a default for some types of family. This links back to poverty, because if a  family looks one particular way, I think that is a default. If a family looks another particular way — like a  middle class family — I think the removal of their child is probably very unlikely to happen, however much harm is going on within that family. An important thing for people to know is that all of these policies and  processes are not objective truths. They exist within structures, which are built on inequalities and unfairness. They're built to promote the benefit of some people and keep other people in their place."
The report drew to a conclusion highlighting the necessity of kinship care as opposed to closed adoptions:
"We recommend that kinship care should be preferred to closed adoptions when it is safe and  appropriate, and that measures be created to prevent socio-economic discrimination by children's  social care services. All children in care should be placed only in safely regulated and appropriate  accommodation until the age of 18. It is important to support and promote community-based  resources through family support services (including youth services) and housing support services.  In our second report to CESCR, later in 2023, the End Child Poverty Coalition and Youth Voices will  include a section with our recommendations about how listening to children's voices can make a  positive difference in reforming children's social care."
In addition to writing this submission, ATD wrote another report in collaboration with Human Rights Local, a project of the Human Rights Centre of the University of Essex (to read an article about it, click here) and contributed to one by GRIPP (Growing Rights Instead of Poverty Partnership) (to download, click here).
We hope these Youth Voices will be taken seriously by the UN.