Interview: 'I wanted to give something back'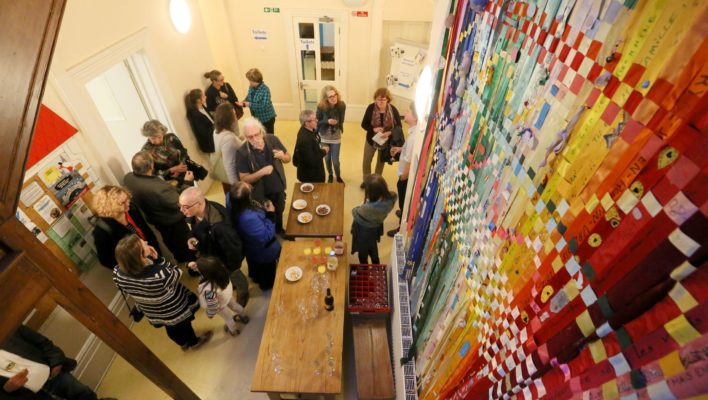 Above: The atrium of Frimhurst Family House.
In 1987-1990, Brian and Michelle Holman were part of ATD Fourth World's International Volunteer Corps in the United States and the UK, living at Frimhurst Family House. In 2017, Brian returned to Frimhurst for the celebration of its 60th anniversary. In this interview, he speaks about how he got to know ATD and about how Frimhurst connects to his more recent work providing accommodation to men who have been homeless.
How and why did you and Michelle first get involved with Frimhurst?
At the age of 25, I was working for a large engineering company designing parts for aircraft. Over a short period of time, I realised that during regular discussions with friends and family about the state of the world and what needed to happen to put things right, I could not expect others to make the necessary changes if I was not prepared to do something myself. So I started looking at volunteering opportunities.
I wanted to participate full-time, rather than just help out for a few hours a week. At that time, there was no internet to surf, so I purchased a book on full-time volunteering. One of the organisations that advertised was ATD Fourth World, and they promptly replied to my letter to invite me to a working weekend in Addington Square in London.
Learning about Fourth World families on that weekend got me hooked. I also liked the idea of the everyone living and working together. However I still had a job and a house. So over the next three months I sold my house and quit my job. During that time I also completed a working weekend at Frimhurst, which was my first introduction to families living in poverty.
Children who really struggled
I come from a very middle-class background in the south of England. Of course I knew people lived in poverty in my own country; but these two weekends getting to know ATD made me think more about the lives they lived. I started to reflect back to one or two other children I had been at school with.
They were often made fun of because of their worn-out clothes, or because they smelt. They also appeared to really struggle at school, often picked out by teachers and made an example of.
I'd never really given them much thought until I spent those first two weekends with ATD. I decided I wanted to give something back. I had had a very fortunate upbringing.
Initially, I was based in Addington Square (ATD's centre in London) where I was immediately involved in preparations for the celebration of ATD's 30th anniversary in the UK. This involved a stilt-walk by our teammate Michel Viennot. He was dressed in costume as a bird.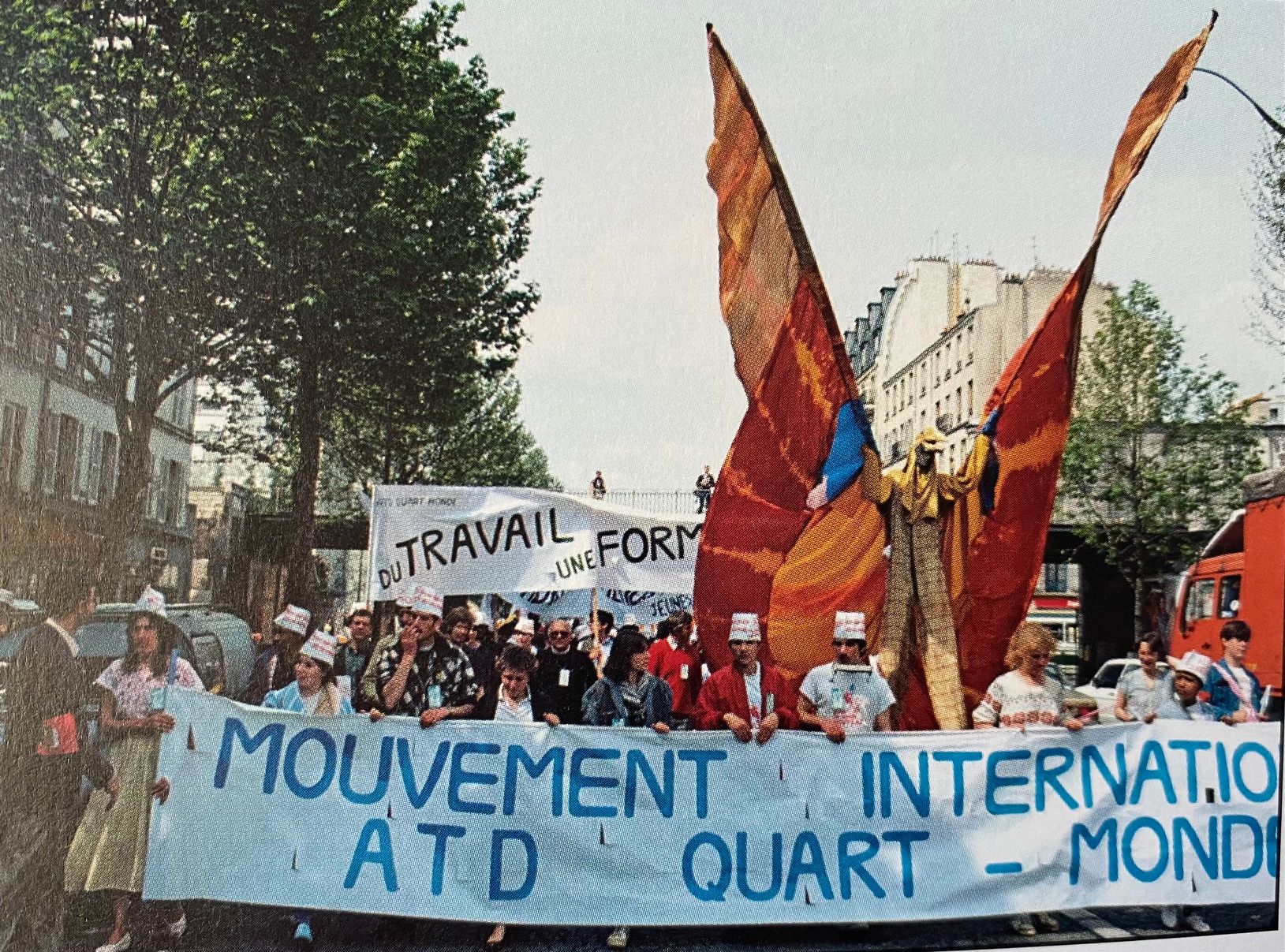 We travelled with him over two months, starting in Scotland at Braendam House, and coming down to the south. On the way, we visited very poor neighbourhoods all the way from Glasgow, via Sheffield and Leeds, etc. down to London.
To see the conditions in which some people were living and to spend time with them shaped everything I have done since then.
Whilst I was back with the team in London, a new group of British volunteers arrived at Frimhurst. They were three women: Vicky, Martine — and Michelle Rees, who I later married. Soon after their arrival, I was moved to Frimhurst to help with the building of what was to become a workshop. The girls stayed in the Cedar House, whilst I lived in the main house.
Was anything there different from what you expected?
As I touched on above, my discovery was getting to know families living in real poverty in Glasgow and other cities. They had little or nothing; but at the same time they were the most generous and welcoming of people, very unlike the sort of people I had mixed with up until this time.
It quickly became apparent to me that the state wasn't just not helping; it was actually putting barriers in the way to prevent disadvantaged families from climbing out of poverty.
Actually the real experts were those who experienced poverty themselves. We needed to enable them to speak out and to get those in power to listen.
What are your strongest memories of Frimhurst?
I was initially sent there to help support fathers with building the workshop. But at the time there was only one father staying at Frimhurst. So I spent more time visiting families that ATD Fourth World knew, both locally and in London. I was very interested to learn about their lives when they lived at Frimhurst and also before arriving when they were first referred to Frimhurst.
The main thing that astonished me was the large numbers of 'professionals' involved with each family; and yet all seemed simply to lay down conditions that the families had to meet, never with a thought to offer help with what they actually needed. It was also striking how the families, whilst happy and relaxed when talking to us, suddenly became mute, or acted subservient whenever a professional appeared (whether a social worker or other professional).
One of the things that Frimhurst showed me was that poverty doesn't just mean a lack of money, job or housing, but also impacts people's lives in many different ways.
What social changes would you advocate for, based on the daily life that you experienced at Frimhurst?
As I said, the large number of professionals involved with families actually need to take time to listen to those they are trying to support. And this does take time. You need to spend time to actually hear what is behind what families are saying. They might not tell you straight out that they want to be treated with dignity and respect, but this is often what is behind what is being said.
Whilst at Frimhurst, Michelle and I would visit families who were being referred to Frimhurst. At that time families came for 6-12 months. Despite having so many professionals involved with any given family, the families seemed to receive no support, simply people checking up on the them, often with this implied hint that, should they not perform as expected, then their children would be taken into care.
How does all of this connect to your work with Cambridge Cyrenians?
Michelle needed to teach to retain her teaching qualification. It's no longer a condition, but back then she was required to start teaching within two years of qualifying. So she was looking for a teaching post. I didn't want to return to engineering. So initially I did various jobs to make money, but volunteered in the local homeless day centre in Coventry during the evenings. That was pretty rough: a lot of drunk guys fighting between themselves and with staff. I don't know why the staff kept going.
Anyway, it didn't put me off, but when a job came up with the local homeless accommodation provider, Coventry Cyrenians, I applied and was successful. I started by supporting about twelve men living in a couple of move-on houses. These individuals were not straight off the streets, but had been referred on from Coventry Cyrenians direct access house. Later I was promoted to oversee all of Coventry Cyrenians men's accommodation and to manage about four staff. Some years later I applied for the job of managing Cambridge Cyrenians. (All the Cyrenian groups are separate charities, so it was pure coincidence that I ended up working for two of the Cyrenian charities.) Then there were just four staff, including myself. We now have 18 and provide accommodation for 101 individuals.
Much of what I learnt as a volunteer with ATD has stayed with me. (I still have a poster on my office wall from the first World Day for Overcoming Poverty, 17th October 1987.)