Sharing more than food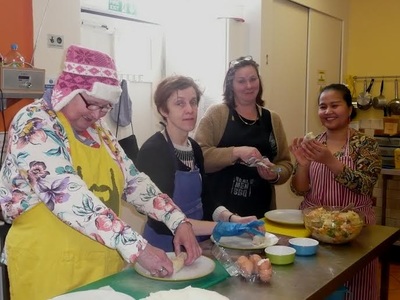 Thursday lunch is a weekly open-house event where friends, families and members of the community are invited to come and share a home cooked meal with the ATD Fourth World UK team in a warm, stress-free environment. The aim of the open lunch is to provide a space where members of the community can relax, seek support and connect with members of ATD Fourth World UK while learning about our values, mission, ongoing projects and events.

Every Thursday a member of ATD Fourth World UK becomes a chef for the day sharing a recipe, cooking skills, a bit of their own culture and much, much more!
Zoe, one of our family members, comes every Thursday to share good food and good company. She also lead one of the open lunches cooking Ebiripo a traditional Nigerian dish. Zoe has fond memories of cooking this dish with her grandmother when she was young. She wanted to share this delight with others during a Thursday lunch.
Seamus, family member and Defender of Human Rights, feels that cooking Irish food takes him back to his roots. He loves cooking and so far has cooked Irish stew, soda bread, porter cake and Irish coffee for us. They have all proved to be a success!
Ian, another family member, takes part regularly in the workshops. He likes learning how to be more independent on cooking. He loves the idea of people in poverty giving their contribution and not only sharing food, but ideas with other people during lunch.
Somboon, an ATD Fourth World UK core-worker, cooks every first Thursday of the month running an international cooking workshop. She knows a lot about cooking and feels it's good to share the experience with other people. For her, the best part about the project is the pleasure she has in sharing a bit of her Asian culture through cooking as well as seeing people enjoy her food and that they are making friends.
The open lunch is a lot more than place to have a meal. People come for the warm, safe and friendly atmosphere. It's a space where they can be themselves, be respected without fear of judgement. It's a place that breaks exclusion and isolation. This shines through in the words of project participants:
"It's somewhere for people to come, to have lunch. There is no judgement, it's very friendly. No one is judging you."
"I feel a warm companionship. Since I live alone, I can come and meet the friends I have in ATD Fourth World. People here become friends."
"One time, we celebrated the birthday of a friend who came to eat here. He said that for the last 10 years nobody had celebrated his birthday. This creates the kind of spirit we want to have in ATD. Sometimes people are isolated in society, but this creates a space for people not to feel isolated."
It is also a good time for people to ask for support (from someone from the team or from other participants) and to support each other, sometimes simply by listening to other people's struggles:
"I can see you're empowering people, using their abilities and contributions to support each others. All of you are a great comfort."
"It's a space where people can come after and ask for help, for support. When there is a crisis people are here for each other. It's a network of solidarity."
From time to time, we also organise small workshops and outings after lunch where guests are welcome to take part. We are always looking for people who would like to share their wide range of talents and passions! Please do contact us if you know of any upcoming events that could be of interest to us for an outing.
​
We believe this programme gives people a lot more than food. It's an opportunity to make friends, share ideas and challenges, learn new skills and, more importantly, feel valued. Sounds too good to be true? Come and see it for yourself!
Thursday Lunch is held every Thursday from 10:30am to 3:30pm at 48 Addington Square, London.
Lunch is served at 1:00 pm and works on a first come, first served basis. We encourage guests to arrive before 1:00 pm to ensure that everyone can enjoy a meal.
We take great joy in preparing Thursday Lunch, and at the same time and money are needed for it to happen. For this reason, we welcome our guests to lend a helping hand, whether by helping with the food preparation, washing some dishes after lunch or even a giving small monetary donation. Every little bit counts!