Moraene Roberts and the Cinderella Topic: Balancing Child Protection and Prevention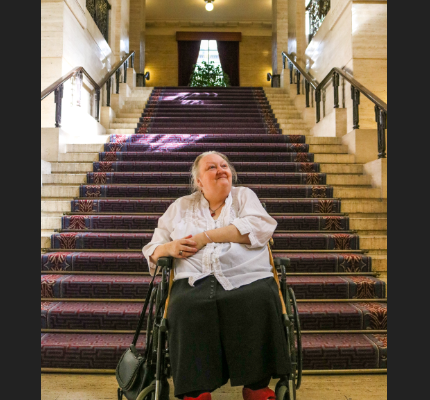 Above: Moraene Roberts at Royal Holloway, University of London, where she contributed to the social work curriculum. (Photo by Anjali Gupta)
The article below is the eulogy in memory of Moraene delivered by Jane Tunstill, Emeritus Professor of Social Work, Royal Holloway, and Visiting Professor, HSCWRU, Kings College, London.
Mo and I met each other for the first time in 1997, when we were both invited to talk at a social work conference on services for children and families. We found out afterwards that our names had both been suggested by Bob Holman , whose work on poverty and parenting was very important to both of us. This was a period when the issues we both cared about — access to family support services; inequality and family poverty; and, where social workers were involved, trying to change the balance between "prevention" and "child protection" — were beginning to come out of the shadows, But it was all still very much a 'cinderella' topic  with those who raised these sorts of issues always liable to be accused of not caring about children but only their parents. There were stereotypes of incompetent social workers; 'bad' parents; and a refusal to understand the extent and nature of poverty for many parents.
I was absolutely transfixed by this amazing woman, what she had to say, and indeed how she said it. Unlike everyone else who spoke, Moraene was speaking on the basis of first-hand experience, shared experience of all these things along with ATD colleagues. She had knowledge and wisdom, and an amazing ability for tolerance and magnanimity. She calmly and compellingly drew together the threads of poverty and parenting in a way to which social workers could relate. And she went on doing that for all the next decades in which we were privileged to have her.
I was very grateful that she agreed to get involved with the social work department at Royal Holloway of which I was head. She made a powerful contribution to courses at Royal Holloway and indeed many other universities, in particular Kings College, London. We are planning a Kings College Day in the very near future to mark Mo's huge contribution to social work teaching and learning.
For me she was and always will be a 'Nelson Mandela' of the social work world. Instead of doing as many of us  —  certainly me  —  would have done by giving in to anger and bitterness at the very poor experience of social workers she had had as a parent, she turned her experience into non-judgemental lessons about poverty and its harmful impact. She has left a formidable body of writing, speaking and teaching, both written and in videos, which will continue to inform social work understandings.
And all of this was delivered with style  —  always including matching earrings and pendants! There were no contexts that phased her. She never lost her cool, even during one of the most surreal conference experiences I have ever had. ATD held a major Europe-wide conference in Paris to which Mo had very kindly invited me. I guess it included 'donated' hospitality from the Paris police force . So in the conference lunch break we all queued up in the police canteen on the Quai D'Orsay, side by side with the gendarmes on their lunch break  —  fully armed of course  — and all with their standard lunch issue of individual bottles of red wine on every tray and three courses included! It was daunting but Mo remained full of grace during one of those "Mo" moments you never forget.
I count myself very fortunate to have  known Mo and privileged to hear and read her inspiring views about social work, parenting, poverty and  life overall!
___
The video clip below shows Moraene speaking about social work and child protection in September 2019 during a "Think-In" about family separation organised by Tortoise Media in London.