Drawing on lived experience to speak to MPs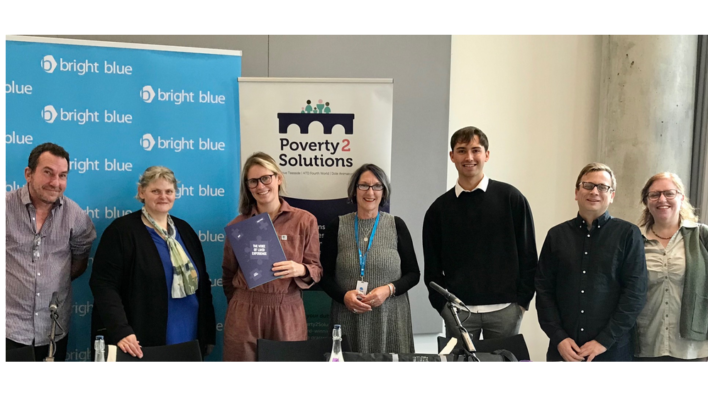 On 4 October 2021, activists from ATD Fourth World were among a delegation of Poverty2Solutions (pictured above) who sponsored a fringe event at the Conservative Party Conference in Manchester. The livestream of the fringe event "Leaving No One Behind" can be watched here.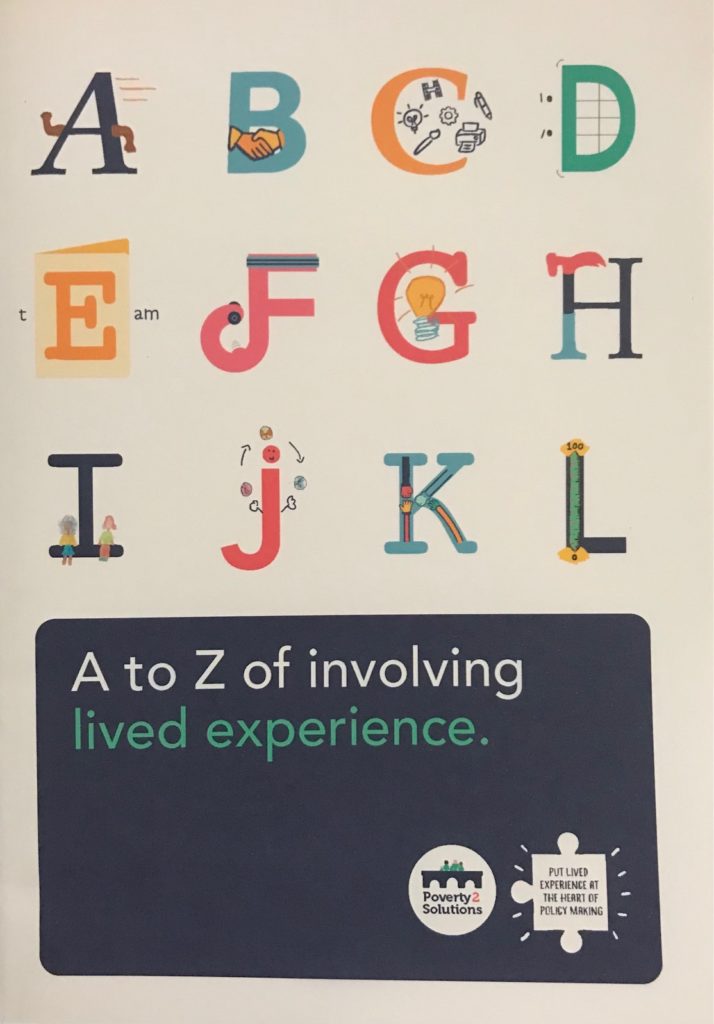 28 October 2021, the All Party Parliamentary Group on Poverty invited the APLE Collective to facilitate a virtual session based on the learnings from their new e-book, Socially Distanced Activism: Voices of Lived Experience During Covid-19. The session was introduced by ATD activist Patricia Bailey. Her remarks, drafted with Amanda Button, are below.
Who are the APLE Collective?
The APLE Collective stands for Addressing Poverty with Lived Experience. We're a national grass-roots network with shared values. Our lived experience of poverty is at the heart of everything we do.
Our mission statement, agreed on in June 2018, says: "We aim to create a sustainable grass-roots network across the UK. to raise awareness of poverty, reduce stigma and work together to effect change."
The members of our collective are individuals who experience poverty working together with organisations that support us to take positive action to eradicate poverty. Today 11 different organisations have joined us.
Even if none of us are big organisations, we are proud that all of us are all led by lived experience.
The organisations are: ATD Fourth World, Community Organisers, Dole Animators, Expert Citizens, Hartlepool Action Lab, Life, Poverty Truth Community, RAPAR, Single Parents' Rights, Start Point, and Thrive Teesside.
Dignity and support
We have a wealth of knowledge and experience because we come from such different backgrounds and different races. Some don't have English as a first language. One of our shared values is to be non-judgmental and to treat each other as we expect to be treated ourselves, with dignity and respect.
Before joining up together into the APLE Collective, all of us were doing important work — but we were each on our own. Being part of a collective makes it possible for us to support each other and for our voices to heard by more people.
In 2017, just before a few of us started to imagine the APLE Collective, we had the chance to speak at a meeting in the House of Commons over in Portcullis House. As part of a network called Poverty2Solutions, we had designed posters showing that we can only build a more fair society when we all work together.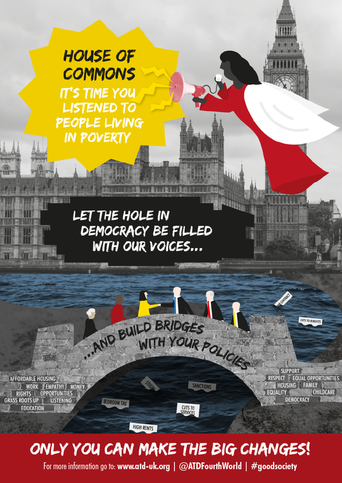 We bring a lot to the table
On the poster that ATD contributed to, it says: "Let the hole in democracy be filled with our voices". This is because people in poverty don't feel listened to, and don't feel part of the democratic system. We feel that we have a lot to bring to the table and events like this should be common practice.
Poverty is about what life throws at you. People can have their soul destroyed. On our own, we feel weak and excluded from the debate, but when you bring all our voices together, we feel strong.
Our poster shows the House of Parliament to represent people in power and also a bridge to represent the importance of policy makers and people on benefits coming together. We need to build bridges, not walls. The angel represents the voices of people in poverty, and he has a megaphone to show that we must end poverty and that our voices are more important now than ever before.
What it feels like to have a voice
Now that we have the APLE Collective, one of our main projects is on the UN International Day to End Poverty. On that day, as we light up the UK map, we know that our voices are being heard more widely than ever before. I got asked to make a video for APLE explaining what it feels like to have a voice. I think having a voice means that I've got my freedom. I can go out and say what I like when I like, and if something's wrong then I'm not afraid to say so.
To have my voice heard gives me the confidence and the empowerment to say that enough's enough and I'm not going to put up with it any more.
I think I speak on behalf of all the members of APLE when I say that we reach out an open hand and are willing start important conversations with you and others in power.
Just ask us back and we will be here in a flash!