'The lens of human rights and poverty as a catalyst'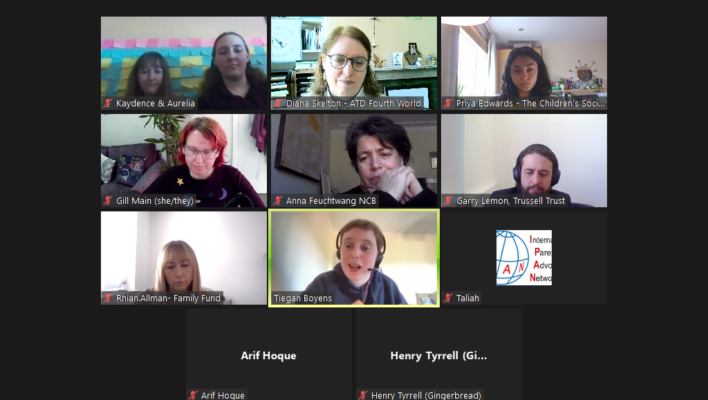 Above, Tiegan Boyens addresses a breakout room during the full meeting of the End Child Poverty Coalition on 25 February 2022. She, Kaydence and Aurelia Drayak, and Dr. Gill Main, all spoke about work they did with ATD Fourth World in 2021 to present to the United Nations views of children about being removed from their families into care or adoption.
In Tiegan's view, "to actually view my life story as an adoptee through the lens of humans rights and poverty […] can be a catalyst for wider issues". Aurelia said that "children who are shunted around don't have a community. Trying to 'protect' children without listening to them is a recipe for disaster".
Kaydence said: "We see extremes of poverty in Africa, but here people are ashamed to talk about poverty. We have food poverty. Lots of kids can't afford the internet even though we need it for school."
Gill said, "Poverty is done to people every time someone is judged for getting their child fashionable clothes without understanding that it's so they won't be bullied. What on earth gives adults the right to impose on children being put in care and ripped from everything they've ever known?"
Tiegan's remarks
Hello, I am Tiegan. I am currently twenty. I was adopted at the age of four after two years in foster care. The reasons I ended up there are very complex with no one answer; however one thing is clear:
Poverty was a reason.
This is why I found this opportunity so interesting to actually view my life story as an adoptee through the lens of humans rights and poverty as it can be preventable or manageable. Also it can be a catalyst for wider issues. To discuss a topic that never really gets discussed in relation to care, in my experience.
Anyone who wants to help has to start with listening and embracing the messy complications. If a child is removed, they need support to maintain family relationships and also their sense of identity.
It's not enough to say there's a few 'success stories'. When a family is struggling with poverty and food, we're just talking about bandages without looking for the reasons behind the problem. People shouldn't be judged. Just because you got a memorial tattoo for your grandfather doesn't mean you spent your money incorrectly. Even when 'solutions' make you lose your independence, you're not allowed to be ungrateful.
Open and honest
Overall I found this [work with the UN] a very interesting and insightful experience. Despite attending the first session remotely where everyone else met face-to-face before meeting the UN ambassadors, I felt I could equally contribute and learn from others. It was such a good session of working, especially for me as this was the first time I had chance to discuss around poverty as one of the causes for me to end up in care and hear how I am not the only one by a long way.
I saw everyone being really open and honest which is very needed for discussions like this as it is the only way effective change will happen. I felt I could get across the points I wanted in relation to my own experiences.
For example, my dad was given very minimal benefits from the state despite being a single carer having to use his savings for us to get by, plus being placed in council housing at least 30 minutes by train from support networks, so this was an extra cost to see them regularly.
By the end [of our preparation meeting] we had come up with really key shared points, but also individual points as everyone has a different experience. It's so important not to just look at shared ones to bring forward. It also feels we now have conenctions with others who have experienced similar issues to discuss and maybe work with later.
The time needed to explain our thinking
Then we had a discussion with Benoit Van Keirsbilck  from the United Nations Committee on the Rights of the Child. That was one of the best discussions I personally would say I have had in relation to sharing my experiences and advocating for future children to have better experiences.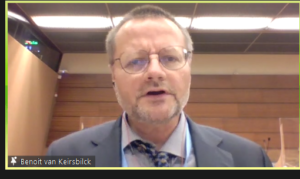 He was so supportive and understanding. He seemed to take on board everything we said and gave us action points of what he hopes to do. He gave us all the time we needed to share our points and to explain our thinking.
Overall from this work it really feels something may happen for the better and lived-experience points will carry on being a part of that. At every step of the way here, lived-experience was made to seem important to this matter.
I think the main changes I would like to see from this is the attuide change about poverty and then the prevention or working away from poverty by using money that is used when kids are in care to instead actually helping their parents, so no one is left stuck.
Thank you.
___
In this report, the United Nations summarises their findings from the event that Tiegan, Kaydence, Aurelia and Gill contributed to.