Reflecting on the International Day to End Poverty – ATD's Performance of "We Make Our Mark"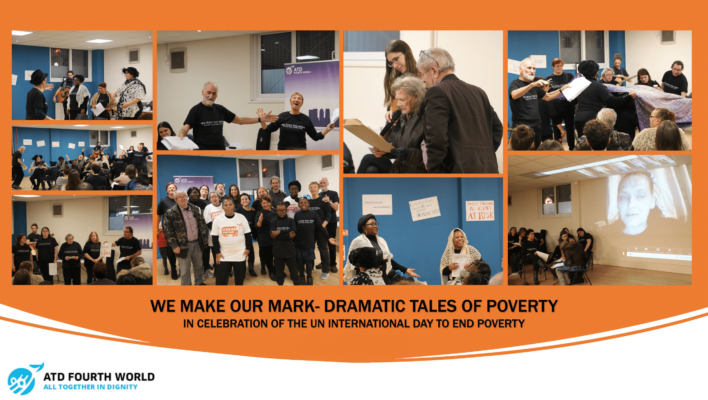 "This production showed real community members exploring what is in my eyes the biggest crisis we have in our democracy, that of poverty."
– John Whelan of Southwark Playhouse
On 20th October 2022, about 60 people gathered at Cherry Hall Gardens in Bermondsey to travel back in time to nineteenth century London to commemorate the International Day to End Poverty. In collaboration with the Journeyman Theatre, and with support from London Challenge Poverty Week, ATD Fourth World put on a show to shine a light on the dire conditions experienced by those in poverty during the Victorian era—as well as to explore this theme's current relevance.
The very title of the play displays the heart of the story. Waves of cholera during the "Great Stink", caused by sewage clogging the Thames, killed many people, particularly those in poverty who were buried in a mass of unmarked graves. The story is based upon Brookwood Cemetery, the largest in Britain. Upon opening in 1854 due to the sheer death rate increase, 80% of those who were buried were paupers unable to leave their mark.
The cast was almost entirely made up of activists with lived experience of poverty, most of whom had never before performed in this way. You would not have realised that the show was formed in only a matter of three and a half days, which included some last minute cast changes. Lynn and Dave Morris of the Journeymen Theatre worked tirelessly with activists to achieve a touching and evocative production. Music composed by Nico Rivosecchi played a central part and unlocked the emotion of the story. With scenes exploring the overt class divide that persists today, spectators were left feeling moved.
Sad but inspiring
One audience member, author and chair of the board of directors of ATD UK, Letitia Mason, shared her thoughts:
"The performance was an extraordinary and inspiring evening. The energy and commitment of all concerned were maintained throughout. There were moments of high drama but these were interspersed with scenes that gave us an understanding of decisions made at the time. I particularly enjoyed the scene where workers were exploited in order to build cheap housing with no foundations. The journey on the train made a strong visual impression and showed clearly the class divisions and the preconceptions, which still distort society in the UK today. The play was imaginatively staged. I loved the way all ages were involved. 
"The performance was sad in many ways, particularly hearing how people died from preventable causes, but it was also inspiring, in that Victorian society was trying to adapt to sudden change and rapid growth. This narrative is not over. We must keep striving to listen to each other and improve society for all."
When the play came to an end, the show was not over. After the intermission followed: a group reading about harsh truths we are now facing in modern day Britain, a touching poetry reading by Georgina Simmonds; and finally, the evening drew to the end with a screening of "Listen Up to Level Up", a video created by Poverty2Solutions.
Theatre shining a light
John Whelan, Artistic Director of People's Company based at Southwark Playhouse, was in the audience and stated that:
"Sometimes you need a window into people's lives to understand the pain that poverty creates in our communities. As someone who has lived experience in the 1980's of what poverty and unemployment can do to a family and a community, I really connected to the performance and the sharing of stories. In fact, it moved me to tears to hear the poems and hear the stories.
"We must, and indeed should have theatre like this which shines a light on the issue of poverty that we face in our nation. Only through action can we ensure no child goes to school hungry. In the sixth, richest, country in the world, we see people without decent homes or we see people having to get into debt to even put the heating on or feed their children. This night made me think about all of this and well done to the performers for sharing so much."
"We Make Our Mark" was a thoughtfully executed piece performed by activists who had no experience on the stage but used their voices to remind us that everyone counts and can leave their mark.
Thank you to all involved and to those who attended the event.
Watch the full performance below.