In conversation with Lynn Morris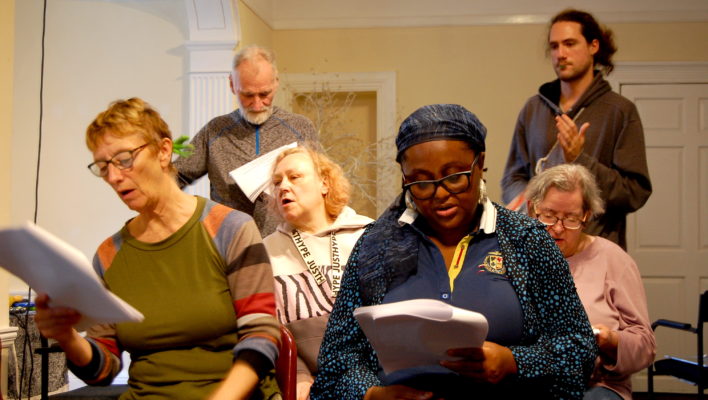 On 20th October, Lynn Morris led ATD activists in a performance of "We Make Our Mark", an original play. Here, she discusses that experience.
To start off the interview, please can you tell me a bit about yourself and your experience of the arts?
I trained specifically in theatre-in-education, which involved creating drama from scratch, especially issue-based theatre. I have taught drama and theatre to young people and adults virtually all of my working life. My husband Dave and I worked together for many years in a further education college in the West Midlands where we actively trained students in Community Theatre. I then went freelance, working in schools as a Peace Education trainer and as a professional writer, director and actor. We formed Journeymen Theatre twelve years ago, specifically to address human rights issues and to help raise awareness and funds for human rights organisations.
How did you grow interested in ATD and this project?
Our involvement with ATD began several years ago. A Quaker friend of ATD [Gertraud Trivedi of ATD's national coordination support team] had already seen my one woman play, Red Flag Over Bermondsey (about the radical social campaigner, Ada Salter). She contacted me and asked if I would be willing to perform it at ATD's centre at Addington Square as part of that year's International Day for the Eradication of Poverty. At that occasion, Georgina [Simmonds] also read a particularly striking poem on poverty and we felt moved to gather some of Georgina's poetry into a booklet. This we had published and our understanding is that it has sold well.
Diana [of ATD's national coordination team] contacted me early this year (my timeline is a bit wobbly on this…it could have been at the end of last year) to ask if we could engage in a drama-based project which reflected the relationship between Frimhurst Family House and Brookwood Cemetery, as the two places are very close to one another. Diana was particularly interested in developing some previous work using the methodology of Augusto Boal and his Theatre of the Oppressed.
Can you talk us through the research preparation you partook for the show?
I began the research by looking at the origins of Brookwood Cemetery, which in turn, led me to the development of the Necropolis Railway. I started to look more broadly at the living (and dying) conditions of the poor in 1850s London. I wanted the piece to reflect the journey that thousands of paupers' lives took before their final destination in paupers' graves.
It struck me that, for many of these people, there was little or no indication that they had ever lived. The project had to be an affirmation of their lived experience and an acknowledgement that they once walked this earth. The title 'We Make Our Mark' came very quickly once I had established this.
Ideally, I would have liked to have attended the two preparatory residential sessions that were held at Frimhurst with activists who live in poverty. Neither of these was possible for us because of work commitments; however, I drafted drama workshop programmes for Diana so that she could begin the process, and the results of the work that Diana and the activists did were incorporated into the production.
What was it like working in such a short capacity of time and with those who have no experience of theatre?
Beginning work with the activists on Day 1 at Addington Square was a step into the unknown and a leap of faith for those involved. I have made plays with an ensemble of actors in a short time before but they have all had considerable previous experience. Below is a short report I wrote for a Quaker journal:
We've now completed "We Make Our Mark". It was an exhausting and exhilarating experience for all involved. As I think I said, the journey began with a moving visit to Brookwood Cemetery in Surrey on the Sunday. We stood with ATD activists and supporters, as well as friends of Brookwood Cemetery by the huge area of woodland which is the resting place for the thousands of London paupers, buried in unmarked graves. Poetry was read, a moment's silence observed, and then homemade wreaths and flowers were laid. 

On the Monday, a number of us met properly for the first time at the Addington Square headquarters of ATD Fourth World and we began the work of forming ourselves into a theatre company and ensemble, together with the fabulous musician Nico Rivosecchi. That first day was very very tiring and at times chaotic as we were giving coaching in basic stagecraft, alongside building in some blocking for the play. We needed to bear in mind that not only were a number of these people still strangers to one another but that none of them had ever had any theatrical experience to draw on. They could not visualise what I as director, had in mind but they invested their trust in me and in the process and went with it. Unlike a regular theatre company, we needed to adapt quickly to the complications of our activists' lives. Not all could be present on the same day for rehearsals so the cast varied from day to day both in size and composition. Day 2 was much more positive as the cast could see a way through, and Day 3 was terrific.

Day 4 was the transference of the show to its venue in Bermondsey. We needed to adapt to a new, bigger space. In fact, the new performance space served to produce a real buzz amongst the company. Working literally up to the last minute, the cast of "We Make Our Mark" performed with ourselves (Journeymen) and Nico in front of a fifty-strong live audience. It wasn't polished, it wasn't perfect, but the commitment, energy and brio of the cast shone through. It was so well-received and the cast were rightly very proud of themselves and each other.

This project has given ATD activists another way of working and communicating with a wider public. We don't think this will be a one-off, even if Journeymen Theatre aren't their working partners in the future.
What made the cast uniquely placed to portray poverty?
All of the Activist/Actors have lived experience of poverty and the impact it has on life expectations. They were able to bring integrity and raw reality into the work as well as dignity. They all regarded this work as a very important platform from which to be heard.
Can you share a memorable moment from the rehearsals?
There are too many but in particular, we knew that things were going to work when cast members themselves started to build on their roles and suggest creative solutions to artistic problems. In effect, we could see that they were taking ownership of the project with Dave and me as artistic facilitators.
What do you hope that people took from watching the performance?
I think for a number of the audience a night out at a theatre performance is not something that they do regularly, especially this kind of 'workshop' theatre. I hope people were genuinely entertained, stimulated and surprised by what they saw.  A number of people spoke to me about the fact that they'd lived in London all their lives but didn't know about the London described in the play, especially the Necropolis Railway. I hope the evening serves to keep people talking about the issue of poverty, its causes and its impact on us a society.
You really proved that theatre is a great means of bringing people together and raising awareness of important societal ills. This is something you specialise in. Would you be able to tell us more about your other projects that use arts for social change?
As I've said, we are a Human Rights theatre company. All of our projects have been commissioned by groups who are seeking to find a fresh approach to awareness-raising. Over the years our projects have included explorations into militarisation in our schools, state-sanctioned torture, domestic abuse, asylum seekers and the Hostile Environment, the plight of ageing prisoners in the UK's penal system and our latest and last project, Breeding Grounds, which focuses on sustainability. Our work goes into universities and colleges, prisons, conferences, theatre festivals, non-theatre and theatre venues all around the country. We always provide the opportunity for post-performance Q & A sessions and these enhance the impact of the play the audience has just witnessed. We're non-profit making and are financially and spiritually supported by both our local Stourbridge Quaker Meeting and Central England Quakers. Most of our events are unticketed so we request donations on the day for whichever human rights issue the play is representing on that occasion.
What was the most rewarding part of this experience for you?
It was wonderful to watch the activists come together as a Company/Ensemble with ourselves and Nico. They began to support one another on stage and off stage. Mealtimes at Addington Square were such an important part of this process.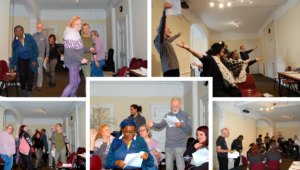 Here you can watch the summary video of both the theatre performance and the dramatic readings.