Presenting evidence at the House of Lords on digital exclusion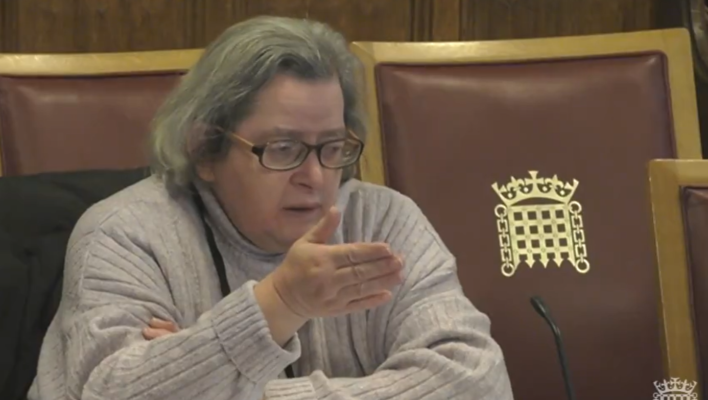 On 28 February, the APLE (Addressing Poverty with Lived Experience) Collective was invited to present evidence to the Communications and Digital Committee of the House of Lords about digital exclusion during the cost-of-living crisis. Patricia Bailey, an ATD activist supported by Eva Carrillo Roas, represented APLE. 
As part of its inquiry on digital exclusion and the cost of living, the Communications and Digital Committee invited several groups to give evidence to the panel. The APLE Collective submitted both oral and written evidence.
 Alongside Patricia, at the February event, three other speakers gave evidence: Dr Robin Christopherson, AbilityNet; Dr Jake Anders, University College London; and Sally West, Age UK. Committee members asked the guest speakers to address four main questions. Click here to watch the entirety of the session and here for the transcript.
Question 1 – We have heard that certain demographics are more likely to be digitally excluded for a wide range of possible reasons: affordability of connectivity, access to devices, skills, etc. In your own contexts, which do you think is the most significant factor?
The APLE Collective believes that all three factors are interconnected and cannot be separated or seen as "more important than". For example, research has shown that those who have less digital access, such as those living on low incomes, also have less opportunity to build digital skills, including online safety skills, which in turn makes them more vulnerable to online scams and fraud. Patricia added:
"There are people struggling to even feed and heat themselves; therefore, broadband expenses and buying technology devices tend to be put aside. This results in digital access feeling like it is a privilege for those living in poverty; but in the world that we are living in, access to the internet is essential. […] If you want to have a meeting or whatever, you need to have the technology to do it."
Question 2 – For those who are currently digitally excluded, what benefits would greater digital inclusion bring?
Patricia read out a quote from an APLE member who explained the daily struggles of digital exclusion:
"For someone who lives in poverty, the digital divide is not having enough money when you need to switch from your old mobile phone to a new smartphone, because nowadays sending texts and making phone calls is no longer enough. It is to see your data package, that used to last you a month, disappear in a matter of days because meetings are now taking place on Zoom. It is when your GP assumes it is easier for you to book an appointment online rather than to call reception. It is not being able to do your homework because your older sibling is doing theirs on the unique family tablet. It is feeling lost on the online system when you try to find your blood results because you are not tech savvy. It is being unable to read and answer your personal emails after 5 pm or on the weekend, because your local library is closed. It is not knowing how to juggle between different tabs on your smartphone when you need to use dual identification to access your bank account."
"The digital divide is when systems–that are supposedly created to make life so much simpler for the many–are overlooking all the hurdles and complications that they will create for people who are facing one or more of these three barriers: affordability, access, and skills. If you do not exist online, it is like you do not exist at all. You are excluded. Therefore, digital inclusion would benefit every aspect of someone living in poverty: education, health, finances, social integration, et cetera"
When a committee member asked: "Can we identify things that are going digital that maybe should not?", Patricia responded:
"The first is universal credit. As you know, it is all done online, everything from filling in the forms to writing to a work coach. If people who need to apply for universal credit do not have a computer at home, which a lot of people do not, they have to go to a job centre."

"With social services as well, a lot of it, especially court proceedings, was done online. No one was allowed to go into the courtroom itself. I do not think this gave families enough say in how things were decided. It is just not nice to feel like you are being judged without being there in person."
Question 3 – What solutions and initiatives designed to tackle digital exclusion are likely to be most effective, and does this vary for different demographics?
Patricia said, "In APLE, we believe that, for any changes to be effective, people with lived experience need to be involved in their development. You could have economists, politicians, policymakers, professionals et cetera, but without someone with the lived experience of digital exclusion you are not going to form effective solutions. We are the experts, not the professionals. Therefore, we believe that working together on potential solutions is the only way that will result in an effective outcome."
Question 4 – What in your view is the appropriate balance between Government, the voluntary sector and businesses addressing digital exclusion?
In the view of the APLE Collective, civil society has connections to the community and has already shown great leadership in addressing the digital divide. Without this type of ground work, there wouldn't even be this inquiry about digital exclusion. We firmly believe that you cannot tackle digital poverty without listening to those who experience it. However, it is the Government that needs to address large structural challenges (such as the fact that Universal Credit is digital by default) that are crucial to combating digital exclusion.
Although the APLE Collective was the only speaker at this event with lived experience of poverty and digital exclusion, we believe our voice was heard and we hope that the committee takes into consideration our input in shaping their inquiry.