Telling the UN about 'the hell that is child protection'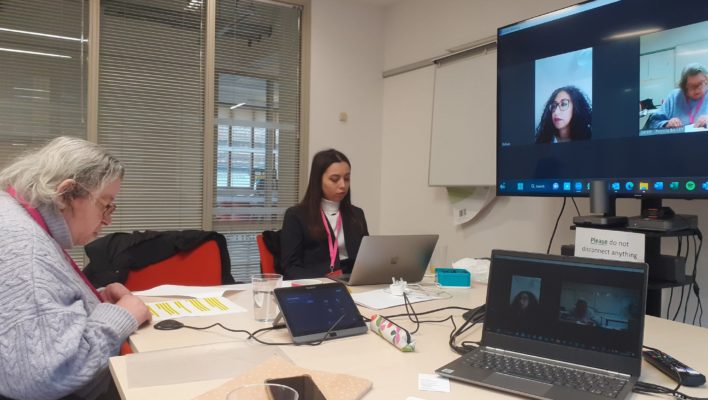 Above at left, Patricia Bailey speaks to the United Nations via Zoom from the office of Amnesty International.
---
Following a written contribution in December, on the 8th of March, ATD Fourth World was invited to address the pre-sessional working group of United Nations Committee on Economic, Social and Cultural Rights about its review of the UK Government's compliance with the covenant governing these rights. Via Zoom, Dr. Koldo Casla and Patricia Bailey took the floor. Their remarks are below.
Dr. Koldo Casla
ATD Fourth World and Human Rights Local, a project of the Human Rights Centre of the University of Essex, are researching the impact of poverty on the right to the protection and assistance to the family.
The research includes both law and policy analysis, as well as study groups, interviews and focus groups with families with lived experience of poverty, as well as young people and social workers.
The research has so far observed that families in poverty are subjected to harsh interventions that are discriminatory on the basis of the socio-economic status.
Forced adoptions and povertyism
The UK is an outlier of continental proportions with a very large number of cases of forced adoptions. Only in England there are more than 80,000 children in care, and the number has been growing quickly in the last 15 years. Child service interventions are disproportionately targeted at families in poverty living in areas with high levels of deprivation.
In their submission, ATD Fourth World and Human Rights Local urge the UN Committee on Economic, Social and Cultural Rights to ask the UK Government a series of questions concerning, among other things, povertyism and the Equality Act 2010, cumulative impact assessment of austerity measures, accountability of children's homes operated by for-profit companies, and measures to support parent-parent advocacy.
ATD Fourth World and Human Rights Local call on the UN Committee to include specific questions about the right to protection and assistance to the family, recognised in Article 10 ICESCR. This is a right that researchers, campaigners, academics and the Committee itself generally pay little attention to. This is an opportunity for the UN Committee to contribute to articulate the meaning of Article 10 in relation to child protection services in a rich country like the UK.
— Dr Koldo Casla, Director Human Rights Centre Clinic,  and Project Lead of Human Rights Local, University of Essex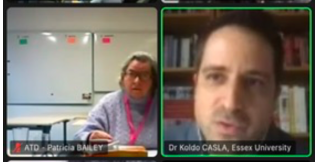 Patricia Bailey
As parents who know what it feels like to live in poverty and to be investigated by social services, we'd like to share with you some quotes from other parents in these situations. The first one is from a mother named L.M.:
"Scared to tell my story because it sounds so far-fetched.
Scars of a thousand labels on my soul etched.
I was a child in care, dragged up by the state,
A victim of domestic violence by somebody I saw as my soul mate,
My own children ripped out of my arms by the police officer after a false accusation,
Six years of self-litigation,
Precious time away from my children that I will never reclaim,
Six years of trying to clear my name."
Another mother named L. says:
"When the children were removed, I felt like I'd been run over by a bus—absolutely flattened.
"I was silenced by social workers, by plain old fashioned bullying. I was disrespected, disbelieved, and disregarded. I felt a huge sense of shame at being a mother whose children had been removed. I kept thinking that people must be saying "there is no smoke without fire". I did my shopping late at night so I wouldn't bump into anyone I knew. I could not bear to see children of the same age as mine. I'd see friends and family trying to put themselves into my shoes then flinching away from the pain because it is just too much. It's constant and it doesn't fade."
Emotionally ragged while pretending to be un-based
Taliah is a mother who has worked alongside to gather evidence for our submission to your committee. She says:
"There is not a shred of dignity left once child protection engages with you. Grief, anxiety and guilt are primary emotions experienced by mothers. Social workers are skilled at interpreting these emotions as proof of a mother's incapacity to parent. They actively use these normal feelings as ammunition in their risk assessments against the mother. Even if you have done nothing wrong, nonetheless, a mother feels overwhelming guilt and shame.
"It is absolutely soul-crushing to have to hand your child over, crying for you, calling out, 'Mummy!' and you are court ordered to walk away. I felt like I betrayed my daughter daily. When she took ill, and I was not there. When she cried for me at night, and I did not hold her hand. When she was injured at the hands of strangers, and I could do nothing to protect her.
"Day in, day out, I was physically and emotionally ragged while pretending to be unphased and happy.  Because if you show you are not feeling great, it will be used against you.
"Guilt will swallow you whole. It ravages your soul and steals away sunlight as you walk through the hell that is child protection. You have to climb out of the crumbled wreck of your soul."
The contribution we sent to your committee explains the agony behind these violations of our rights. We are counting on you to help families like ours.