New report published: 'I have walked this journey alone; my soul is tired'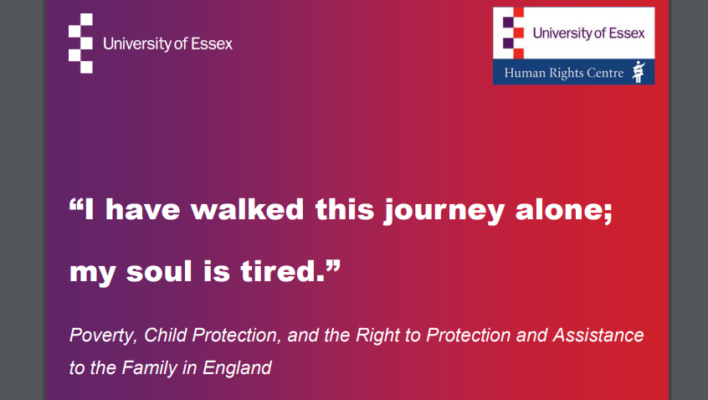 The Human Rights Local team (a project of Essex Human Rights Centre launched in 2020) has published a report calling for transformative change to child services:  'I have walked this journey alone; my soul is tired': Poverty, Child Protection, and the Right to Protection and Assistance to the Family in England. The findings are based on extensive research, carried out in collaboration with ATD Fourth World. Through interviews, focus groups, and study groups, rich knowledge was contributed by parents and young adults with lived experience of poverty and the social care system, as well as by social work practitioners and academics. 
This research follows up on the evidence submitted to the United Nations Committee on Economic, Social and Cultural Rights, written collaboratively by Human Rights Local and ATD  Fourth World. This evidence is for the Committee's review of the United Kingdom, taking place in 2022-24. The evidence presented by ATD and Human Rights Local shows that families in poverty can be subjected by children's social care to harsh interventions that are discriminatory, and driven by a concept of risk-aversion that is inconsistent and fails to fully consider the harm done by removing children into State care or contested closed adoptions.
Academic research
Researchers Dr Koldo Casla and Lyle Barker wrote this new report to request that the government ratify specific legislation and policy reforms and that they introduce measures which will reduce the harsh and devastating impacts of children being separated from their parents by social services. 
ATD has been working on the issue of poverty, social work and family life for decades. Collaboration with social work academics, such as Dr Jane Tunstill, Prof Ruth Lister, Dr Brid Featherstone, Dr Anna Gupta, Prof Sue White and Dr Kate Morris, whose publications have moved this work forward. The new Human Rights Local report significantly broadens work on this issue to start from the point of view of human rights.
The report reveals telling statistics:
"82,170 children were removed from their parents in 2021-2022. That's 22.5% more than ten years before, and 37.6% more than twenty years before." (Page 7).
This is a system which sometimes worsens adversity rather than providing assistance. This is due to the lack of understanding of the poverty trap: a cycle of unequal opportunity, prejudice, stereotyping, and discrimination.
Recommendations
Austerity in the UK, budget cuts, and ongoing privatisation of child protection services have created an environment of suffering for families who have not received the early preventative support that could have allowed family members to remain together. 
The report's recommendations to improve Children's Social Care in England include:
Regulation and monitoring of for-profit children's homes;

Realising in practice the ban on unregulated accommodation for 16 to 18-year-olds;

Widespread promotion of parent-to-parent advocacy schemes to deter cultures of risk-aversion and povertyism;

The perks of modern-day technology should eradicate the existing letterbox system which limits birth parents to a few letters of contact yearly with the children removed from their home into contested closed adoptions.
With thanks to the following people:
the steering group of ATD's 'Right to Family Life' project: Angela Babb, Taliah Drayak, Anna Gupta, Simon Haworth, Tammy Mayes, Yuval Saar-Heiman, and Diana Skelton;

Amanda Button and Patricia Bailey for their active roles in the development and conception of this project;

Gwennaelle Horlait, Caitlin Sibthorpe and Eva Carrillo Roas for their assistance in conducting and documenting the study groups;

and Tiegan Boyens, Francesca Crozier-Roche, Kaydence Drayak, Aurelia Drayak, and Dr Gill Main for co-facilitating the focus groups.
To download the report click here.